The Costs of Moving to Kazakhstan
by Rebecca Slaven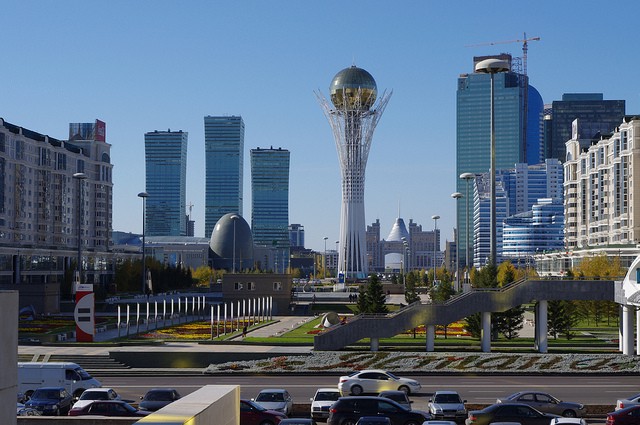 A friend of mine sent me a job posting for a university library in Astana, Kazakhstan as a joke. My initial reaction was, "Too weird, even for me." I was feeling ready to move on from my current job in Vancouver and I had always wanted to work internationally but I didn't know anything about Kazakhstan.
As time went on, and no job postings caught my interest, I continued to think about the position in Kazakhstan. I watched the episode of The Long Way Round where Ewan McGregor and Charley Boorman trekked across the country on their motorcycles and ate a sheep's head and horse meat. I read articles like Astana: The world's weirdest capital city. Somewhere between learning about fermented camel milk and buildings that look like eggs, I was sold.
Instinct told me that this was not a highly applied-to position, and so I wanted to be sure I was serious about the prospect of moving to Kazakhstan before sending my application. I was proven correct when I received an interview even after waiting two months to apply, then had three Skype interviews. Everyone seemed friendly and the position sounded interesting — academic library work had always seemed boring to me, but even the day-to-day tasks in any post-Soviet library are an adventure. I accepted.
My boss later told me that there were multiple applications and it's pleasing to think that the offer was actually on merit, however true that may or may not be.
The breakdown of my expenses in moving to Kazakhstan does not include items such as the two years' worth of makeup, clothing, and other items purchased that I would have normally bought over time back home. All prices in Canadian dollars:
$85: criminal record check.
$45: I wasn't sure how many notarized copies of my degree I needed so I got two to be safe. It turns out I only needed one copy but it was only an extra $10 to get the second. I would've asked one of my co-workers at the time, who is a lawyer, to do the certification for me, but I hadn't given my notice at that point.
$67.35: the fee to send and have my degree authenticated by the Canadian government and the Embassy of Kazakhstan in Canada. In retrospect, I probably should have paid an agency to do the entire process for me because this way took seven weeks and caused some stress. HR didn't want to issue my invitation letter, which was necessary for my work visa, until I sent them a scanned copy of the authenticated degree. Using an agency for the process would've only cost about $100 more. This situation would have caused me more stress if I wasn't so doubtful that the organization had multiple applicants for the job. And indeed, HR eventually relented and sent me the invitation letter before my authenticated degree arrived.
$459: the fee for a year-long multiple-entry work visa. The paperwork was surprisingly straightforward but had enough quirks that I decided to pay an organization to fill in the blanks and expedite the process. I received my passport and visa the same day I flew to Kazakhstan.
$22.92: FedEx kept screwing up in such appalling ways in expediting my documents and passport to the visa agency that they waived the outgoing package fee. I would've rather paid the extra $21.13 and avoided the stress of having my passport go temporarily missing.
$323.42: two suitcases. I bought mismatched suitcases because if you buy them in a set, the small one doesn't fit very much inside and the big one is too big for most airline policies. It's hard enough to keep the medium sized suitcases under the weight limit, as it is.
$100: excess baggage fee. I made sure to purchase flights all with the same airline so that I would only have to pay the excess baggage fee once. Most airlines only let you take one checked suitcase on an international flight now, and I wanted to take two. My employer is reimbursing me for the flight (eventually).
$275: fee for breaking my apartment lease. The building manager is so good about maintaining the building that I didn't mind paying the fee.
$320: fee for breaking my phone contract and keeping my iPhone, plus an unlocking fee.
$31.75: a box of chocolates bought for my workplace on my last day, plus a smaller box just for me so that I wouldn't eat half of my gift offering.
$235.20: I felt that this was an opportunity to organize my life and decided that buying a grown-up perfume was a part of that process. If you're ever feeling highly indulgent, I recommend going to a fancy department store for a perfume consultation. The saleswoman gave me some real-talk when I was debating between two scents and said, "Think about who you are right now, not who you want to be." I wish she was my mentor for all moments of indecision, which are many.
$72.70: travel adapter kit for my laptop and an upgrade so that the software for the e-reader my workplace gave me as a goodbye present would be compatible with my computer system.
$95: travel clinic consultation and a typhoid shot. I got four immunizations but typhoid was the only one I needed specifically for Kazakhstan. The other three shots were general updates: a tetanus booster, measles/mumps booster, and a second Hepatitis A shot. Apparently, I got my first Hepatitis A shot seven years ago and never went back for the second.
$40: the amount I went over my dental benefits. I needed more dental work than my generous benefits allowed for and I decided to go for upper teeth fillings and a night guard. Apologies to my lower teeth.
$0: the amount spent going out with friends evened out by the amount I made selling furniture.
$44.77: lunch for my friend who let me stay at his place for the week and a half before I left. I would have treated him to a proper dinner instead but he was out of town for most of my stay and it was hard to coordinate a time.
$37.74: fee I had to pay for a notary document and translation services once I arrived in Astana. I have no idea what it was for but I'm assured it was necessary.
$200: estimated amount it will cost me to buy appropriate winter outerwear.
Total: $2454.85
Living expenses in Astana are very cheap, which is great because I'm making about half of what I made at my job in Vancouver. For example, an amazing loaf of bread is less than $.50! A bus ride costs $.33! It's a pretty okay place, as long as you keep in mind that things work a little bit differently over here. Also, horse meat is delicious.
Photo via kjfnjy
Rebecca Slaven is a librarian and a writer. Her subject specialties include law, beauty, and croquet. Her format specialty is the how-to guide. She writes most regularly at http://howtobealibrarianinkazakhstan.com.
---
Support The Billfold
The Billfold continues to exist thanks to support from our readers. Help us continue to do our work by making a monthly pledge on Patreon or a one-time-only contribution through PayPal.