Saying Yes to the Dress! (For Other People)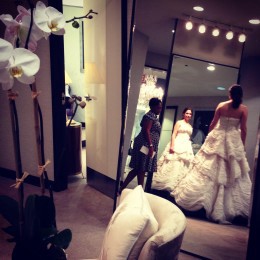 Shopping for and with other people is the absolute best. If I had my way, I'd be sitting on one of those funny little poufs in the dressing room saying encouraging things to a friend, while she looks appraisingly at herself in a three-way mirror, once a week.
A mother-of-the-groom asked if I would take her out earlier this summer, and in one short afternoon we perpetrated an entire outfit: a striking, classy, yet "appropriate" dress ($250), a beautiful bolero to go over it in case New Hampshire is cold on Labor Day (~$100), and a pair of sturdy but cute shoes to wear while walking down the aisle and then jumping with joy on the dance floor ($40). That made me happy. What made me happier still was when two different brides invited me to accompany them on the Holy Grail of retail excursions: Wedding Dress Shopping.
Twice I have been able to be all, "Yes, she said, yes, I will, yes" to the Dress.
This is particularly exciting to me since I was congenitally unable to enjoy being a bride myself and didn't even wear a wedding gown, let alone revel in the whole "Bring Your Friends to Watch You Squeal and Cry" thing. When other people embrace the pomp and circumstance, it makes my heart sing — especially when they bring me along. And my once-coworker K. did it up right. She made an appointment at the bridal boutique at the flagship Saks Fifth Avenue, which, you will not be surprised to learn, is on Fifth Avenue, right by Rockefeller Center. I put on mascara so they'd let me in the door.
The clerks, who are really more like docents, greeted us warmly when we entered the space, a carpeted, sheltered area on the 5th floor in the back, with soothing lighting, orchids, and bottled water. "You're in for a treat," one of them said. "Austin Scarlett's new collection just arrived." Because the others, including K., were "Project Runway" virgins, I got to clue them in, conveying through hushed tones and hand gestures how exciting this was.
The first gown K. tried on was from the Scarlett collection and sure enough it was a doozy: statuesque, gracious, with clean cuts yet enough visual interest to engage the eye. She looked gorgeous in it right off the rack — or, rather, off the mannequin, from which our docent unceremoniously lifted the dress. The poor headless thing had to watch, bereft, as K. bathed in her borrowed glory. Price: $3,900.
Even though that first dress was amazing, wedding dresses are like potato chips: you can't stop after one. K. tried on more Scarlett creations, including one that, appropriately, looked like it was made from a set of curtains. Price: $11,450. She also tried on some by designer Monique Lhuillier, priced at $5,000 and up, and then, as a denouement, a full-on, black tie, princess-y extravaganza by Vera Wang. Price: $9,950.
The Wang hit her. Hard.
Now, K. does not have $10K to spend on a wedding dress. She is a practical person; she lives in the real world, earning money and paying bills. Even $4K is a lot. She knows that, and yet she followed the Wang with a wistful eye as the docent returned it to its translucent sarcophagus. "Which did you like best?" she asked us, her spectators. In unison, we said, That first dress, the simpler though still spectacular one.
The bride-to-be nodded sadly. She looked at me. Talk me out of it, she seemed to say. I chose my words carefully.
"You look fantastic in all of them," I told her. "You can only win here. Every choice is great. I guess the decision is just what kind of wedding you want to have? Because if you commit to a $10,000 wedding gown, everything else has to rise to meet it, you know? Like, do you envision [groom] wearing a tux? Because he'll look funny standing next to you in anything else, if you're wearing that. And were you envisioning an indoor wedding? Because that dress probably isn't suited for the grass …"
"Yeah," she said, as though awakening from the spell, "yeah, that makes sense."
We left the store at lunchtime. I texted later about how gorgeous she looked in everything. She texted back that she's still crushing on the Wang. Still, no decision has been made, no money exchanged. There's plenty of time.
Next stop, in September: Kleinfeld's. Bring it on.
---
Support The Billfold
The Billfold continues to exist thanks to support from our readers. Help us continue to do our work by making a monthly pledge on Patreon or a one-time-only contribution through PayPal.