Even Reese Witherspoon Has Impostor Syndrome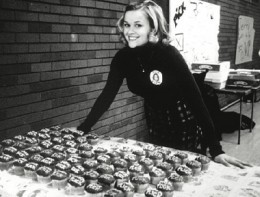 Kyle Buchanan at Vulture asks great questions of Oscar-winning, A-list, teacup-sized-person Reese Witherspoon and, because sometimes that works, gets great answers:
Cheryl had never been backpacking before she set off on this hike, and yet she did it anyway. As an actress, have you had similar moments where you felt like you were in over your own head, signing on to do something incredibly daunting and barely able to believe that you could make it work?
Oh yeah, a lot. Half the time on set, I feel like I'm hanging on by the seat of my pants and I don't know what the heck I'm doing. I basically have a new job every three months where I'm like, "Uh, am I qualified to do this?" And I find out during the process whether I am or I'm not. This film was really a gift, and it's exciting to not know if you're gonna make it, or if you're gonna break down in the right place. Really interesting creative things come out of that process.
Maybe Polly Pocket is feigning modesty here, doing a 'Stars: They're Just Like Us!' routine. But she seems sincere, perhaps because she also comes off as thoughtful, and that's harder to fake. ("I've never seen a film like Wild where a woman ends up with no man, no money, no family, no opportunity, but she still has a happy ending.") Starting a new job every three months sounds incredibly stressful, after all; you'd have to have the preternatural self-confidence of a Tracy Flick not to let it get to you.
Another high-profile victim of Impostor Syndrome: Hello Kitty.