The Cost of Things: A Vasectomy!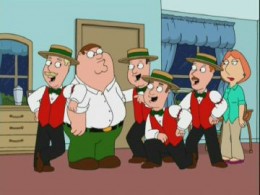 Family Guy: learning about vasectomies in song
Anna Sale's fabulous new podcast Death Sex and Money recently featured the story of an Australia father of four who made the decision — eventually, after some angst — to get a vasectomy at the hands of a physician called, I swear to god, Dr. Snip.
Here in the U.S., the pill is the most commonly used form of birth control. Second is female sterilization, procedures like women getting their tubes tied, which is a more common form of contraception than condoms. But urologists say that vasectomies are simpler, safer, faster, and less expensive.
This led me to wonder, just how much more expensive is sterilization for ladies as opposed to gentlemen? According to BabyCenter's fact page:
The cost of sterilization procedures ranges from $1,500 to $6,000. Most insurance companies will cover at least part of the cost of the procedure. In fact, thanks to the Affordable Care Act, insurance plans must now cover contraception and sterilization with no cost to you. Plans that existed on March 23, 2010 — and some religiously affiliated employers — are exempt, but many are complying with the changes anyway.
As you might expect, a vasectomy is cheaper as well as easier:
Vasectomies cost about $350 to $1000 — far less than surgery to sterilize a woman — and many insurance companies will cover the procedure.
Basically the same difference in cost between being a bridesmaid and being a groomsman. Typical. After the jump, watch the intense but mostly SFW video of the vasectomy performed by Dr. Snip, filmed (discreetly) in real time.
---
Support The Billfold
The Billfold continues to exist thanks to support from our readers. Help us continue to do our work by making a monthly pledge on Patreon or a one-time-only contribution through PayPal.