"Vegan, Gluten-Free Chocolate Brownie: $4.50"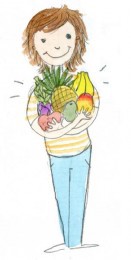 Forget you, Fresh Direct; peace out, Peapod. A bright-eyed and bushy-tailed new competitor, Good Eggs, wants your money in exchange for delivering groceries to your door. The company seems built to appeal to Brooklyn, which is one of only four places it currently operates: there's free delivery to the borough, for starters, and its mission "is to grow and sustain local food systems worldwide." However commendable the goal, and even, it seems, the methods, there's something unavoidably "Stuff White People Like" about the endeavor. The vegan, gluten-free chocolate brownie ($4.50!) is described this-a-way:
Super dense and intensely chocolately, you won't miss the gluten in this brownie. Perfect with a cup of ice cold almond milk! Our sweets contain exclusively organic, nutrient-dense, virgin, and certified raw ingredients. We use low-temperature cooking methods to retain healthy enzymes and nutrients. No processed flours, sugars, gluten, animal or dairy products, or genetically modified additives go into any of our sweets.
So, uh, almost $5 for a brownie that has nothing in it but dark chocolate? A Hershey bar will run you a lot less than that.
Is a locavore-oriented and more ethical grocery delivery system the answer to your no-time-to-food-shop prayers? Or are you already satisfied with your CSA, FreshDirect habit, or other hacks to stock your pantry, like using Postmates or TaskRabbit to get someone to bring you the condiments you're addicted to from Trader Joe's?
Cartoon by Charrow, an artist in Brooklyn.