The Cost of One Resolution, Halfway Through the Year
by Krista Simmons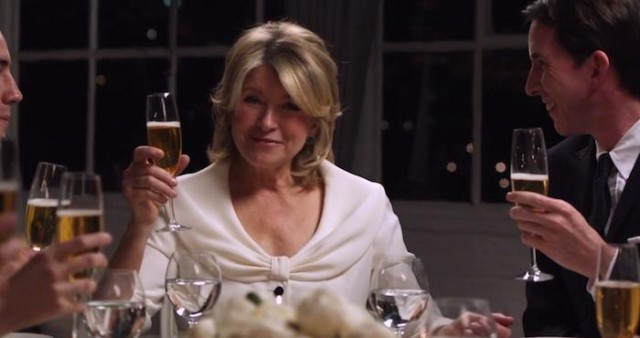 I made the mistake of revisiting my New Year "action Items" the other day. Since we're almost halfway through the year, I thought it was a good idea to check my progress on the goals I had made for 2014. Nestled in between "lose all the weight I gained from emotionally eating my way through a job that made me cry every day before work" and "floss every day" was this:
Have one friend, couple, or group of friends over for dinner once a month.
Cooking for people is in my blood, not only because I'm Southern, but also because my mom thinks nothing of layering lasagna for 70, baking dessert for 100, or roasting Cornish game hens for 50. I'm no stranger to massive amounts of cooking — I've catered dinners for as many as 50 by myself (so far my record stands at giving exactly 0 people food poisoning!). I thought hosting people for dinner at home would be a great way for us to become better friends with the people we've met here since our move, and a reason to deep clean our apartment on a more regular basis. It was also an excuse to buy a dining table that I actually liked, replacing the makeshift table we haven't used since we've moved in. To jumpstart my resolution, I decided we should spend some money on what I considered "necessities" for home entertaining.
Because my husband is still in school, we have what we call the "miscellaneous fund," which is used for things outside of normal monthly budget items since the monthly budget is tight. I used an embarrassing amount of this fund in my quest to be either my mom 2.0 or Martha Stewart, the student wife edition.
• Bar cart (Christmas present from my Aunt and Uncle): $0
• Wine, water, and champagne glasses (I found the original set of wine glasses on clearance at Ross and decided I need the rest of that particular line from various places): $118.30
• Bar tools (wedding gift): $0
• Table from an import store here in Nashville (I am madly in love with this table and it is the coolest table I've ever seen. I plan on keeping it FOREVER. I consider this a capital expense, but it still counts): $521.12
• Cloth napkins from Pier 1: $26.08
• Napkin rings (because of course): $36.84
• Awesome metal bread basket I could not leave TJMaxx without: $16.38
• White serving bowl (I discovered I needed one after a work party!): $17.47
• Supplies for curtains (not including fabric, which was gifted, and they're still not made): $41.49
Total: $777.68
Obviously a lot of these things we'll be using for a long time and these items were bought over several months (December-April), but it's still a lot of money to spend on a goal I haven't even starting to complete. I am the budget nerd in my relationship — spreadsheets for everything — and we're trying to pay off the student loans as quickly as possible, so this total is a little embarrassing now that I've added it all up.
Please tell me I'm not alone. What resolutions have you spent a lot of money on without any progress to show for it?
Krista Simmons has a Type A personality with Type B motivation, lives in the Southeast, and can be found tweeting (constantly, and for her own amusement) @andnowlights.