The Anxiety of Returning Things
by B. Benson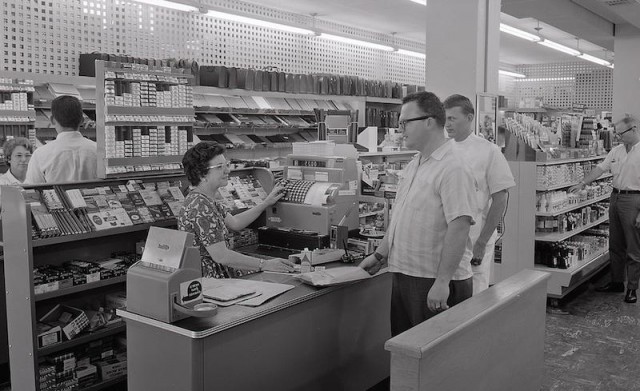 For Father's Day, my dad asked me if I could help him clean his house.
"Would you mind picking up some gloves and cleaning supplies at the store?" he asked. I said sure, dropped by a discount retailer to buy a bunch of things, and then swung by my dad's place ready to scrub.
My father opened up a box of gloves, and showed them to me.
"Son, this pair has two left-handed gloves in it, can you go back to the store and exchange them?"
I paused for a second before saying yes. I got into my car and headed back to the store.
"You can do this," I whispered under my breath. "You can return these gloves."

Ever since I've had money in the bank and the purchasing power of a consumer, I've been bad at returning things to the store.
I've bought things online that weren't what I expected them to be, and left them in a corner of my closet, waiting for them to be put in a donation box one day along with some brand new clothes I've never worn because they didn't fit me quite right.
The same for gifts: "If you don't like it, you can return it because I included a gift receipt!" friends and family members have said. I've never returned anything using a gift receipt.
It's weird, but I have "returning-things" anxiety. The thought of it overwhelms me — the lines, the dealing with customer service reps, I suppose the entire process in general — and I know I shouldn't feel that way.
And yet, I take comfort in the fact that I know that I'm not the only one. On socialanxietysupport.com, there are entire threads related to this experience:
I'm not 100% sure why this is the case for me, but I've always found it difficult to return items, even if I made a mistake or have every right to due to a defect. It feels like I'm admitting failure or something walking back into the store, telling the cashier why I don't want it. I just can't do it.
Yesterday I was changing the air filters in the house and noticed a vent that never had one. I measured it a 14in x 24in and went to the store to buy one. I get there and they only seem to have 14 x 25 so I get one of those, assuming that I must have measured it wrong. I get home and of course it doesn't fit. I didn't even take off the plastic yet so returning it would be no issue, but the idea just stressed me out so what did I do? I threw it in the garbage…What a waste of money.
Writes another poster:
Yeah, a lot of times I have refused to take back damaged or broken items to the stores for a refund or replacement because I feel far too embarrassed. I feel like they'll refuse to believe me or something.
The "I Hate Returning Things" is also a common post written by busy parents. They usually go like this: I bought something, but it didn't work out. Instead of returning it, I just ordered another thing because I'm a busy parent and my time is more important to me than getting a refund for this thing I bought.
Similar confessions can be found all over Twitter:
ungh i hate returning things. i am the worst returning-things-person in the world. the WORST.
— Tahereh Mafi (@TaherehMafi) July 6, 2011
Few people know that I have this kind of anxiety. But my dad definitely knows about it. When I was in high school, he bought me a baseball glove that didn't fit quite right, and then sent me back to the store to return it while he waited in the car for me with the engine running.
I must have taken a long time conjuring up the courage to make it to the counter, because the next thing I know, my dad is in the store pushing me in front of a cashier and saying, "For god's sake, son. Hi there, my son needs to exchange this because it doesn't fit, can he get a new glove?"
We walked out with a new baseball glove within minutes.
"Now was that so hard?" he asked when we were back in the car.

So, I was back at the store, with a pair of gloves to return. The baseball glove memory was fresh in my mind.
The next thing I know I'm in front of a cashier.
"I was just here," I said.
"Yes."
"And you see, I bought these gloves but when I opened the box there were two left-handed gloves in it and — " I was talking a mile-a-minute.
"Oh wow, I'm sorry you had to come back because of that!" the cashier said. "Did you want to return them or exchange them?"
"Exchange, yes, oh god, thank you."
"Okay, I'll keep these, and just go grab a new pair."
"That's it?"
"That's it!"
I was out of there in less than a minute.
Later, back at my dad's place, I found my dad in the kitchen, scrubbing the floor with his glove-less hands.
"I thought I might as well get started," he said. "Did you exchange the gloves?"
"I did," I said.
"You did," he repeated back at me, his eyes sparkling, perhaps remembering.
B. Benson is an office drone.
Photo: Cushing Memorial Library
---
Support The Billfold
The Billfold continues to exist thanks to support from our readers. Help us continue to do our work by making a monthly pledge on Patreon or a one-time-only contribution through PayPal.