Festivus Poles, Soup Nazi Soup, & More "Seinfeld" Micro-Economies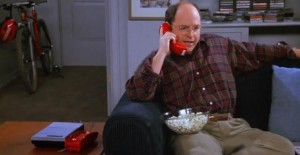 Remember a time before "Seinfeld"? Of course you don't. The show that changed television, according to Matt Zoller Seitz, has rewired our brains so that we cannot reach back to a more innocent time when words like "sponge-worthy" and "anti-dentite" meant something else or perhaps nothing at all. It wasn't 9/11 that turned all Americans into New Yorkers; it was "Seinfeld." And not surprisingly, a phenomenon that total had — even continues to have, lo these many years later — its own economy, as helpfully detailed today on Vulture.
Some of the fun facts:
$3.1 billion: The amount the show has generated since entering syndication in 1995.
$400 million: What Larry David and Jerry Seinfeld can each make just from the most recent syndication cycle.
Festivus Poles: The Wagner Companies, a Milwaukee railing company, has owned exclusive rights to make Festivus poles since 2005. It sells a steady 800 per year, at up to $39 apiece.
The Bureau of Economic Analysis changed its calculation of the country's gross domestic product in 2013, creating a new category that counts long-running shows like Seinfeld as investments (rather than expenses). The tweak adds $70 billion to the GDP of the United States.