Empathetic Personal Robots! $2000, Available Soon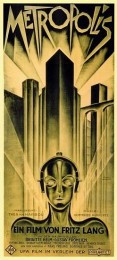 The future is today. Okay, more precisely, the future is two years from now, when the first empathetic humanoid robots go on sale, and they're kind of a bargain:
robots that can recognize human emotion will change the way we live and communicate — and this is a big step towards getting bots into daily lives, at least if you live in Japan. The robots will debut at two stores tomorrow in their customer service capacity, but Softbank is planning to put them on sale to the public next year, priced just shy of $2,000.
The adorable little tyke's name is Pepper, which is pleasantly gender-neutral, yet spunky. This calls for a top-ten list of fictional robots:
10. Small Wonder ("Small Wonder")
9. Data ("Star Trek")
8. R2D2 and C3PO (Star Wars)
7. The Terminator (Terminator 2: Judgment Day)
5. Johnny 5 (Short Circuit)
4. HAL (2001: A Space Odyssey)
3. Marvin the Paranoid Android (Hitchhiker's Guide to the Galaxy)
2. Maria (Metropolis)
1. WALL-E (WALL-E)
Runners up: Rosie from "The Jetsons," that creepy kid from A.I., Optimus Prime, the Iron Giant, all of the Replicants from Blade Runner