Can I Give You $1,000 and NOT Be a Bridesmaid?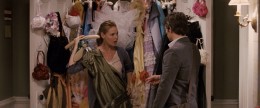 Bridesmaid costs are exorbitant, to the degree that should you bribe the bride $1000 to pick someone else, you'd still quite possibly save money over what you would have spent. An Alternet essay, reprinted in Salon, makes the point that when participating in a friend's special day has the potential to bankrupt you, the situation is ridiculous and needs to change.
Much has been written about the average cost of a wedding as well the average cost of being a bridesmaid. A 2012 study by TheKnot.com and WeddingChannel.com reported that the average wedding budget was $28,427 — the highest number it had reached since 2008. And Mint.com estimated in 2011 that the average total cost of being a bridesmaid totaled $1,695. … The Today Show reported that approximately 10 percent of people said they went into debt simply to attend or be in a wedding.
How does this enormous number come to be? There are the obvious factors: the dress, which can cost anywhere from $100 to more than $400; and then the alterations, which can add another $100 or more; and the shoes which can ring up as anything from $30 to $150. Then there are all of the events related to the wedding: the showers, of which there are usually more than one (along with the customary bridal shower, recipe and lingerie showers are now the norm). Then there's the bachelorette party, which, for many, has evolved from a night of bar hopping to a destination event that involves airfare or gas, a hotel and several expensive days and nights at spas, restaurants and bars. Factor in manicures, pedicures, hair and makeup for the wedding itself and the total cost could easily exceed that $1,695 average.
There are alternatives to pleading penury and declining to join the wedding party. You could ask to be a groomsman instead! At like $400-$700 max, and quite often less, it's a relative bargain. ("It is always significantly cheaper — $100 for the tux, sometimes a bachelor party, sometimes not, and he never feels obligated to go to or throw a shower.")
Although I'm sympathetic to all of this, I'm annoyed because I've never been a bridesmaid myself. In fact, someday I'm going to write an essay about my experiences called "Never A Bridesmaid," mentioning that although I've been a reader, speaker, translator, and ketubah-signer at my good friends' weddings, I've missed out, so far, on this particular key life experience. Part of the problem is that my hippie/hipster friends tend to eschew attendants. It's so unfair. I want the chance to wear pink satin and identify with Katherine Heigl too!
---
Support The Billfold
The Billfold continues to exist thanks to support from our readers. Help us continue to do our work by making a monthly pledge on Patreon or a one-time-only contribution through PayPal.