10 Days in California for $500
by Jenna Warnecke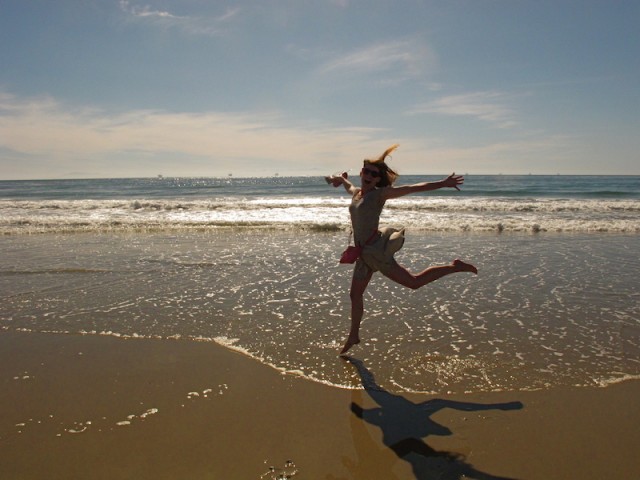 Last winter I returned to the U.S. after living in Paris for two years. I had spent almost all of my money and was plagued with doubt over where to build my life in America. With no plans, no job, and the glories of my home country intriguing me in a way they never had before, I got the itch for a road trip. I disregarded the fact that I don't really, you know, drive, and decided to visit a few friends and relatives along the West Coast to see if one of those cities could be my new home.
Here was the plan: I'd fly up to San Francisco to stay with my cousin Christopher and his girlfriend Linzi for a few days, then meet up with my music blogger friend Amy and drive with her (or let her drive me) down the coast to her place in L.A., then take the train down to San Diego to visit my BFF Shannon. But I had to make every penny count after living in one of the priciest cities in the world and watching my savings dwindle.
I saw this trip as more an "investment in my future" than a wild vacation, so I set a goal for myself to do it for $500. I thought if I kept my spending down to around $20 a day, got my food at grocery stores and took advantage of each city's free attractions, I could totally do it. I have some pretty amazing friends and I know how to stretch a buck, but then again, I was going to visit three cities not exactly known for their affordability. Could I do it? More importantly, could I do it and still have fun? Let's find out!

DAY 1
• Flight from Mesa, Arizona to Oakland, California, on Allegiant Air, the cheapest fucking airline in the world because they give you literally nothing (not even water) and charge you for everything (including any items larger than a purse): $66
• Carry-on bag fee: $13
• Water for plane: $1.98
• Sandwich lunch brought from home: FREE
• Shuttle from the airport to BART, then BART to Montgomery Street Station to meet Christopher, who took a half day to show me around town: $7.05
• MUNI ride downtown: $2
• Chocolate tasting at Tcho: FREE
• Hike up to the Coit Tower vista to check out the city, taking the empty back way full of
flora and fauna, not tourists: FREE
• A "snack" at Mario's Bohemian Cigar Store Cafe: amazingly delicious panino that
Christopher and I split, plus a glass of wine: $11
• Tasting at the teeny-tiny Golden Gate Fortune Cookie Factory: FREE
• Dinner at Taqueria with Christopher and Linzi: $9.41, which seemed a little high for 1 taco and 1 Corona
• Ice cream of the century at Humphry Slocombe: the Secret Breakfast, a creamy delight of bourbon-flavored ice cream and crushed corn flakes, the memory of which haunts me to this day: $4.08
• Lodging with Christopher and Linzi: FREE
Day 1 Total: $114.52. Not even counting the airfare, I was not up to a very good start.

DAY 2
• Breakfast at Christopher and Linzi's place, Blue Bottle coffee and cereal with coconut milk: FREE
• A slice of banana bread from a deli due to my immediate blood sugar meltdown because coconut milk DOES NOTHING: $1.95
• All-day tour of San Francisco with my parents' friend Tim, a photographer, former taxi driver and 65-year-old total hippie stoner: FREE (though the terror of flying down SF hills at 60mph while the driver beside me lit up his fourth joint of the day probably did cost a few days off my life)
• Contact high from spending six and a half hours in a car with a man who kept saying things like, "Man, this city is so beautiful, it just makes you wanna light up a spliff and say 'Damn, ain't life great!'": FREE
• More Blue Bottle coffee courtesy of Tim, who knew all the locals hanging around the coffee spot ("Hey man, how's it hangin'?"): FREE
• A BLT at the Java Beach Café in Outer Sunset where Tim and I met his wife Liz, an extremely calm, look-into-your-soul woman who peered at me and asked, "What… do you want… in life?": $6.75, and the only time all day that Tim shut up (priceless).
• Whiskey with Tim at The Saloon, a North Beach blues bar built in 1886, plus conversation with the bartender (a Hell's Angel), a 75-year-old French hooker ("The oldest in this neighborhood!" giggled Tim), and an old drunkard who mumbled, "The drunker I get, the better she looks": FREE
• An afternoon nap: FREE. Naps are always free.
• Bahn-Mi sandwiches for me and Christopher at Golden Gate Park food trucks' The Chairman: $13
• GoGo Punch courtesy of Christopher at Hobson's Choice, a Victorian-style bar in the Haight where we overcame being simply "cousins" and became actual "friends": FREE
• Yamazaki whiskies for us at the Alembic: $24, and worth every penny
• Templeton whiskey courtesy of Christopher at an unknown Haight bar where we met up with Linzi and some of their hilarious and creative friends: FREE
• Water for the rest of the night, the best idea I ever had: FREE
Day 2 Total: $45.70. What could and should have been my cheapest day saw my wallet careening out of control from the siren song of a delicious whiskey. A tale as old as time.

DAY 3
• Late breakfast/lunch of granola, milk and coffee: FREE
• Goldfish crackers and water, eaten on a bench at the Marina, watching rich people walking their dogs back and forth in front of me: FREE
• Bus fare to ride 3 miles back to the apartment after walking up and down the hills of San Francisco all afternoon, contemplating my existence and fearing I may not belong anywhere anymore: $2
• Bottle of Chardonnay to thank Christopher and Linzi: $10.99 on sale
• Bottle of Malbec to bring to dinner at Amy's friend Stephen's, who would put us up for the night when Amy got into town: $7.99 on sale
• Throw-together dinner at Stephen's, plus whiskey at the end of the night when Amy arrived, which after an evening of red wine turned out to be a poor life decision: FREE
• Lodging at Stephen's: FREE
Day 3 Total: $20.98

DAY 4
• Breakfast pain au chocolat, courtesy of Amy: FREE
• MUNI ticket to car rental office: $.75 (I may have bought a child's ticket…)
• Car rental from San Francisco to Los Angeles: $300, but split with Amy, so: $150
• Coca-Cola and a bottle of water from a gas station to soothe my hangover: $3.89
• Subway sandwiches halfway down the coast: $5.49
• Seeing wild zebras roaming the hillside below Hearst Castle: FREE
• Seeing hilarious, monstrous sea lions outside Monterey: FREE
• A Heineken for my troubles: $2.51
• Wine tasting on the Central Coast with Amy's mom's membership: FREE
• Pink champagne cake and coffee for me and Amy at the Madonna Inn, which looks the way a Village Inn does to someone doing some hardcore 'shrooming, and where I declared upon seeing the dictionary-sized slice of cake, "My commitment to life is stronger than my commitment to my wallet": $24
• Trader Joe's ready-noodles for dinner: $1.95
• Lodging at Amy's mom's house while she was out of town: FREE
Day 4 Total: $188.59. The moral of the story is: contrary to popular belief, the answer to a hangover is not more alcohol, and very rarely cake.

DAY 5
• Breakfast of Trader Joe's yogurt and pecan praline granola: $3.82
• Hours of driving along the California coast with one of my dearest friends, singing along to '80s guilty pleasure songs by the Bee Gees and Joey Scarbury: FREE
• Bacon cheeseburger and Diet Coke from The Spot on the beach in Carpeteria: $7.78
• Homemade chili, maple custard pie and whiskey at a bluegrass jam at the home of Amy's friend in Los Feliz: FREE
• Arrogant Bastard Ale at a party in Venice Beach showcasing the mighty, wonderful folk singer Langhorne Slim: FREE
• Lodging with Amy: FREE
Day 5 Total: $11.60. Now that's more like it. Sometimes the best things in life are free, and holding a banjo.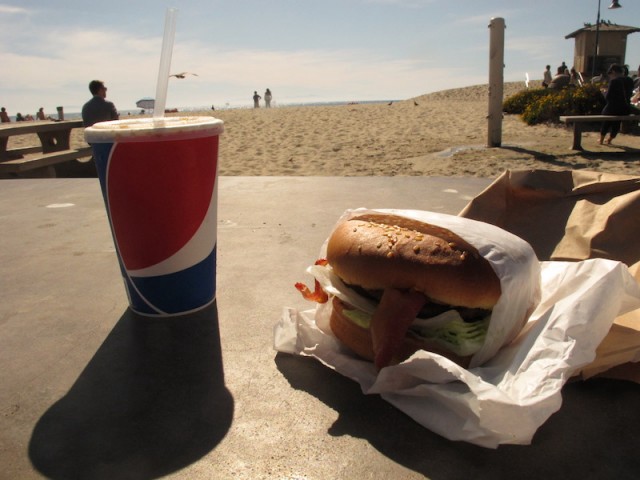 DAY 6
• Breakfast of Trader Joe's granola: FREE (or already paid for)
• Halls Honey Cough Drops, to soothe the brutal cold I might have gotten from shaking someone's hand on Haight Street in San Francisco three days earlier: $1.09
• Pulling myself off the couch for a twenty-minute walk around the block to marvel at Los Angeles' mid-century modern style, its vivacious colors and angles so different from those of San Francisco, where I had just been, and Paris and New York, where I had made my life up to then: FREE
• Bottle of Saint-Emilion to bring to dinner with the Guncles (Amy's gay uncles) who made us a fantastic dinner and regaled us with stories about the gay dance clubs of the '90s: $10 on sale
• Lodging at the Guncles' so nobody would drive drunk: FREE
Day 6 Total: $11.09

DAY 7
• Cereal breakfast at the Guncles': FREE
• A sunshine walk through Westwood Cemetery to see Marilyn Monroe's gravesite, alongside those of Natalie Wood, Billy Wilder and Minnie Ripperton: FREE, and really sad
• A driving tour of Beverly Hills and Hollywood, then a fabulous sandwich at It's All About The Bread with my graveyard guide and friend Tom, who insisted on treating me to lunch: FREE
• Watching Langhorne Slim perform on Conan: FREE
• Delicious dinner bites (split) and a Manhattan at Cliff's in Silverlake with Amy: $20
Day 7 Total: $20. Perfect.

DAY 8
• Breakfast granola: FREE
• Coffee for me and Amy at Stories Books & Café, a groovy little shop where Amy worked on her laptop for a few hours while I watched people and admired the drawings of John Tottenham: $6, but the guy actually took $7 of my money and I didn't notice until later, that hipster fuck
• Amy's leftover falafel salad from a business lunch: FREE
• Housewarming/thank-you gift for Amy: the records Tonight, It's Music by Jose Melis and K-Tel's Blockbuster 20: 1976 from Amoeba Records: $5.44
• Cup of joe at the 101 Coffee Shop, where everyone seemed vaguely famous, especially Dianna Agron, whose face looked like a pile of half-ripe peaches: $4 with tip
• Dinner and a show at the Magic Castle, a supremely weird experience which merits its own essay, courtesy of Amy, who proclaimed, "I'm treating you to this because it is the dream of my life to go here": FREE
• Wine for me and Amy at the Dresden Room, watching the legendary Marty and Elayne perform old jazz standards in an almost-completely dark lounge, an experience almost as bizarre as going to the Magic Castle: $20
Day 8 Total: $36.44

DAY 9
• Train ticket from L.A. to Oceanside on Metrolink: $13.50 (on a student fare, because I still have my I.D., and aren't we all students of life?)
• Iced coffee and a yogurt parfait from the train station deli: $5.32
• Beachside picnic lunch with Shannon and her daughter, where I awed Shannon with tales of my California adventure thus far: FREE
At this point, I'm sorry to say, I stopped writing down everything I bought. The chilled vibe of California had finally worn me down, and as one does in San Diego I became very relaxed and stopped caring about most of my neurotic worries. I spent three days with Shannon and her family pretty much just looking at her baby and talking and laughing and looking out at the ocean. We made meals at home and watched reality TV on Bravo and I think it was the best part of my trip. I do know that I spent about $20 at the grocery store, around $20 on a nice lunch, $2 on coffee each day (total $12) and $5 on beachside fish tacos on my last day, which were amazing though the smell lingered on my fingers all the way back to Phoenix.
• Flight from San Diego to Phoenix: $94
• Airfare rebate for signing up for one month on Travelers Advantage: + $100 (I have never done a rebate before but holy crap, was that a great time to start!)
Grand total: $499.92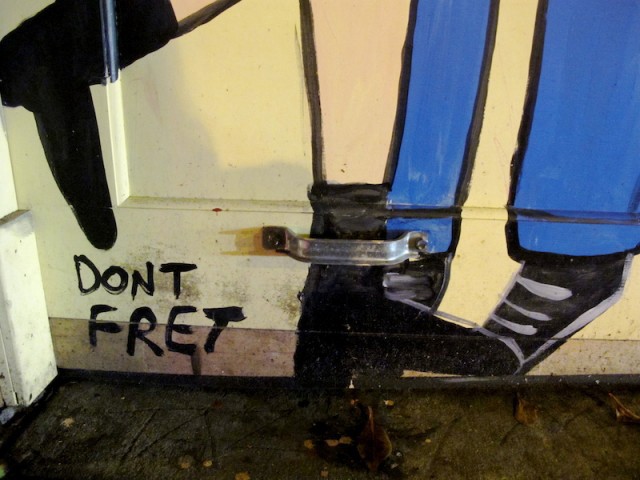 I don't know that I actually came in under budget because of the murky accounting of the last few days, but I do know I came damn close. Of course I pinched my pennies in as many creative ways as I could, but I think it's obvious that I never could have made that trip happen for as cheap as I did, and as fun as I did, without some extraordinary generosity from the people I love. They showed me new sides of each California city, even ones I'd already visited several times. In the end, I decided to move back to New York, but I could only do that armed with the knowledge that California is there if I want it. I had terrific adventures, ate wonderful food and laughed in a way that anyone feeling lost about where to turn next in their life absolutely needs. And that, of course, is priceless.
Jenna Warnecke is a writer in New York.