The Cost of Being Robbed While Traveling Abroad
by Lisa Findley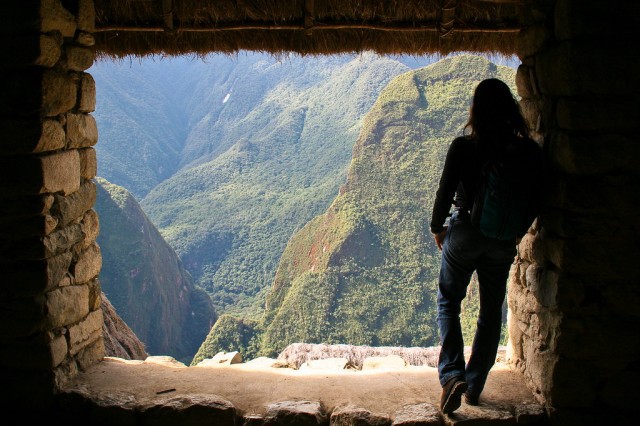 Let me start by acknowledging that yes, it could have been much worse, and for that matter, it could have been much more expensive. But still, a man walked away with my purse, the police were disinterested at best, and I've had to shell out money and accept that some things are just gone.
I've been traveling solo for 14 out of the last 20 months, so I figure I know how to look after myself and my stuff. But it's easy to get complacent in that time, and complacency leads to carelessness; all it takes is a moment of carelessness, if an opportunistic thief is around.
I was sitting on a low wall in a plaza in Cusco, Peru, soaking up the afternoon sun and writing in my journal. I had my purse to my left, touching my thigh, although the strap that I usually wrap around my wrist was dangling loosely, not attached to me at all, as it turns out. I didn't even notice the man walk by and pick up my purse — that's how smooth he was and how absorbed I must have been in my writing. I looked over to check the time, and my purse wasn't there. My brain couldn't quite process this. I checked behind me, in case it had fallen over. There was nothing. My brain started to catch up. I leapt to my feet and looked around frantically, but my purse was nowhere to be found. I asked the people around me if they had seen my purse (or rather, in my halting Spanish, I asked, "Where is my purse? My purse?" over and over). A teenaged couple giggled at me and suggested that a local man had stolen it, but that's all they knew or were willing to say.
I couldn't believe it, I still can't believe it; this couldn't happen to me, but it did. I'm mad at myself for being careless. I'm furious at the thief. I'm ready to leave town.
I'm fortunate that it wasn't violent, and that it wasn't my money belt. Here are some costs of a more serious robbery, if my money belt had been taken: $110, the cost to renew a passport at the embassy here (they charge you the full amount to renew if they're replacing your lost or stolen passport); $200 in cash I keep for emergencies; $100 to ship new credit cards from my parents' house to me (the credit cards themselves wouldn't carry a cost, although my debit cards might be $5 each, but the real killer is the shipping costs from North America to South America).

The tourist policeman, dressed in an olive green uniform trimmed in gold braid, spoke to me rapidly in Spanish. I did my best to reply. Usually, my height and weight mean that not many people can intimidate me physically, but this guy, who was slightly shorter than me, pushed himself in my face and yelled, and I was already feeling scared and vulnerable, so I shrank back, which I hate. Any time I didn't understand something, he just yelled louder, in the time-honored way of insensitive brutes everywhere.
We drove past the scene of the crime, which Yell Louder didn't seem very interested in, and then carried on to the police station. Since it was a Sunday, only a skeleton crew was working in the small office. (None of the officers wore nametags, and they never introduced themselves to me, so I'm sticking with nicknames.) I'd never been robbed before, but I figured they'd want a list of what was stolen, so I had it ready when Yell Louder asked for it. I sat in a corner and cried a little with my head in my hands, while Yell Louder and his friend joked with a man sitting in a chair similar to mine. A little later, a different policeman entered the room and put handcuffs on the guy they'd all been joking with and feeding snacks to. This did not inspire confidence.
Neither did how long it took to prepare the report. Yell Louder was painstakingly copying my list by hand, on carbon paper. Carbon paper. I asked if we could look at the cameras that everyone assures me are all over Cusco, but he said not until we had the report. A few times, he walked my list across the room to a man with rimless glasses and a severe expression, and they whispered a little, and he returned to his desk. Eventually, I realized that he was asking Glasses for help translating, which meant that Glasses spoke at least some English. Here I was, crying by myself in the corner, at one point begging this room of all-male officers for some toilet paper because the bathroom didn't have any and all my extra tissues were in my stolen purse. I was doing all this in my broken Spanish, and this guy could've helped, could've explained what was going on? Glasses was now Secret Bilingual.
Eventually, Yell Louder finished up the handwritten report. He handed it to me to inspect, then yelled most of the report over my shoulder while I tried to read. I signed and fingerprinted it, he stamped it with a few official stamps, and then he left. I was alone in the room with Secret Bilingual, who explained — in perfect English — that he was now going to type this up. I am not sure why we needed carbon paper in the first place, when we had these newfangled computing machines at hand, but mine is not to question why, mine is to get the police report.
While Secret Bilingual typed away with two fingers, I walked over to inspect the one poster in the room. It was written in English, and it warned tourists that making a false police report is a serious crime that the Peruvian government will pursue vigorously. This jogged my memory; there was a little note in my guidebook about a recent increase in false reports, which makes the police more reluctant to investigate claims. Thanks, false reporters of the world! Now I reconsider my approach from the beginning, which was to try to rein in my panic and tears, to stay strong. If I'd broken down into hysterics, would they have been more likely to believe and assist me?

A copy of a police report in Cusco: -7 Peruvian Nuevo Soles (it's about 3 soles to 1 dollar)
While printing and stamping the report, SB makes a point of telling me that usually they charge 7 soles to give people a copy, but because it is Sunday and the bank is closed, they will generously give me this for free today. I was sitting in a part of the park with no cameras, so they will not look at those, he says. He has me write down my email address, and he says they'll email if the investigation turns up anything. They will not turn up anything; he has already told me it is "very unlikely" that anything will be recovered, and he hopes I have insurance.
A taxi to my hostel from the police station: 4 PEN ($1.44)
I ask how I will get back to my hostel. SB says maybe a cop car will come by later, and maybe they can give me a ride, maybe not. Amazingly, I have a few soles in my jacket pocket, so I use those to get away as quickly as possible. The taxi driver initially wants six soles, but when I explain I literally only have four, he agrees, which is the nicest anyone has been to me in the last three hours.
Recovery drinks at The Wild Rover: 15 PEN ($5.38)
When I return to my hostel, I seek out friendly faces, and I find a couple people who immediately suggest we get dinner and drinks, which is exactly what I need to hear. I buy a couple drinks during happy hour at the party hostel The Wild Rover, and my friends each buy me a drink as well. I sing "Jolene" during the open mic, which earns me a fan club of Swedish 20-year-olds, so that helps too.
Scanning and printing costs at Internet cafés: 4 PEN ($1.44)
The next day, I submit my claim via the website of my insurance company. I assemble the necessary documents — a copy of the police report, receipts of purchase, pictures showing me using the items I don't have receipts for, a copy of my passport — and email them to the claims address. I receive a short reply alerting me that it takes about four weeks to process claims.
The amount I claimed for, the big items: $440
I had just bought an iPhone 5 in February, and was pretty pleased with my first smartphone. The four things I miss the most: the 50 photos, some of them of Machu Picchu, that I hadn't yet uploaded so will never see again; the 23 GB of music I listened to daily; the white noise app that made it possible for me to sleep in noisy hostel rooms (earplugs don't cut it); and WhatsApp, which let me text my siblings and new friends regularly. I also claimed for the waterproof iPhone case, the e-reader, and the purse itself. I have never claimed for stolen belongings through my travel insurance, so I don't know how much of the money I'll recover. Believe me, I know I'm lucky to have ever had this stuff in the first place.
The value of the other items in my purse: $95
My purse also contained my glasses (I was wearing my prescription sunglasses, which is lucky, and I have a spare pair of glasses I'm using now), a scarf I bought in Italy 10 years ago, a bandana of the Rocky Mountains my aunt gave me when I went on my first big trip, my few bits of makeup, and the medicines and odds and ends I always carry. Also $10 in USD and 156 soles, which is about $50. I can't claim for any of this stuff. It's just gone.
Scarf and mp3 player: 100 PEN ($35.89)
Over the next couple days, I bought a couple replacement items that I can't do without. It is very cold at this altitude, so I needed a scarf immediately. I went for a rainbow chevron pattern, and told myself that a scarf in Peru for a scarf in Italy is a fair trade. I can't function properly without music, so I went to the local electronics shop and bought a tiny mp3 player.
The books I'd bought for my Nook which cannot be recovered: $50
Goodbye, Black Lamb and Grey Falcon, The Brief Wondrous Life of Oscar Wao, and a few other books I'd bought for my Nook but hadn't yet read. Those aren't stored anywhere else, so I'll have to repurchase them or get in line at the library.

In all, I lost about $585 in material items and cash, and I spent another $40 or so replacing things, comforting myself, and making insurance claims. That's a pretty steep price for a moment's stupidity, and one I'd rather not have had to pay at all. I've found that for every three travelers I tell the story to, one of them has a similar tale of an expensive moment of carelessness. It's nice to have people to commiserate with. It's good to see that life carries on, and so do the travels. I've always advocated being cautious but not paranoid while traveling, and I still think this is the right balance. Still, as I head to Bolivia next week, I might be clutching my bag a little more tightly.
See also: "How Real People Afford to Travel the World For Extended Periods of Time"
Lisa Findley writes about her travel adventures — good and bad — at Stowaway.
Photo: Danielle Pereira
---
Support The Billfold
The Billfold continues to exist thanks to support from our readers. Help us continue to do our work by making a monthly pledge on Patreon or a one-time-only contribution through PayPal.