Job of the Day: Zookeeper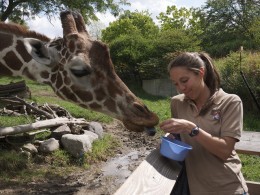 This week's Working Life column at the Times is about zookeeping! Rachel Swarns talks to Jeremy Sanders, who has worked for the Bronx Zoo, his dream job, for 18 years. The perks — hanging out with animals, basically — are great, but Sanders is quick to lay out the reality of the work, too. They pay is $34,900 a year for new employees and $48,100 for senior ones. The work is, "hot, dirty, and physically exhausting."
"People say, 'Wow! What a great job!' And it is," said Mr. Sanders, 40, as he walked me through his daily routine last week. "But like any job, it has its ups and downs.
"The majority of the work we're doing is cleaning," he explained. "You're constantly cleaning. It's not the most glorious part of the job, but it's something we all accept. Our job is to take the place of Mother Nature."
…They scrub and hose down bird droppings from the exhibits. They drain pools and ponds to prevent the growth of algae and wash scores of food pans. They haul trees and boulders. They mow during the summer and shovel in the winter. (The penguins, who hail from South America, are no fans of snow.)
Cute, though. Very, very cute.
Photo: dlytle