Places I've Lived: Behind Ben Folds, Two Capitol Hills, and a D.C. Fixer-upper to Call Our Own
by Shilpi Paul
Where have you lived, Shilpi Paul?
Tiny House Behind the "Ben Folds" house, Chapel Hill, N.C., $300, 2003–2005
Uncertain what to do with my newly minted degrees in Anthropology and Psychology, I decided to keep on living in Chapel Hill and pay relatively little in rent while I figured out how to move forward.
A friend had a house in town, located in a neighborhood made famous by former resident Ben Folds, who wrote "Whatever and Ever Amen" in a house right behind hers. The mini house, which measured out at about 600 square feet, had a second bedroom with just enough room for a twin-sized bed and a desk. I moved my things in and embarked on a circuitous goal-finding path that involved reading novels, teaching SAT and GRE classes, traveling to India, taking endless runs around town, visiting more than one coffee shop per day and almost always one bar at night, publishing an article based on an experience I had in India, more reading teaching running coffee wine, and then securing an internship at the NPR station in town based on my article. Finally, I had found a jumping off point for a career and an adult life.
Every room in that non-air conditioned house was painted a different primary color. Though I painted my room a soothing neutral, the energy of the kitchen, living room and bathroom and of my lovely housemate kept my spirits up in what could have been a very lost time.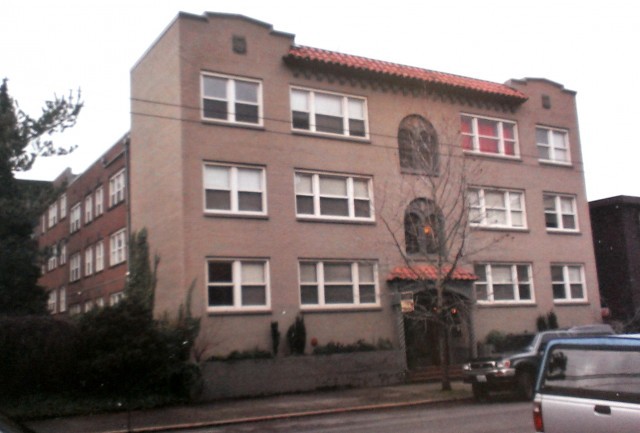 Friend's bedroom, Capitol Hill, Seattle, Wash. September — November 2005
Since I had had two languorous years to figure things out and my boyfriend was graduating from law school, it seemed like a natural time to consider packing up and moving away from dreamy Chapel Hill, perhaps to a big city. We narrowed our choices to cities that seemed good for our respective fields and where we had friends who could help us settle in, and decided on Seattle. Leaving Chapel Hill after six years felt like trapeze-ing without a safety net, but we said some tearful goodbyes, abandoned most of our scant belongings, packed up everything we could fit into a Honda Civic, and made our way west.
When we got to Seattle, my closest childhood friend and her then-boyfriend, now-husband invited us to stay in their home in Capitol Hill. They owned two units in a condo building that were opened up and connected to each other, so they had two kitchens, two living rooms, two bathrooms and two bedrooms; we stayed in one bedroom for a few months. (Later, they divided the units back up and turned them into two two-bedroom condos, mitosis-like, and then sold them separately.)
One-bedroom apartment in Capitol Hill, Seattle, Wash. $800, November — February 2006
We found a few jobs that seemed reasonable and moved into a one-bedroom apartment a few blocks away from our friends. We got a bare-bones set of furniture from my boyfriend's coworker, who had just sold her eggs to an infertile couple and was taking off on a one-way soul-searching trip, maybe to China. I also remember investing in a brand new futon mattress that we strapped to the roof of the Civic before opening the doors, which required us to then climb in through the windows to drive it home.
Though we signed a year-long lease, we were not long for that apartment and its arched doorways and picture window; my boyfriend soon found a must-take job in D.C. Since I was writing for a magazine, I could continue from anywhere, so we decided to sell our few belongings, pack up the Civic once again, and drive east until we hit the other Washington.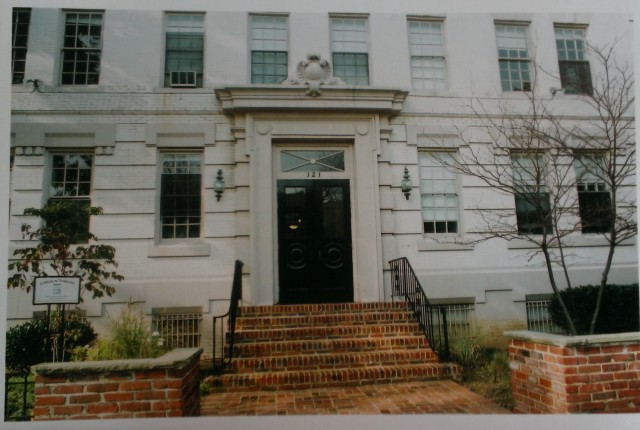 Studio apartment in Capitol Hill, Washington, D.C., $1,050, April 2006 — August 2008
In what was perhaps a foolhardy move, the boyfriend and I then moved into a 300-square-foot studio apartment in the *other* Capitol Hill. Tall ceilings and big windows made it seem bigger, and we organized the space by creating distinct rooms — living room, bedroom, office — with the respective furniture looking *away* from each other, in order to somehow get an eye contact break from time to time. I also started taking very long baths, and we made frequent use of the rooftop porch.
At the time, Capitol Hill was in the process of gentrifying. Though we were steps from a park full of well-groomed children and designer dogs, I also saw a fellow steal a car radio (and immediately try to sell it), heard many gunshots, and dodged teens and cops engaged in a high-speed, on-foot chase.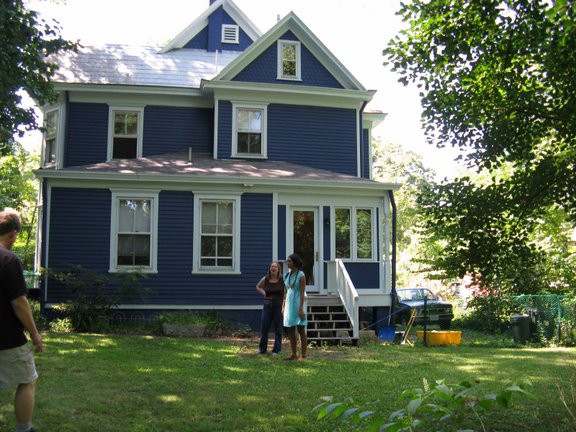 Takoma Park group house, Washington D.C. $700 (my share), September 2008-July 2009
My closest friend and her husband (the ones who let us crash at their house in Seattle) decided to move to D.C., so the four of us went in on a rental house together. The house we found, in nearby Takoma Park, was owned by a couple who fled to France when Bush was elected, but wanted to hold onto their house in case a Democrat came into office again. I'd heard people threaten this before, but this was my first exposure to the real deal; our lease even had a provision stating that if McCain won the 2008 election, we could renew, but if Obama won, we would need to find another home.
The house we found, in nearby Takoma Park, was owned by a couple who fled to France when Bush was elected, but wanted to hold onto their house in case a Democrat came into office again.
As the permanent home of a family, this house was considerably nicer than a typical rental, with a renovated kitchen, amazing bathtubs, and a feel that it had been loved. There was a huge front porch which saw a lot of outdoor-yoga-doing and general lazing about, and a backyard shaded by very tall trees. We divided the four bedrooms by giving one to each couple, designating another as a guest room, and leaving the fourth as a catch-all office/reading room/storage area. There was also a finished attic that my friends used as their office, and a basement for serious storage.
We settled in, and many, many games of MarioKart were played.
This time period also coincided with major life events for both couples: they became pregnant and had a baby, and we broke up. The amazing backyard hosted both their delightful baby shower and my many hours of contemplative cigarette smoking.
That winter and spring, the spacious, comfortable house served as a retreat, as the baby gestated and I regained strength. In July, the baby was born, and I went on a first date with the man who would become my husband.
Two-Bedroom Apartment on U Street, Washington, D.C., $875, August 2009-December 2011
However, that spring, I had wanted to get back into the heart of the city and walk the streets having single-gal adventures. A friend shared an apartment on U Street with a woman who was getting married and moving out, so I took over her room. Like in many city apartments, this "bedroom" was loosely defined: it was just a sunroom off the kitchen that led, through a window, out to the porch. Two walls were made almost entirely of windows, and the floor space had just enough for a queen-sized bed, a wardrobe, a desk, and a very narrow hallway. I loved it. I painted the walls and hung paper lanterns and stacked books next to the bed, and spent many evenings climbing up the little wooden steps to the porch to look at the stars and spy on neighbors.
By the time I moved in, I was properly dating my now-husband. However, I kept a strong hold of my "room of one's own" for a couple years.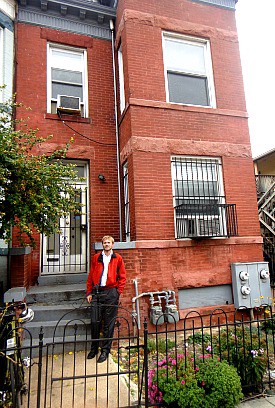 Rowhouse in Shaw, Washington, D.C., about $400, January 2012 — present
In April of 2011, I got engaged and pretty much immediately, we decided to start looking for a home to buy. The D.C. housing market was getting expensive, and gentrification was pushing east, past Dupont Circle, Logan Circle and Shaw. We looked towards the edges of the wave, hoping to find something affordable that we could renovate, and that had a rental unit to help offset the mortgage. (I wrote about our search here.) After a few months that included running from squatters, navigating piles of moldy clothing and rotting milkshakes, and feeling depressed in move-in-ready condos, we found something just right: a two-story, two-flat rowhouse on the eastern edge of Shaw that had been serving as a rental for several decades.
The home had good bones and huge windows, but hadn't seen a renovation in a long time. The inches-thick layer of dust on the ceiling fans and decades-old crust of grime on the cabinets were calling out to us to fix (and repelling our potential competitors). The owner helped keep the pool small, as well — she didn't have a great relationship with the current upstairs tenants, and couldn't find many open windows of time to show the house. We lucked into a two-minute showing one Sunday, and while the owner gently pushed on my back to keep me moving through the house as quickly as possible, I fell in love with the potential. We could throw out the rotting cabinets and bath, scrub up every surface, sand the paint off the original-wood floors, and have a two-bedroom home we could live in for years.
My husband and I grabbed a couple Thai iced teas at the restaurant around the corner, stared at each other with moony eyes saying things like "is this our new neighborhood?" and put in an offer the next day. Our offer was accepted. We kept the existing and awesome downstairs tenant, and set about planning a big renovation of the upstairs unit.
For a couple months, we hired various contractors to knock down a few walls, renovate the kitchen and bathroom, replace the HVAC system and finish the floors. Then, we moved in and have been slowly updating the rest of it as we save up cash. We recently installed new windows and doors.
While our burden of the monthly mortgage payment is fantastically low for D.C., we have the occasional major outlay. Because we didn't renovate our tenant's apartment, things like heating systems and washing machines and toilets break from time to time and need to be replaced, like, immediately. We also still have dreams for our unit: We want to finish a portion of the attic to create a quiet getaway that's accessible by ladder, and we need to turn our backyard — currently a dirt square — into something more inviting.
At some point along the way, I got pregnant and we brought a baby into the mix. Now, I also think about our proximity to good schools and playgrounds and parks. All of those factors are in the "reasonable-to-good, with potential for improvement" category right now. We'll see how things go as our baby becomes more of a kid. As for the home, we'll probably stay here for a while, but are not sure if we'll sell it when we move, or hold on to it as a rental property forever.
Shilpi Paul is a reporter who is currently juggling diapers and laptops.
---
Support The Billfold
The Billfold continues to exist thanks to support from our readers. Help us continue to do our work by making a monthly pledge on Patreon or a one-time-only contribution through PayPal.