Anderson Cooper Has His Own Millions, Thank You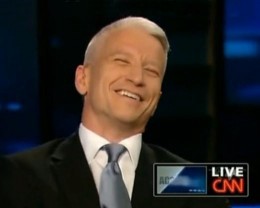 Here is another fact in a long series of facts maybe everyone knows but me: Anderson Cooper is a Vanderbilt?! Of railroad tycoon fame? More specifically, his mom is the 90-year-old heiress Gloria Vanderbilt, who has $200 million dollars that she is NOT giving to her son when she dies.
Anderson Cooper, per the NY Post, is fine with that. In fact, he's a little smug about it:
"I don't believe in inheriting money … I think it's an initiative sucker. I think it's a curse.
"Who's inherited a lot of money that has gone on to do things in their own life? From the time I was growing up, if I felt that there was some pot of gold waiting for me, I don't know that I would've been so motivated.
"I'm doing fine on my own, I don't need any," he said.
I get where he's coming — or at least the idea that 'earning' money just feels a lot better than getting it because you implanted in a very lucky uterus — but I think the next paragraph provides some critical context:
Cooper, 47, makes around $11 million a year at CNN and lives in a converted firehouse in Greenwich Village and also has a Hamptons estate in Quogue. Last November he signed a contract extension to keep him at CNN through the 2016 presidential election.
Homeboy can afford to be all idealistic and smug about it.
I think if I lived in an alternate universe where I got a big inheritance I would 'feel weird about it' but also I would take that moneyyyyyy.
---
Support The Billfold
The Billfold continues to exist thanks to support from our readers. Help us continue to do our work by making a monthly pledge on Patreon or a one-time-only contribution through PayPal.