A Chat With the Women Who Started 'Rice Paper Scissors,' A Vietnamese Restaurant in San Francisco
by Megan Reynolds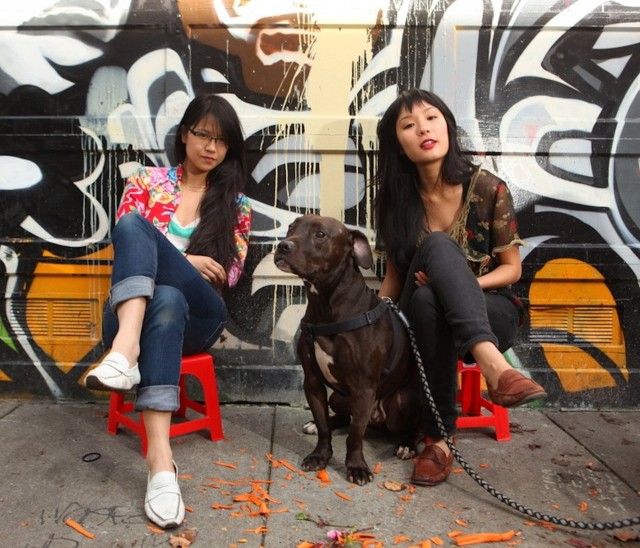 I first met Katie when I lived in San Francisco. She lived down the street from me on the third floor of a ramshackle Victorian that she shared with a group of other people, including my best friend. I was over there a lot, and the one thing I noticed was that Katie was a fantastic and adventurous home cook. We once spent an afternoon on a deck in Marin, eating dim sum that someone had driven over from Clement Street — sticky rice and char siu bao, all washed down with cold beer in the thin rays of the sun. She introduced me to brandade, and is the only person I know to have made soup dumplings successfully. Her dead-simple recipe for olive oil, stone fruit and rye cake is one of the only desserts I can execute with success.
When I moved to New York, I followed her progress on her blog Kitchen Sidecar, and was pleased to see that she had expanded beyond the home kitchen and into pop ups, sidewalk cafes, and now a real storefront. The first time I went back to San Francisco after moving, I tried to get into their pop-up at the night market, but the line was around the block. A blustery night a few years later, I ate a delicious rice plate and half of my ex-boyfriend's pho at Mojo Cafe, cooked with love and skill by Katie and Valerie during their Thursday night pop-up. The notion of starting a business from scratch and actually achieving success in San Francisco, a town full of culinary micro-trends, is fascinating. Katie and her partner Valerie Luu are embodying the mantra of doing what you love. We chatted over email about how they got their start.
Hi guys! Introduce yourselves for me.
We're Valerie and Katie, the founders of Rice Paper Scissors, a Vietnamese restaurant based in San Francisco.
How'd you guys start working together?
We met when we were both selling Vietnamese food as two separate vendors at the Underground Market, a marketplace for home cooks started by forageSF.
Rice Paper Scissors came together one fateful Lunar New Year in 2011 when I reached out to Katie to see if she would be interested in setting up a Vietnamese pop-up cafe to celebrate the new year.
We'd both traveled to Vietnam and loved the street food stalls we'd experienced there. A few days after our initial conversation about a pop-up Vietnamese café, Katie and I had put together a menu and acquired some little red stools and tables for a street side event. Over a hundred folks came out to eat snail pho and crab noodles on a small patio on Valencia and 20th. The rest is history!
How'd you end up doing this as a living?
We often get asked, "Is this your full-time job?" The answer is yes — since our very first pop-up Lunar New Year 2011. There was no looking back after that.
Was this your intended career path? What did you guys do before you started Rice Paper Scissors?
Neither of us expected to do what we're doing now. Katie worked as a biotech consultant and was slated to go to med school. I studied sociology and journalism at UC Santa Cruz and would've gotten a job in communications if I didn't fall into the food industry.
Our previous experience comes in handy with our current work. Katie's very technical and driven by process and experimentation. I do the marketing and communications for Rice Paper Scissors.
What have been some of the struggles of starting your own business?
For a while, all we wanted was to grow a team. We were doing monthly pop-ups in different venues, but it wasn't enough to employ cooks or servers on a regular basis. Once we started our catering program and acquired our own kitchen at Brick & Mortar Music Hall, it gave us the opportunity to build a team of great folks.
What have been some of the great successes?
Employing a team of smart people and serving food to the nicest guests.
What were some of the challenges of opening your own restaurant space, and what kind of changes have you had to make to the way you run things?
This is the first time we've operated in our own kitchen (instead of a commissary kitchen shared with other vendors.) Let's just say it's like moving from a house with seven housemates to your own apartment. Things are set-up the way we like, in a way that works best for us, so it hasn't been much of challenge.
How much support did you have, financially, from outside sources (i.e parents), or is this all you?
We started with zero capital, but we did have the following assets: two folding tables, a few portable burners and a stack of little red stools. Even some of that was probably borrowed.
What we did have was the ability to run a bootstrapped operation, to work hard, and good friends who either volunteered or let us borrow their kitchen equipment — from folding tables to tongs. We merely re-invested every dollar we earned and after three years, we're happy to report we have more than enough tongs.
How did you guys gain traction in a town like San Francisco, full of things like artisanal toast and pop-up food trucks and what have you? What set you apart from the rest, do you think?
We're serving Vietnamese food in a different way with a pared down menu based on our travels and childhood memories. We serve dishes like our pho rolls, which we discovered in Vietnam, but isn't really found here.
We're also two Asian-American women that cook food and run a business. You don't see that too often.
Tell me a little bit about that time with Anthony Bourdain.
He was very tall in person.
Megan Reynolds lives in New York.
Photo Credit: Phil Carter
---
Support The Billfold
The Billfold continues to exist thanks to support from our readers. Help us continue to do our work by making a monthly pledge on Patreon or a one-time-only contribution through PayPal.