When You're the Know-it-all at Work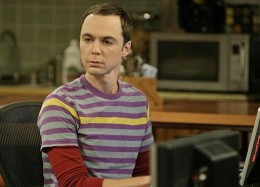 What do you do if you're afraid that you're coming off as a condescending know-it-all at work? Should you try to act "dumber"? Karla Miller who runs @Work Advice at The Washington Post says know-it-alls shouldn't act dumber — they should be "strategically generous":
They ask questions instead of spitting out answers: What do you think? Does anyone have a different idea? What if we tried this instead?
They recognize that everyone has a contribution: Great point, and I'd like to build on that by adding … Let me defer to Eloise on that topic.
They dissent politely: I see where you're coming from, but I think …
They acknowledge vulnerabilities: I sometimes struggle with expressing myself tactfully.
They apologize as needed: I'm sorry, I didn't mean to be brusque.
They laugh at themselves: Whoops, I had a Sheldon Cooper moment there. Bazinga!
At a previous job, someone who built a reputation for being a know-it-all and interrupting colleagues at work was simply told, "Stop interrupting people while they're in the middle of talking — it's rude." He apologized, and consciously made an effort to stop himself from correcting people while they were talking. It's the thought that counts.