Possibly the Least You Can Spend on Getting Legally Married in Great Britain
by Jessica Furseth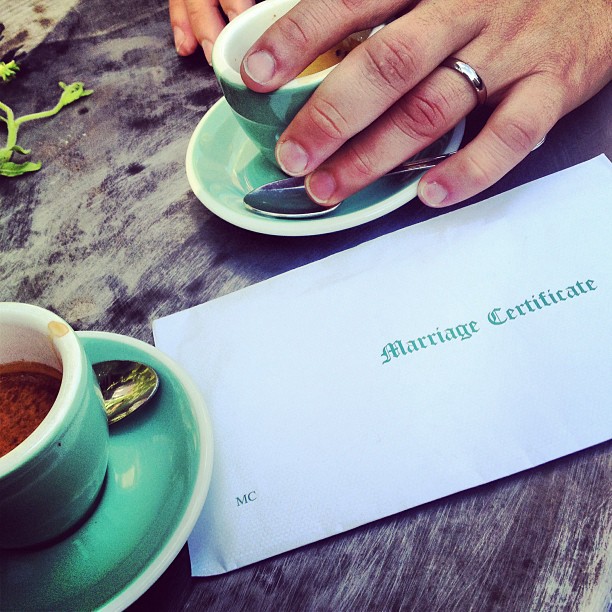 My husband and I got married last July. We wore jeans to the registry office, and except for the three friends who were our witnesses, no one knew anything about it until it was over. For us, it was perfect. As a side effect, it was also ridiculously cheap.

Going out and getting a bit drunk, ending up accidentally getting engaged at a bus stop at 2 a.m. £67 ($111.44)
Smoked salmon bagels at the 24-hour bakery, in a newly-engaged daze. £4.80 ($7.98)
Hangover breakfast the next morning. £18 ($29.94)
"Do you remember what we talked about last night?"
"Yes."
"…"
"Marry me. No, really!"
Total engagement cost: £89.80 ($149.36)
We started the planning 10 days later once we realized we couldn't think of a single reason not to go through with it. In the end we were engaged for 32 days, mainly because the British system has a 16-day waiting period for marriage permits.
Mandatory "notice of intent" appointment with the local council to get a marriage permit: This also served to verify our identities and making sure we're not already married, and/or brother and sister. £60 ($99.80)
Hiring a room for 15 minutes at the Town Hall, with a marriage official and registrar. (This is the Thursday rate; Saturdays cost more.) £79 ($131.40), or £5.80 ($9.66) per minute.
"Rings! We should get rings!" … We got titanium bands online, and they showed up two days before the ceremony. This was the only thing we bought that we didn't strictly need. £54.75 ($91.07)
Bus fare to the Town Hall on the day: £2.80 ($4.66)
Pub lunch afterwards: Free, paid for by our wedding guests.
Cards, stamps and printing of photos for the thank you notes: £36 ($59.88)
Replacement ring when my husband left his in a hotel bathroom six months later: £25 ($41.58) … Somewhere out there a crooked and/or underpaid hotel employee is trying to sell that ring, only to be told it's not platinum but titanium, hence it's essentially worthless. Except as a symbol, that is.
Total wedding cost: £257.55 ($428.38)
Jessica Furseth is a freelance journalist living in London. She has a Tumblr.
---
Support The Billfold
The Billfold continues to exist thanks to support from our readers. Help us continue to do our work by making a monthly pledge on Patreon or a one-time-only contribution through PayPal.