Have You Been Suckered Into Aromatherapy Yet?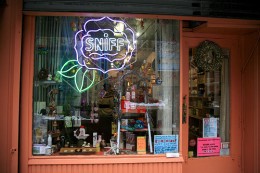 The world of buying little containers of concentrated smells — "essential oils" to the initiated — is one way to throw money out into the void that I have so far resisted, but I feel my strength waning at every mention. I want to be a woman who has a little kit of cute bottles that she lends to people in times of need! I want to diagnose my friends' problems and then seem magnanimous when I lend them peppermint smells!
My resistance got a little bit futile-r when I read Pacific Standard this week, where Katie Heaney makes a great case for embracing the aromatherapy placebo (and your inner East Village witch):
They recommend wearing the oil as a perfume, and/or burn a few drops of it in a candle. I'm told a white one would be best, as white candles are also good for uncrossing, letting go of negativity. The process of this stuff — how or why it's supposed to work — is as vague and elusive as it ever is with essential oils, no more or less so because we happen to be buying it from a witchcraft supply store. And though I don't believe in the oil itself, I do believe in placebos, and symbolic gestures, and the camaraderie of the young woman selling it to me. "It's just good if you're feeling, like, you know," she says, somehow shrugging in the kindest way I've ever seen. And I do.
Photo: vincent desjardins