Bill Gates Talks About Income Inequality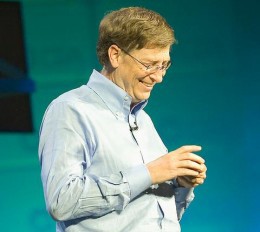 At Rolling Stone, Jeff Goodell talks to Bill Gates about, well a variety of things — Silicon Valley, climate change, his foundation — but the part I'm particularly interested in is Gates's views on poverty and income inequality:
Let's talk about income inequality, which economist Paul Krugman and others have written a lot about. As a person who's at the very top of the one percent, do you see this as one of the great issues of our time?
Well, now you're getting into sort of complicated issues. In general, on taxation-type things, you'd think of me as a Democrat. That is, when tax rates are below, say, 50 percent, I believe there often is room for additional taxation. And I've been very upfront on the need to increase estate taxes. Particularly given the medical obligations that the state is taking on and the costs that those have over time. You can't have a rigid view that all new taxes are evil. Yes, they have negative effects, but I'm like Krugman in that if you expect the state to do these things, they are going to cost money.
Should the state be playing a greater role in helping people at the lowest end of the income scale? Poverty today looks very different than poverty in the past. The real thing you want to look at is consumption and use that as a metric and say, "Have you been worried about having enough to eat? Do you have enough warmth, shelter? Do you think of yourself as having a place to go?" The poor are better off than they were before, even though they're still in the bottom group in terms of income.
The way we help the poor out today [is also a problem]. You have Section 8 housing, food stamps, fuel programs, very complex medical programs. It's all high-overhead, capricious, not well-designed. Its ability to distinguish between somebody who has family that could take care of them versus someone who's really out on their own is not very good, either. It's a totally gameable system — not everybody games it, but lots of people do. Why aren't the technocrats taking the poverty programs, looking at them as a whole, and then redesigning them? Well, they are afraid that if they do, their funding is going to be cut back, so they defend the thing that is absolutely horrific. Just look at low-cost housing and the various forms, the wait lists, things like that.
When we get things right, it benefits the entire world. The world's governments don't copy everything we do. They see some things we do — like the way we run our postal service, or Puerto Rico — are just wrong. But they look to us for so many things. And we can do better.
Gates also talks about how difficult it is to make specific changes to improve things because of the current political climate where there is little consensus on what should be done. "If I could wave a wand and fix one thing, it'd be political deadlock, the education system or health care costs," Gates says. "One of those three, I don't know which."
Photo: Domain Bonyard
---
Support The Billfold
The Billfold continues to exist thanks to support from our readers. Help us continue to do our work by making a monthly pledge on Patreon or a one-time-only contribution through PayPal.