The Man Who Made 'Catan' While Hating His Day Job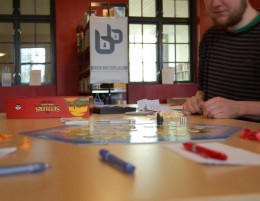 Adrienne Raphel has a really lovely profile of Klaus Teuber, a dental technician from Darmstadt, Germany who designed games in his basement during his spare time. One of those games ended up taking off and later designated by Wired as "The Monopoly Killer." Teuber's game: The Settlers of Catan, which I've only gotten to play once but found it really fun.
Teuber left his dental lab in 1998, "when I felt like Catan could feed me and my family," he said. He and his wife, Claudia, have three children. In 2002, they incorporated Catan GmbH and made it the family business. Teuber and his sons, Guido and Benjamin, each hold the title of managing director; Guido focusses on the English-speaking market and Benjamin controls the international side and helps with game development. (Teuber's daughter is an actress; although she's sometimes roped in as an unofficial game tester, she's not formally involved with the company.) Claudia is responsible for bookkeeping and testing new games. "Luckily, she loves Catan as I do," Teuber said.
The Settlers of Catan is internationally popular, and is also internationally sourced:
The company originally sourced all of the materials for the game from Europe, but, when demand began to take off, the manufacturers didn't have enough wood to keep up. Mayfair expanded to American companies for more resources. Today, every box of Catan that Mayfair produces is an international affair: the dice are tooled in Denmark; the more intricate wooden pieces are done in Germany; other wood parts are made in Ohio; the cards are from Dallas; the boxes, Illinois; the cardboard, Indiana; the plastic components, Wisconsin; finally, everything gets put together on an assembly line in Illinois.
Teuber comes off as earnest and happy — someone who truly loves games and often plays with strangers on the internet via the online version. And it's just really nice knowing that he did all of this while having a day job that he didn't really enjoy, but was eventually able to leave after working on something that he did enjoy.
Photo: Bergen Offentlige Bibliotek