The High Cost of Entering the Magic Kingdom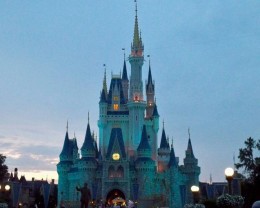 I have distinct, fond memories of being a kid and being taken to Disney's Magic Kingdom by my parents, who didn't earn a lot of money and must have saved their pennies for quite some time to take my family to Disneyland in Anaheim, Calif. There are photos of me wearing Mickey Mouse ears wearing a big grin on my face somewhere that I will share one day if I can find it.
People still love Disney, attendance numbers are high, and tickets are now $99 for a one-day pass at its Magic Kingdom Park near Orlando, according to Bloomberg Businessweek. In 1989, adult tickets for Disneyworld were $30.65 — $57.82 adjusted for inflation in today's dollars. Disney doesn't care about the price increases because they know people will still pay to go:
"If you think Disney World's gotten too expensive, don't bother complaining," Robert Niles, editor of Theme Park Insider and a former Magic Kingdom employee, wrote on his website. "Disney's looking at attendance numbers when setting prices, not people moaning online. Look for an alternative where to spend your money instead."
My family likely would not have been able to go to any of Disney's theme parks at today's prices, and that's a shame.
Photo: Bill Lehane