In-N-Out Burger Has Remained Popular and Profitable While Treating Employees Well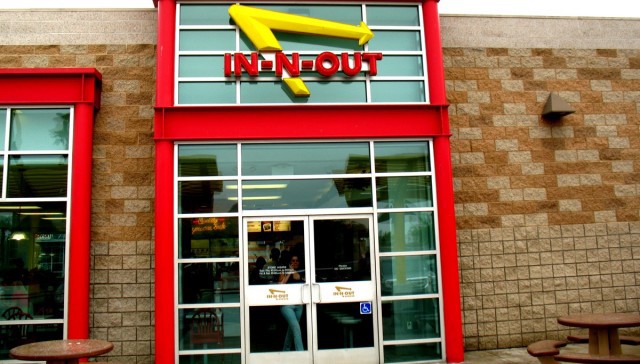 Orange Coast Magazine has a profile about Lynsi Snyder, the 31-year-old president of the much beloved In-N-Out Burger chain, and it's filled with a bunch of interesting tidbits about the family that founded the company in the 1940s and how it has remained profitable and popular even as competitors like McDonald's saw a sudden rise, and other beloved chains like Five Guys entered the market:
Snyder, who inherited control of In‑N‑Out in 2006 when her grandmother died, and ascended to the corporate presidency in 2010, won't be adding new products or expanding into new markets as new CEOs who want to put their stamp on a company often do.
"How we make our decisions is not looking to the right and left to see what everyone else is doing," she explains. "It's just looking forward and doing the same thing that we've done in the past, because it has worked. We don't have plans to change the menu. We don't have plans to crank up the growth. It's just kind of doing the same thing and being smart, and everybody doing their job. Like a plane on autopilot. There's so much momentum, with all the people who've been here and have tenure. There's so much strength, as a whole. So we just keep on doing the same thing, and it runs pretty smoothly."
Under her three-year tenure, In‑N‑Out has expanded — cautiously — into Texas, a move she says has been in the works for a decade. That foray brought one rare, considerably less-than-daring change to the company's formula: It added iced sweet tea to the menu. "We knew that everybody loves sweet tea there," Snyder explains. "It's not that hard. We just need to bring sugar in." But don't expect to see it on the menu in Orange County anytime soon, because, she says, "Texas is so separated from here."
If it ain't broke don't fix it, basically. In-N-Out's classic menu and consistency over the years has built a loyal following among both diners and employees, who get paid a starting rate of $10.50 an hour (the company believes in taking care of their employees, and has no public shareholders to report to). There is also a 401(k) plan.
Snyder also worked at In-N-Out when she was a teenager — coring tomatoes and slicing onions — so she knows what it's like to work in one of her own restaurants. Can a fast food restaurant pay its employees a decent starting wage, grow in a sensible way, and make its owners lots of money? Forbes estimates Snyder's wealth at $500 million.
Also, In-N-Out makes a darn good burger for $2.
Photo: Jamie
---
Support The Billfold
The Billfold continues to exist thanks to support from our readers. Help us continue to do our work by making a monthly pledge on Patreon or a one-time-only contribution through PayPal.