Earning a Living as a Floral Designer: An Interview With Ladybird Poppy's Sarah Tedford
by Jenny Stockton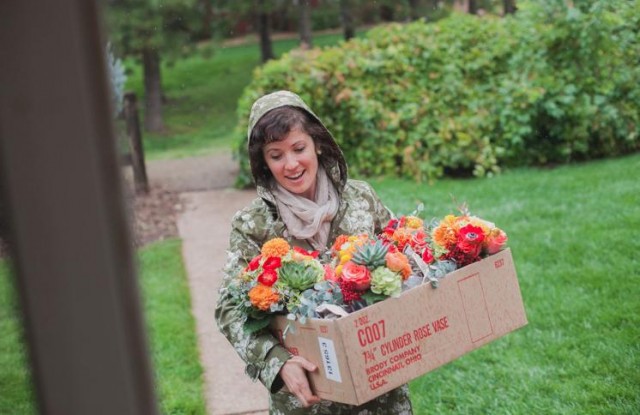 I first heard about Sarah Tedford of Ladybird Poppy when I started dating my husband in late 2008. The two were friends from high school, and he hired her to design a floral arrangement for me when he asked me officially to be his girlfriend. Sarah was just on the verge of starting her own business as a floral designer at the time and now, more than five years later, my husband and I are happily married and Sarah's business is thriving.
Let's start with how you got into the business. When did you get your start as a floral designer?
I applied at a flower shop called Castle Pines Florist and Greenhouse when I was 15 years old. I had no previous experience in the floral industry and for years it was just a job. I became close friends with the owner's daughter, which helped me to continue working there after school and on weekends.
So it started as a part-time job that you didn't necessarily think would lead anywhere beyond that?
Yes. After high school, I was taking pre-reqs for radiology and would come home over the summer or holidays and work there. My focus for a degree was completely different being radiology or, later, dental hygiene. I stuck in it though, because it's what I knew how to do other than nannying jobs.
Can you remember a specific moment when you realized this is what you actually wanted to do? Or was it a more gradual transition?
After working at Castle Pines for about three years on and off, the designers realized that I had an eye for it. They continued to encourage me to design. I still didn't know what direction I wanted to go, but had fun designing. A few years later, I had the opportunity to design at several different shops throughout Colorado. It wasn't until I worked at the Inverness Hotel in 2008, that I realized I really enjoyed design. I was forced to design and my boss encouraged me to pursue it, in hopes that I'd eventually take over her business.
Not having any business experience, I decided to start doing friends' weddings on the sides. They all fell in love and more and more encouragement happened. I began to gain confidence in design and realized that I designed 'outside of the box'. With that, in 2009, the economy crashed and I didn't want to start at the bottom again. Since I didn't technically have a floral degree I was really thinking about it and not too sure what to do. Many friends encouraged me to just start my own wedding floral design company. I had NO idea what I was doing but decided to make the plunge. Thus Ladybird Poppy developed February of 2009.
Tell me more about floral degrees — do many people have them?
I'd say many do get the degree, or rather certificate, if they don't have an in. In most cases, people start with internships or getting a six-month — one-year certificate. There are floral schools throughout the US, varying in styles and levels of design. It was something that, at the time, I couldn't afford to pay for and with all the encouragement from co-workers and friends, I decided to stick to learning hands on at other shops. I've worked at 8 different shops over the past 14 years.
Knowing what you know now, would you say it was the right decision?
Absolutely I have seen that some people tend to follow the rules and guidelines from school strictly and have a hard time designing or pushing themselves from the norm. I had the opportunity with hands on training and co-workers and employers who bent over backwards to teach me little tricks and trades of the industry. I tend to rebel and not follow what the book says to do. But looking at where my business is today, it was well worth it.
So when you started in 2009, what did that look like? Did you register a domain name? Send an email to friends and family? What was the first step?
I only had $100 to start — so scary! But, friends created a website and logo, and I asked previous florists how to get licensed for floral with the state and other business related questions. Having my website and business cards, I began spreading the word and had 30 small weddings and events the first year. That was confirmation that this is where I was supposed to be.
Did you have a side job? Or another way of covering your basic living expenses?
I've always had part-time to full time jobs and Ladybird Poppy was always a part-time or weekend gig. I was scared to fully launch into it and it wasn't until April of 2013 that I went 100% full-time Ladybird Poppy.
Did you know all along that you eventually wanted Ladybird Poppy to be 100% full-time? Was that a goal that you'd had in mind from the outset?
From the beginning, I was slowly falling into it and it was with the encouragement from friends and clients that I decided I should stick to it. I would have never expected to be a business owner or have the guts to try this. It wasn't a goal or passion of mine at the beginning, rather situations that led me to step into it. I always thought, I will just do this for a couple years, but as the years keep passing, I have realized that I am gifted in design and it's a therapeutic outlet. I am now fully passionate about it!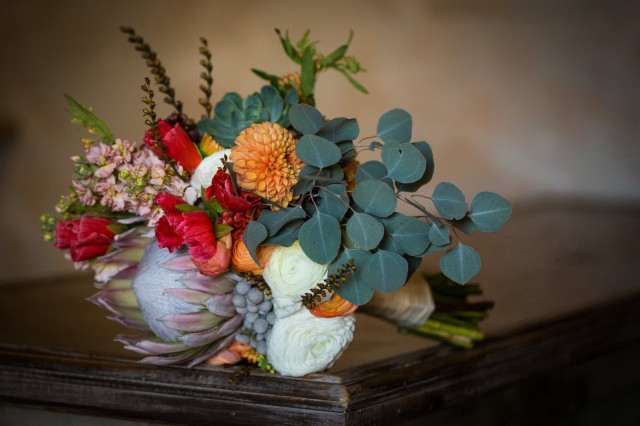 It's so cool that you've realized that! What did it ultimately take to decide to go 100% in April 2013? Was there a specific financial goal? Was it more of a gut decision?
Honestly, I was getting so many calls and inquiries that I couldn't focus at my other jobs, even one day a week. So, after looking at finances and recognizing that I had enough saved to get me through the next year, I made the plunge.
And how have things gone since then?
Amazing! I keep thinking, "Man, I should have done this a couple years back." But with some health issues, I was fearful to have to depend fully on myself and it probably wouldn't have been the right timing. This past year has been incredible and 2014 is almost booked for the year. One asset that helped push the professionalism this past year is that I now have an incredible studio space to design and meet clients at, rather than coffee shops. I really feel like this helped the overall vision and branding of Ladybird Poppy grow.
2014 is almost booked for the year! That's incredible! How much of that is summertime work? Do you have big chunks of time during the year when you're not doing much and then, like, summer wedding season hits and you have no life outside of your work? Or are you able to be more selective and be busy when you want?
It is pretty busy in the summer — May-September — then pockets of holiday or smaller weddings between now and then. People are starting to book year-round, whereas before it was usually just during the summer/autumn months. I am able to be more selective now, which is amazing I also have two paid employees this year and one intern.
What is your salary at this point? And are you able to save even now that you're designing 100% of the time?
My salary for 2013 was $28,000. As far as saving now, because I'm making more, I started a couple savings and 401(k) accounts so that I wouldn't be spending more on things that aren't needed, but rather trying to put that money away for future expenses. Two years ago I only brought home $10,000, so I've come a long way.
That is a big deal, for sure. I'm curious how you think about your business long-term. Like, do you imagine over the years you'll earn and save enough to retire? Or do you have more of a "this is working now, I'll just keep going for as long as it lasts" mentality?
More of the mindset that this is working now and I'm thrilled to keep at it as long as life allows. I honestly am not sure that I will forever have my business, but my vision for the business from the get-go has changed drastically and expanded way more than I ever expected. So, it makes sense for me to stick in it at the moment.
It almost sounds like you've just been along for the ride — surprised and excited and willing to work really hard for it.
Yes, that's it. Rather than it being a dream and hoping/desiring to be a florist indefinitely. It is a unique scenario for sure.
What would you say is your favorite part of what you do?
Designing is my number 1 and number 2 is presenting the bridal bouquet to brides on their wedding day. It's a scary yet honoring feeling.
What advice would you give to someone wanting to do what you're doing now?
For floral design specifically, if it's something you want to jump into, I'd recommend interning or applying at other shops to get experience. Every shop is different and functions in different ways. If floral school is what you'd prefer or if you work better with hands on day-to-day random experiences, do what's best for you. Don't give up, push for what your goal is and ask questions along the way. You definitely can't do this solo, peers and employees are your friends. Also, blogs and pinterest are a good outlet to get some inspiration I'm always happy to refer or suggest and/or may need help in the near future. So don't hesitate to reach out to me personally.
Jenny Stockton is a writer who lives in Denver, Colo. with her husband. She loves food and fiscal responsibility. Photos courtesy of Sarah Tedford.
---
Support The Billfold
The Billfold continues to exist thanks to support from our readers. Help us continue to do our work by making a monthly pledge on Patreon or a one-time-only contribution through PayPal.