Duh, Amazon is Bad For the Book Business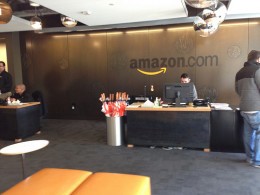 George Packer has a really long, really gossipy and great story about Amazon in the New Yorker right now. It is DARK, or it is dark if you love books and care about literary culture and are scandalized by things like this, even if you already knew it, but just to see it spelled out so clearly, my god:
"Where is Earth's biggest bookstore?"
"Cyberspace," Bezos replied.
"We started a Web site last year. Who are your suppliers?"
"Ingram, and Baker & Taylor."
"Ours, too. What's your database?"
" 'Books in Print.' "
"Ours, too. So what makes you Earth's biggest?"
"We have the most affiliate links" — a form of online advertising.
Doeren considered this, then asked, "What's your business model?"
Bezos said that Amazon intended to sell books as a way of gathering data on affluent, educated shoppers. The books would be priced close to cost, in order to increase sales volume. After collecting data on millions of customers, Amazon could figure out how to sell everything else dirt cheap on the Internet. (Amazon says that its original business plan "contemplated only books.")
Afterward, Doeren told his partner at Rainy Day Books, Vivien Jennings, "I just met the world's biggest snake-oil salesman. It's going to be really bad for books."
The stuff about Amazon's early days was the most fascinating to me, especially when he interviews early employees who were hired to write early book reviews and other "editorial content" — real people who did the work years before the Customers Who Bought This Item Also Bought algorithms began driving purchases.
At Amazon, original writing wasn't even called "content." It was known as "verbiage," simplified to "verbage." Amazon's writers and editors formed a counterculture that never fit easily in a company ruled by computer engineers and M.B.A.s, who valued data most and believed only in measurable truths. "The key to understanding Amazon is the hiring process," one former employee said. "You're not hired to do a particular job — you're hired to be an Amazonian. Lots of managers had to take the Myers-Briggs personality tests. Eighty per cent of them came in two or three similar categories, and Bezos is the same: introverted, detail-oriented, engineer-type personality. Not musicians, designers, salesmen. The vast majority fall within the same personality type — people who graduate at the top of their class at M.I.T. and have no idea what to say to a woman in a bar."
Oh and also this is way too real:
One day, Fried discovered a memo, written by a programmer and accidentally left on a printer, which suggested eliminating the editorial department. Anne Hurley, the editor-in-chief of the DVD and Video section, was viewed dismissively by her boss, Jason Kilar, who went on to run the video-streaming company Hulu. He told her, "I'm sorry, Anne, I just don't see what value you add." (Kilar denies saying this.)
The whole thing is fascinating and explains Amazon's relationship with publishers really well. It is also 13 pages and kind of half-calls Bezos a "shmoo." Vaya con dios.
Photo: uuzinger