Maybe We'll Soon Have Our Very First Cat Cafe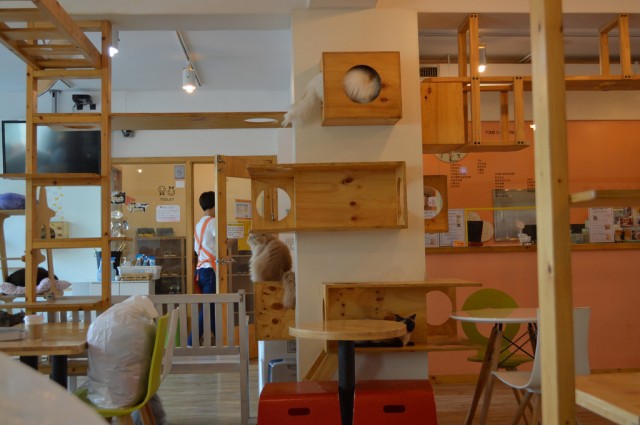 Back in the fall of 2012, Maggie Hamilton wrote a piece for us about how she felt like she was stuck in a career rut, and that perhaps her dream career would be running some kind of bakery where there were a bunch of cats around to hang out with. Cat cafes are huge in Japan and in some European cities, but food service regulations in the U.S. have made it impossible to have animals around where people consume food. Our American dreams of the cat cafe are constantly being dashed.
Or maybe not!
Atlantic Cities reports that the first cat cafe in the U.S. may soon become a real establishment people can visit:
Courtney Hatt and David Braginsky, a cat-loving duo from San Francisco, are currently at work on KitTea, a cat cafe concept they hope to open in the city this summer.
They envision KitTea as part "gourmet tea house," part "cat and human oasis." To ensure the place is not too crowded or chaotic, the cafe will be at least 1,600 square feet, housing a maximum of 10 cats and 30 to 35 people at a time. KitTea is partnering with a local rescue group to take in shelter cats.
According to its website, KitTea cats will be selected "based on their personalities and whether they have been socialized to be comfortable around both humans and other cats." KitTea also plans to conduct a "period of introduction," where cats can get used to one another's scents and presence.
Of course, KitTea, just like Miaou Boston, will need to get past local laws that prohibit animals in food facilities. Hatt says she's currently working with San Francisco's Retail Food Safety Program, whose first response to the concept was an emphatic "no," since tea is considered food.
KitTea — genius name! KitTea says they may have found a workaround by putting up walls and a hallway between the tea service area and the cat area. The Food Safety Program has given the compromise a thumbs up.
If this works out for Courtney and David, maybe it'll work out for Maggie, and maybe one day I'll walk down the street, get a hot drink, and hang out with a cat.
Photo: Elsa Brunell
---
Support The Billfold
The Billfold continues to exist thanks to support from our readers. Help us continue to do our work by making a monthly pledge on Patreon or a one-time-only contribution through PayPal.