An American Living in London (And Paris, And Edinburgh)
by Arianna Reiche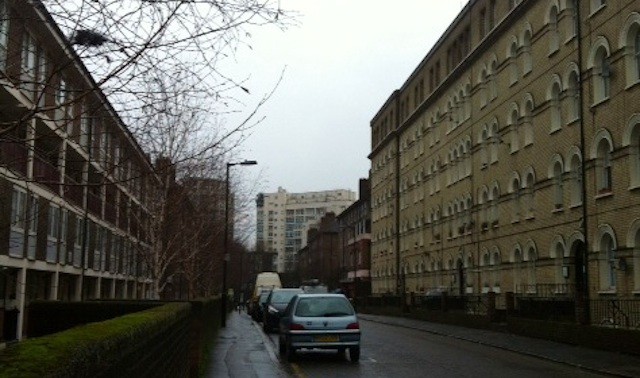 Where have you lived, Arianna Reiche?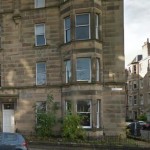 Bruntsfield, Edinburgh, Aug. 2005 — June 2007, £190/mo.
I did my undergrad in Scotland, and the first year out of student accommodation I lived upwind from a brewery that made the air smell like old bacon. This might sound unpleasant, but Edinburgh on the whole was so magical that now I just associate rancid meat smell with giddiness. Rent was insanely cheap because the flat was technically owned by my friend Fran. This wasn't the first case of a family putting university-located property in their kid's name that I came across. I wouldn't call it a common occurrence, but it was definitely more of a thing than I've seen elsewhere, especially the U.S.
A room in a student flat in the city runs around £380 per month, but Edinburgh rent is actually some of the priciest in Scotland. Living in Glasgow's West End for under £300 is just about do-able. (Scotland's so great. But I digress.) One of the rooms in our flat was an actual closet with a bed-panel built into the wall, and the four of us agreed to alternate living in it year-by-year. When my turn came around I did the really classy thing of swiftly moving out. Later, in the night, the friend who owned the flat and her boyfriend went creeping around the building's attic and stepped through the ceiling of the room which had been mine. Given how much Ambien I was taking at the time, it seems for the best that someone with a strong psychological constitution was inhabiting it.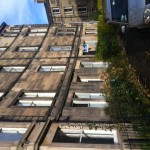 The Meadows, Edinburgh, Aug. 2007 — July 2008, £340/mo.
Everything green in Scotland has this insane chlorophyll glow where the grass and moss actually seem to radiate photons. I remember this detail in particular when I'd lose sleep over how shitty I was for not appreciating this particular living arrangement more at the time. My flat overlooked a stretch of grass on a backdrop of an extinct volcano and Victorian sandstone villas and (usually) drunk students trying to play golf. It was stunning. I put Blik decals up on my wall because I was 21 and I'm pretty sure we didn't get our deposit back as a result.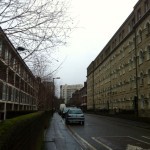 Elephant and Castle, London Sept. 2008 — Feb. 2009, £585/mo.
The summer after graduating, I did a publishing internship in my native Bay Area and then came straight back to London, where virtually all of my university friends had moved. I lived with a very sweet, nine-toed Canadian children's entertainer in between Borough and Elephant and Castle when it was still possible to live in Zone 1 for under £600/month. Again, time travel should be invented purely for the purpose of slapping past selves in the face for not appreciating their housing circumstances. Elephant and Castle is divisive, but I still think it goes largely unappreciated, if only for its accessibility. I'm wild about London buses. Wild. And the E&C roundabout is a bus-nerve-centre of central London. Eventually I got all up in arms about something in the flat — maybe damp? I remember buying a dehumidifier — and never having had a real landlord before, I was outraged at it going unaddressed for a couple months and decided to move. (Cue ChronoSlap™)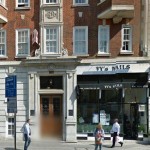 Baker Street, London, Feb. 2009 — Aug. 2009, £685/mo.
Some French and Irish people people had a room going. This was my first insight into the type of living arrangement where everyone works in finance and no one ever speaks to each other.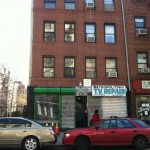 Avenue B, New York, Feb. 2010 — Dec. 2010, $1,150/mo.
My boyfriend got a job in New York, so I decided to leave my mostly fun post-production job and go be an adult in the U.S. for the first time since I was 18. After hopping between a few sublets, I optimistically decided to sign an actual lease somewhere. Somewhere ended up being Alphabet City. The whole apartment was on a steep diagonal tilt, and I lived with a sex blogger who had no bed and slept on a pile of clothes. I can actually understand this — in the U.K. bed frames always came standard with flats unless specified otherwise, and I will never ever take this for granted again. The place didn't even have a dumpy charm — everything just felt like it was made of styrofoam. I got depressed and ended up eating a lot of Kraft Singles. At the time I couldn't believe I was paying so much to live there, but my present understanding is that anywhere in Manhattan for under $1,200 is pretty great. I can't remember why I didn't live in Brooklyn, so don't ask. We gave our rent checks to a rotation of old Dominican men in a "candy shop" downstairs that was almost certainly manufacturing krokodil. I worked in retail until my boss tried to put me into something called "disco shorts," and then temped a lot while interning for a Gawker site that no longer exists. After a three-week-long stint writing for a magazine during the Edinburgh Fringe Festival, I watched the expiry date pass on my post-study work visa, which sucked particularly hard because this was around the time I started having serious regrets about having left in the first place.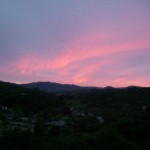 Novato, Calif., December 2010 — June 2011, $0/mo.
I moved home for about six months because I was tired of trying to be a person who loved New York. My parents had recently moved to the Marin-Sonoma border where there are tons of dairy farms, an abandoned Birkenstock factory, and some swamps. Also, if you're bored (which you are) you can try to break into Skywalker Ranch. I temped in a fabric warehouse in Sonoma which I was assured was managed remotely by a Thai princess (I did not question this). I also did some paralegal stuff in video-game syndication that I was wholly unqualified for. The house is on a hill, and for the first time in my young-person life I started to genuinely appreciate solitude. I also watched every single episode of Poirot. I am not exaggerating.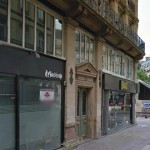 Rue du Cygne, Paris June 2011 — Sept. 2011 €700/mo.
I quickly stopped appreciating solitude. I'd started getting whinier and more bickersome with my parents than I had ever been as a teenager, and I needed to go somewhere, to break the toxic cycle of Poirot and bookkeeping. In the earlyish days of AirBnb I managed to snag this dream studio in Paris for what I thought was a really excellent deal. I say "thought" because I soon remembered that I wouldn't be working that summer, just trying to study French and come up with a life plan in which knowing French was at all useful. I drank away my savings with some tabloid socialites from Guadalajara and a bunch of delightful 18-year-olds who were really excited to be able to drink. While the whole stint absolutely bankrupted me, I like to look back on staying at that flat as an investment: the lady who rented the studio works for Airbnb now, and I've since gone back and stayed at discounted rates.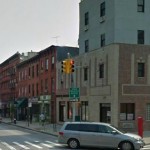 Park Slope, Brooklyn, September 2011 — November 2011, $0-$25/mo. During my last stint in New York, I lived with my boyfriend without paying rent (I think my logic was that occasionally paying for brunch at Scalino covered my end — I am a gem) and gave my last great effort to try to want to live in New York. It didn't work out, but all my favorite memories of the city are there, on 7th Ave, or around Prospect Park.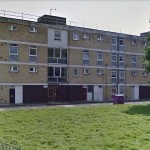 Kirton Gardens, Hackney, London, Dec. 2011 — April 2012, £615/mo.
I decided to move back to London and blindly try to "make it work" without a visa and without any picture of what "making it work" would actually look like. I effectively lived as a grifter. A very lazy, ineffective grifter. Most of my savings had been spent on the flights there, but I found mostly-legal ways to get by, and rent was reasonable for E2. We all lived off the PR freebies sent to my flatmate who was a food writer for one of the major broadsheets. For four months it was cured venison and that tequila that comes in a glass skull. My room had the floorspace to just about be able to lie down and do a snow angel type movement. I take that back. A toddler could make a snow angel. I sold or gave away a lot of my possessions, which felt nice. But I accidentally bought a waterproof children's duvet cover from Argos that I couldn't afford to replace, and I was always cold.
But that first night I landed, committed to going back to a place I loved after years of my own ultra-antagonizing whining, my favorite Brooklyn-based band was playing downstairs at an east-end venue that I jetlaggedly stumbled into. In the dorkiest way imaginable it seemed like fate: The world seemed small. It seemed like the people and places and things I loved would all smush together, eventually.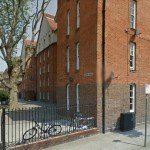 Shoreditch, London April 2012 — Sept. 2012 £430/mo.
I was the fourth person to move into what was supposed to be a three-bed flat in one of those red-brick Dickensian council blocks parallel to Redchurch Street. This made rent cheaper for everyone and didn't seem like a problem because the landlord did not appear to exist. We could be weeks late on rent and not hear a peep. Emails to him bounced back. Then, of course, he showed up out of the blue one night when my flatmate and I were fake tanning each other's bellies. I had to hide in a closet. With a wet belly. Some time later one of the cast of the Narnia films came over and drunkenly shouted something at our quiet Irish flatmate, so we felt like we needed to move.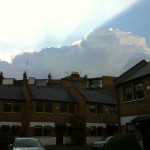 Pegasus Close, London Sept. 2012 — Sept. 2013 £780/mo. For the first time since Ave B, I decided to find a legit place for a few friends and I to live. Not a sublet. Not packing two extra Gumtree strangers into the living room. Just a place to live and pay rent to a real bank account and sign a lease and purchase a real duvet cover. I'd been pushy about wanting to live in Newington Green vs. unjustifiably expensive Dalston, so I ended up taking on more rent than the rest, and consequently getting an insane attic room. I'd started a master's which allowed me some legal working hours, and had landed a sweet science writing gig, so this wasn't too much of a problem. I got to live in an attic room with sloped ceilings meaning that there was only a narrow runway where you could stand up straight. I smacked my skull to the point of tunnel-vision on a daily basis. And though it was more expensive than I'd wanted, I saved money by actually cooking for myself for the first time. Did you know you can bake sweet potatoes? Did you know you can put anything on a baked sweet potato and it will be delicious? I adored it, and adored living with people I actually knew and genuinely liked. We moved after a year because two of the girls ended up getting (separate, coincidental) teaching jobs on the continent. One teaches at an international school in Ibiza now, because apparently those exist. I feel lucky just to have had that year.
Arianna Reiche lives in the U.K.