I Cracked Black Friday
by Jillian McMahon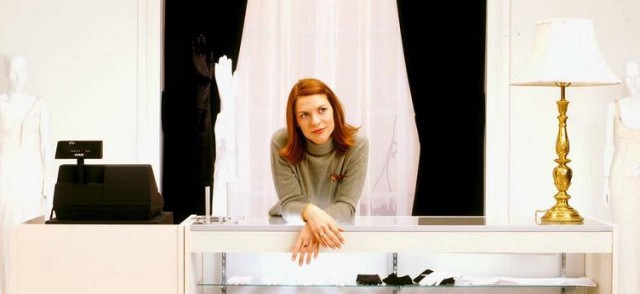 The week before Thanksgiving, a friend posted on Twitter that the Kate Spade store in the Pentagon City mall in Arlington, Virginia needed extra hands on Black Friday. The mall opened at midnight on Thanksgiving and didn't close until 10 p.m. on Friday night. Thinking this would be a fun adventure that would lead to a (possibly awesome) store discount, I went in for an interview. There was one interview question: what do you bring to this position? Brand knowledge and energy. I was hired immediately.
Here is how my experience went, by the numbers:
1.5 hours: the amount of time I spent training in the store the Sunday before Thanksgiving. I learned the backroom stock, the cash register, and most importantly, package wrapping skills. I also panicked about learning how to ring up a gift card. (When I worked Black Friday at Barnes & Noble in 2007, that's all anyone wanted to purchase.)
1 a.m.: my shift start time. The store was packed. I walked through Macy's, an anchor store at the P City mall, on my way to "work." It looked like a tornado had ripped through it. This definitely lowered my confidence on how fun this adventure would be.
5: the number of sales associates working at the store once I clocked in.
2: number of tax forms I had to fill out (a w-9 and a w-4)
2: the number of security guards working in the store. This is double the standard number. Justin, who was a surprise addition to the security personnel, was only to be there until 8 a.m. Vance, the usual security guard, recognizes me when I shop in the store. He also recognizes my husband. Remember that little thing about "brand knowledge"? It comes from copious amounts of window shopping.
4: the number of back up mall security guards that were called in when a fight broke out in front of our store at 2:30 a.m. A group of late teens/early 20-somethings, who were perhaps high off of their Thanksgiving festivities, were pulled apart mere steps from our merchandise. The lead instigator in this pack asked the security guard if she could just have a phone to call her mother. She was going to ask to be picked up at the Baltimore City Mall. All of us in the store gasped and made faces. Our manager said "She doesn't even have the right state."
$7.88: the amount I paid to buy everyone in the store Starbucks to stay awake
5 a.m.: the time the store manager came in for duty and let many of the sales associates, me included, go home
10 a.m.: the time my shift was scheduled to end.
$4,000: the amount in sales the manager on duty wanted to make by 5 a.m.
$1,300: the amount in sales we had at 5 a.m.
0: the number of purchases I wrapped up as gifts
0: the number of gift cards I rang up
$1,403.97: the total amount I spent on merchandise
$2,800: the total amount I would have spent if I hadn't had my discount
50%: my employee discount
30%: my employee discount on already discounted items
6: the number of items I purchased as gifts
6: the number of items I purchased for myself
$?.??: my hourly wage. I just never asked.
Jillian McMahon is checking of her list.
---
Support The Billfold
The Billfold continues to exist thanks to support from our readers. Help us continue to do our work by making a monthly pledge on Patreon or a one-time-only contribution through PayPal.