French Café Enacts Rudeness Tax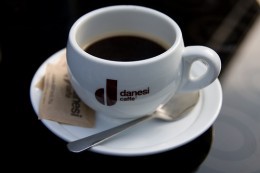 Owners of the Petite Syrah café in the south of France were fed up with rushed customers coming in to order coffee and forgetting their manners, so they decided to take action.
In a feat of brilliance, they edited menu prices to hit customers where it hurts: their fancy French wallets.
The new menu prices (translated for your convenience) include:
"A coffee" €7
"A coffee, please" €4.25
"Hello, a coffee, please" €1.40
Although Pepino admits he's never actually had to enforce the price scheme, he says he has noticed a difference in his customers' behaviour.
"Most of my customers are regulars and they just see the funny side and exaggerate their politeness," he said, adding "They started calling me 'your greatness' when they saw the sign."
"But people are more relaxed now, and they're smiling more. That's the most important thing."
Photo: phvolmer