Our After-work Routines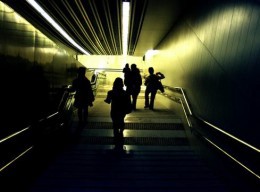 Sarah Grover
48, chief concept officer and executive vice president, California Pizza Kitchen, Playa Vista, Calif.
5:45 p.m. Try my best to make it to my favorite SoulCycle spinning class.
6:30 p.m. Class begins, and I feel invigorated — it's the only time of day I can actually exercise, and I love that it's in the dark.
7:15 p.m. Head home for quality time with my 7-year-old twins: reading, homework, talking about our days.
9 p.m. Dinner with my husband, where we catch up and talk about the week. Kids are, hopefully, sleeping.
9:30 p.m. Back to work, either in my home office or at my kitchen counter. I catch up on missed e-mails or work that needs my interruption-free focus.
11:30 p.m. Bed. I relax by reading my favorite four newspapers on my iPad.
12:15 a.m. Lights out, before I start the day all over again at 6:30 a.m
Bloomberg Businessweek asked various people at different companies what their after-work routines are. My after-work routine changes depending on the day and what I have going on, but tonight it is:
7:00 p.m. Call a business to ask about an update.
7:30 p.m. Meet a reporter for coffee or drinks who is writing a story about people who talk about money.
8:30 p.m. Take the subway home, but consider picking up dinner somewhere first.
9:00 p.m. Probably not pick up dinner and eat something out of the fridge.
9:30 p.m. Get ready for bed.
10:00 p.m. Answer emails, do some editing, read some articles to consider for the next day.
11:00 p.m. Goodnight!
Photo: Nathaniel Carre
---
Support The Billfold
The Billfold continues to exist thanks to support from our readers. Help us continue to do our work by making a monthly pledge on Patreon or a one-time-only contribution through PayPal.