When Life Hands you Lululemon, Make Haterade
by Lauren Rodrigue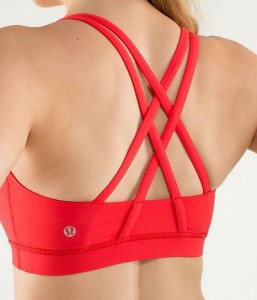 To be honest I never even cared about Lululemon that much, which is saying a lot because I'm pretty good at sniffing out stupid stuff that makes me disproportionately angry. Most of which, incidentally, are things I can't afford, like the prepared food bar at Whole Foods, other people's weddings and those iphone cases with the bunny ears. When I was in college in Boston I started seeing women on the subway with those Lululemon tote bags and I remember wondering, "Wow, all these women went to that store on the same day when they had a totebag giveaway promotion!"
For a long time I thought it was a cookware store.
But then, of course, I had to move to New York, where I'd be stripped of all my innocence and be thrust into a world where laughably expensive, very exclusive, totally unnecessary material objects are as commonplace and rubbed in your face as subway sneezes. Bless you, all those Louis Vuitton-monogram handbags that are actually real, like really from the Louis Vuitton store. Gesundheit, that person in your office that is actually on that juice cleanse that costs $300/day.
Everyone wears Lululemon here. Lululemon is what everyone wears. I think that when you move to New York you're supposed to get a welcome kit that includes the entire most recent Lululemon collection, plus that Zara skort and a mini vacuum to suck the little rat pellets out of the kitchen cabinets of your new apartment, all packed nicely in that classic Lululemon tote bag with a signed note from Mike Bloomberg. And I DID NOT GET ONE. Which is fine because I HATE Lululemon.
Sports bras cost $50. Sweats flirt with $100. Pants are called "Still Grounded Pant" and "Skinny Will Pant." The logo is an ugly cervix. The standard yoga mat is called #themat and costs almost $70. There's another version of #themat that is specifically for "yoga in a hotel room." There are only two fitness categories for women to choose from: Running and Yoga. Did you like kickboxing? Do you play on a recreational soccer league? SORRY FUCK OFF GO TO MODELL'S.
There is so much not to like about Lululemon! And just like I get so much guilty pleasure when the perfect girl in the front of yoga class (WEARING LULULEMON) falls out of pose catastrophically and gracelessly, I love when it Lululemon screws up. And they do it a lot. Like that time Lululemon made see-through yoga pants and everyone SUED Lululemon. Or today, when a former Lululemon employee exposed that the store systematically favors thinner customers, and shoves their [ridiculously priced] plus-sized line in sad back corners of Lululemon. Ha-ha, Lululemon! All you do is screw up!
And yet: Lululemon's reign carries on, because the world doesn't make any sense. People can't pay more for a hamburger so that fast-food workers can make livable wages, but people have no hard time paying ONE HUNDRED AND EIGHT DOLLARS FOR A STRETCHY COTTON JACKET WITH A CERVIX ON THE FRONT.
Lululemon I will never stop hating you. I will never, Lululemon. Your cervical logo may be forever grinning at me from between the scapulae of my fellow yoga practitioners, emblazoned like rich-girl eyeliner on the back of a sports bra with a jungle-gym arrangement of weird straps that cost $579 dollars and is named, like, "Live Laugh Labia," but I will glare right back at you, proudly sporting my somehow-still-fits sports bra that I got in the girls' department at TJ Maxx when I was a cheerleader in middle school.
Unless of course there's another good Lululemon warehouse sale on Long Island like there was last winter because my friend got hoodies there for like, $25 each.
Lauren Rodrigue lives in Brooklyn. Pic of complicated sports bra by lululemon.
---
Support The Billfold
The Billfold continues to exist thanks to support from our readers. Help us continue to do our work by making a monthly pledge on Patreon or a one-time-only contribution through PayPal.