$30 for 40 Minutes of Sleeping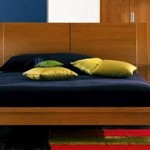 For ¥3,000, or about thirty dollars, I had gotten a membership card at Tokyo's first co-sleeping café, and then I paid another ¥3,000 for forty minutes of sleeping; it's ordinarily ¥5,000, but as a first-timer I was eligible for a promotional rate. (A ten-hour package costs ¥50,000, a 20 percent discount off the hourly rate.) The café had a video explaining that all sexual overtures, regardless of financial incentivization, would be refused. But there were add-ons available: I chose staring into each other's eyes (1 min, ¥1,000) and being patted on the head (1 min, ¥1,000). Other options included having the woman change her pajamas once, spooning, or sleeping with your head in her lap. As appealing as they were, those had all struck me as crossing some sort of line.
Gideon Lewis-Kraus has an essay in Harper's about co-sleeping cafés — places where, as far as I can tell, men go to pay women to sleep next to them for as short as 20 minutes, or for additional money, get patted on the head or get a five-second hug (cost: $10). The description of some of the services demonstrates some of the institutionalized sexism in Japan (women servicing men to make them feel better about themselves), but it also shows the country's overworked culture that has people literally being worked to death. The young woman working at the co-sleeping café explains why such a place can even exist:
"I have sympathy for their work. For any work. I am at work now. In Japan you have no . . . Please hold moment." She blushed, whited out her face with her screen, tapped lightly. She held the phone out. It said paid vacation. "In France I hear you get one months. But Japan is no. Men come here want time, relax time. It's like being in their room at their house. Bed is best relax item."
Photo: Warren Naronha
---
Support The Billfold
The Billfold continues to exist thanks to support from our readers. Help us continue to do our work by making a monthly pledge on Patreon or a one-time-only contribution through PayPal.