Walmart Will Pull Plans in D.C. if It's Required to Pay a Living Wage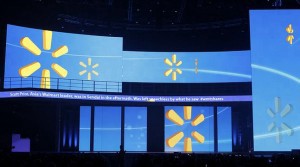 Alex Barron, a regional general manager for Wal-Mart U.S., wrote in a Washington Post op-ed piece that the proposed wage requirement "would clearly inject unforeseen costs into the equation that will create an uneven playing field and challenge the fiscal health of our planned D.C. stores."
As a result, Barron said, the company "will not pursue" stores at three locations where construction has yet to begin — two in Ward 7 and one in Ward 5. He added that the legislation, if passed, will also jeopardize the three stores underway, pending a review of the "financial and legal implications." While precise terms of its agreements with developers are not known, the company's leases could be difficult to break without major financial penalties.
According to The Washington Post, Walmart is threatening to pull out plans to build three stores in Washington D.C. if the city's living wage bill for major retailers becomes law. D.C.'s minimum wage is $8.25 an hour but the City Council's bill would require retailers with corporate sales of $1 billion or more and operating in spaces 75,000 square feet or larger to pay their employees at least $12.50 an hour. This means the bill would also affect retailers like Costco, Macy's and Home Depot (Costco, as we've learned, already pays its hourly workers an average of $20.89 an hour).
As a reminder, Walmart is owned by the richest family in the world. Walton family members take 9th, 10th, 11th, and 12th positions in Bloomberg's rankings of the richest people in the world.
• Christy Walton: Net worth — $37.6 billion
• Jim Walton: Net worth — $36.2 billion
• Rob Walton: Net worth — $35.3 billion
• Alice Walton: Net worth — $34.6 billion
Photo: Walmart
---
Support The Billfold
The Billfold continues to exist thanks to support from our readers. Help us continue to do our work by making a monthly pledge on Patreon or a one-time-only contribution through PayPal.