Miranda July Got Some Celebrities to Fwd Her Some Emails About Money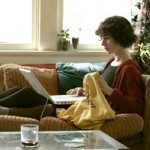 The project is called "We Think Alone" and will feature email on 20 themes over 20 weeks. The project starts this week with "money." Super fun. Sign up here. Kirsten Dunst's email is about a car. Lena Dunham's email, reprinted below, is about a sofa. Kareem Abdul Jabar's is about a book.
— — — — — Forwarded message — — — — —
From: Lena Dunham
Date: Sun, Apr 7, 2013 at 6:53 PM
Subject: Re: Liljevalch Sofa Update
To: LD Assistant
decided it's just too expensive:)
On Tue, Apr 2, 2013 at 7:19 PM, LD Assistant wrote:
TOTAL PRICE (estimate) INCLUDING SHIPPING $24,035.24
TOTAL TIMEFRAME: 10 Weeks to make it, 6–10 weeks to ship it from Sweden.16–20 weeks
The price to make the Liljevalch Sofa is $14,878.93 plus the fabric which is $283.56 per meter and we would need 20 meters of fabric. So the entire cost of the couch would be $20,554.39.
Shipping the sofa: It will take between 16 and 20 weeks to make and ship the sofa to us (from Sweden and will cost $3,080.85, plus $400.00 in customs charges.
whenever you pick the fabric I can order for you! 🙂 xox
Stealing this idea, obviously. Send any fun emails you have about money to logan@thebillfold.com cool thx okay cool