How My Sister Got Her Dream Job as a SCUBA Instructor
by Sarah Fox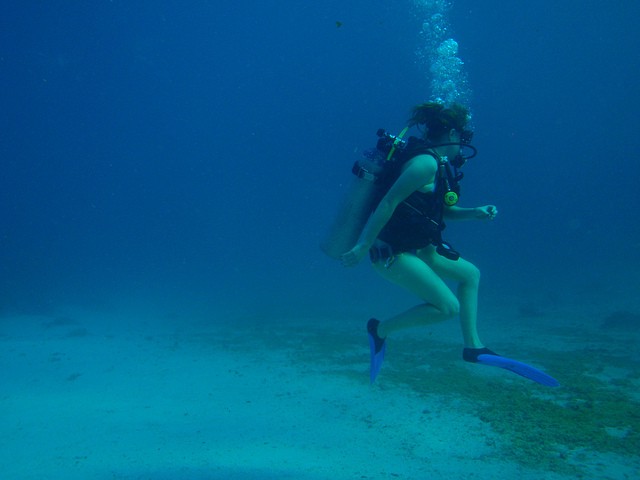 Lindsey is my 27-year-old sister who lives and works in paradise. We talked about how she became a SCUBA instructor.
Hi Lindsey, tell me about your job.
I'm a SCUBA dive instructor in Hawaii. I teach people, mostly tourists on vacation, how to SCUBA dive. For people who are interested in just trying it out, we do a pool session in the morning and then two ocean dives in the afternoon. I also certify people who are interested in continuing to dive.
So, basically you go SCUBA diving every day?
Depends on the day. But, for the most part I work from 8:15 a.m. to 5 p.m. I get to the pool, set it up for the morning pool session, and then introduce my students to the equipment, which usually takes about an hour and a half. In the afternoon, we go out on a boat and dive in the ocean. We're usually on the boat from about 11:30 a.m. to 3:30 p.m. After that, I clean up, fill air tanks, and get things ready for the next day.
How did you end up being an instructor?
When I was a kid I went on a SCUBA dive in Belize. I don't remember it being a life changing event, which is how a lot of instructors describe their first dive. In high school I went on a summer trip with Broadreach and I got the first two levels of SCUBA certification, Open Water Diver and Advanced Open Water. After that trip I remember that I wanted to become a dive professional, and I thought about working my way towards that in college. I went to the University of Miami and was a marine biology minor, but I don't think I went diving once in college, and I was right by the water.
After college I moved to Thailand because I got a job at a school there, and I started traveling through Southeast Asia. One of the girls I was with wanted to get her Open Water certification, so while she did that I thought I might do the next level of certification, which is Rescue Diver. Later, I met an instructor who said I could come and work with him at a dive shop in Indonesia. While I was there I could get my first professional certification, called a Dive Master. I lived there for two months working and getting this certification before returning home to Chicago. Once it started snowing I thought, What the hell am I doing here? I decided to buy a plane ticket to Hawaii.
I didn't have a job or a place to live, but both of those were easy to find. PADI, one of the certifying agency for SCUBA, has a website with job posts, and I also looked on Craigslist. I found my first job within a week. I was working as a Dive Master at that point, which means that you can take certified divers on outings, but you can't teach. That's not very lucrative, so I had to get a second job in order to afford living in Hawaii. I got a retail job selling overpriced dog treats made with Hawaiian products, and the job was slowly killing my soul.
I decided to take the course to become a Dive Instructor, but once I was an instructor the company I was working for didn't have a place for me. I started looking, and again within a week had found the job that I'm at now. I've been there for a year and a half as an instructor, and I don't have to work a second job.
How many hours a week do you work?
Six days a week, 40–50 hours a week.
How much money do you make?
I make $12 an hour, plus tips, and money I make from selling the pictures I take of my students with my underwater camera. I usually get tipped about $5 per person, and I sell the photos I take on each dive for $35.
There are two ways to get paid scuba diving, you can get paid by the charter, for each boatload of people that you take out, or you can get paid by the hour. You get paid a little less by the hour, but you get benefits, so I have full medical, full dental —
I don't even have dental insurance!
Maybe you should be a dive instructor.
What about vacation time?
That's a funny word, vacation. We don't get paid vacation, but I find that's a benefit, because I never have to ask someone if I can take a trip. I just plan a trip and then tell my company, because they aren't paying me anyway. I have a lot of flexibility with my job. The only thing is that I can't really leave during the busy season. Last summer I went to Europe for six weeks. My boss did tell me before I left not to expect to have a job when I got back, but there are a ton of dive companies on Oahu so I wasn't worried. And I still have my job. The downside to that is that we also don't get paid sick days, and we don't get paid if the ocean conditions are too rough to dive.
What about saving for retirement, do you think about that?
No, I don't.
Do you have any retirement savings?
No…eek. Should I think about that?
What about student loans?
I don't have any, for two reasons. I had a full athletic scholarship my first year of college, and I was lucky enough to have parents who paid for the rest.
Do you know any SCUBA instructors with student loans?
Yes, I do. They're definitely struggling. Making what we make is basically a livable income; I can live on it, and manage to save a little.
Do you have days you don't want to go to work?
Almost every day when I wake up. There are some days when I absolutely do not love my job, most days actually. It's not like I wake up and think, I can't wait to get in the water. We sometimes get days where the ocean conditions are too rough and the boat can't go out. I don't get upset, unless I really need to work that day to pay rent.
What do you not like about your job?
I didn't realize how stressful it was would be. I get paid $12 an hour and I'm responsible for everybody's life who's with me during the dive. There is so much that can go wrong that they don't know anything about. I don't want to scare people with everything that can possibly go wrong, but at the same time, people act like idiots and it's like, do you not realize that you can die? And that I can die trying to save you?
I don't know if you remember this, but right before you moved to Hawaii we bought lottery tickets, the jackpot was like $150 million dollars. I asked you what you were going to do if we won, and you said that you would still move to Hawaii and become a SCUBA instructor. I thought that was pretty cool, that your job was something you would do no matter how much money you had. Do you still feel that way?
Actually, yeah, you know the huge jackpot that just happened? The largest one in history? My boyfriend Jake and I had his dad go buy lottery tickets. You can't buy lottery tickets in the state of Hawaii. We talked about what we would do if we won. I said I would still be an instructor, just not as much. I would do it once or twice a week. Working as an instructor six days a week is not something I'd be interested in doing if I had endless amounts of money.
Ok, but you just went back to school right?
I did, I'm taking classes in Child Life. It's making sure that children with illnesses or in the hospital still have appropriate social and emotional development — it's kind of like social work.
Once you get that degree, is that what you want to do full-time?
Yes, it is.
So you're transitioning away from your dream job?
I am. (Pauses.) I guess I am.
Why?
I think the reasons that I first became an instructor are not the reasons that I am one now. I originally became an instructor because I thought that by showing people the ocean they'd want to protect it as much as I did. But people just want to go see turtles, go see all the pretty things, but more for entertainment than knowledge. They're not really interested in a learning experience. And it just hasn't been as fulfilling as I thought or as I want it to be.
I decided when I first became an instructor that I would do it until it was no longer the most exciting thing in the world. There were times before when I would get burnt out, and something awesome would happen, and I'd get all excited again. I mean, I still love diving; diving by myself isn't a chore. I still love that. But the teaching? I get burnt out. I'd still like to do it part-time, maybe diving part-time and Child Life part-time. I'm not phasing it completely out of my life as a profession yet.
What about the gastro pub you and Jake talk about wanting to open?
That's a new dream of mine. That's like probably when people in their offices dream about being a SCUBA instructor in Hawaii, I sit on my boat thinking about how I'd like to open a gastro-pub. That's my dream job. That's what I'm going to do when Jake and I win the lottery. Open a gastro-pub, or a brewery.
A native Midwesterner, Sarah has spent time living in Boston, Auckland and Berlin. She is currently grounded in Brooklyn, N.Y., where she balances a career in publishing with freelance writing (when she's not balancing her checkbook). Photo: Heath Alseike