What Do You Eat in 1 Week?
Six years ago photographer Peter Menzel released a book called HUNGRY PLANET: WHAT THE WORLD EATS. It is pictures of families around the world sitting with all the groceries they eat in one week. It is fascinating, obviously. You can buy that book here or try to figure out how galleries work on Menzel's website here or you can look at the photos on this page where someone has collected them without giving credit, but where they are arranged nicely on one page.
Oxfam was inspired by the project with seven pictures of families today and what they eat in a week. Those pictures are here.
I was also inspired by the project and tried to remember everything I ate last week.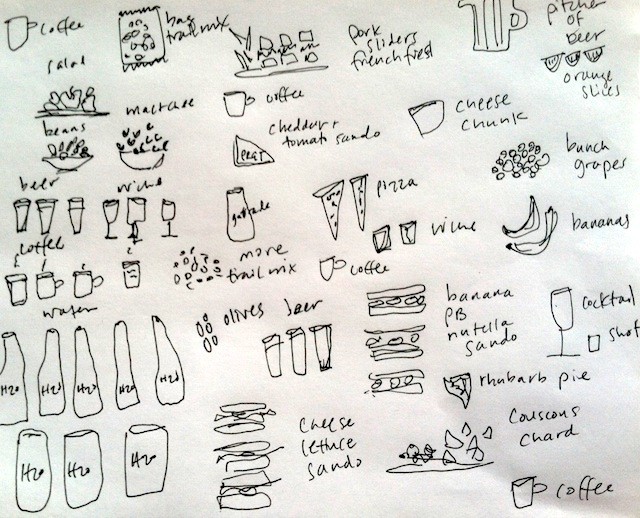 My artistic rendering is mostly accurate, I think. I'm not sure if I made clear how big the bags of trail mix were (big), and also last week was weird because I had friends in town and they bought me dinners and drinks on many occasions. Actually all occasions that are not sandwiches or trail mix or coffee I think? Fruit. I buy my own fruit. ANYWAY, other than that, totally typical food week, for me, mostly. Also in my head I had mostly stopped drinking, ha. Health.