The Cost of Becoming Red Lobster's LobStar of the Week
by Laura Mayer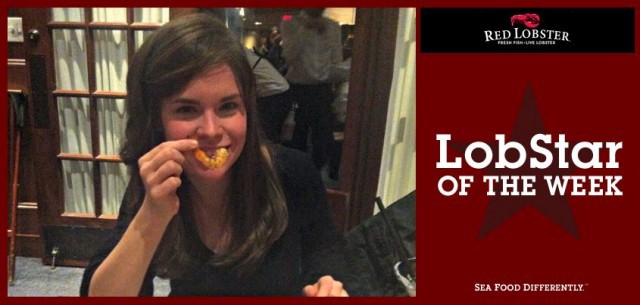 The other week I reigned, proudly and powerfully, over the Red Lobster Facebook page's kingdom (of 2,574,658 likes, and counting), and while my time at the top was brief, the planning that went into it was not.
I've had LobStars in my eyes since December 2011, when I discovered that my local Met Grocery store sold Red Lobster gift cards. Ah yes, Red Lobster — the restaurant for celebrations of my youth. Grammie's birthday coming up? Your uncle got a raise? Graduated from junior high school? Well then, it's time to Sea Food Differently™ and head to the local Red Lobster.
By the time I saw these gift cards in my Brooklyn Met Supermarket, I had all but forgotten about Red Lobster. With all of my family in the Midwest, It had been years since I'd attended a celebratory family dinner. But, after I scurried home from the store, I went to the Red Lobster Facebook page and discovered that I may have been the only person in the world who'd forgotten Red Lobster, because their Facebook Community is vibrant and huge. Popcorn shrimp puns pop up all over that wall. A lot of people still want to profess their love of crab on a daily basis. The Red Lobster Facebook page became a fixture in my web browsing routine.
Then, this summer, it happened. I discovered "LobStar of the Week," a then-new campaign launched on the Red Lobster Facebook page. Every week Red Lobster fans submit hundreds of photos of themselves celebrating at Red Lobster, in hopes that they'll be named as LobStar of the Week.
What do you get as a LobStar? Well, your photo goes up on the Red LobStar cover image for a week. And strangers congratulate you for your feat. Also, you get dozens of comments from shrimp and lobster lovers across the world. And finally, and most interesting to me, you become forever inserted into one of the most bizarre corners of the Internet.
The Red Lobster Facebook page was my gateway into active engagement in the world of commercial entities' Facebook communities. I became fixated on FreshStep Litter's Cat Dance completion (my cat, Hector, starred in one of their Cat Dance shorts: Hector Personal Assistant); I comment almost weekly on Little Debbie's images ("HOW WILL WE EVER UNITE AS A COUNTRY WHEN WE'RE SO DIVIDED ON SNAX" — we must start dialogues about these sorts of things); and I have complicated feelings about Mike Tyson's Facebook Media Marketing Machine (#SwayNews).
I told everyone about my desire to be a LobStar. For my birthday, my mother gave me a $75 gift card. So when my boyfriend and my anniversary rolled around, we knew what we had to do: We were spending at least $75 at Red Lobster. And one of us was going to be a LobStar.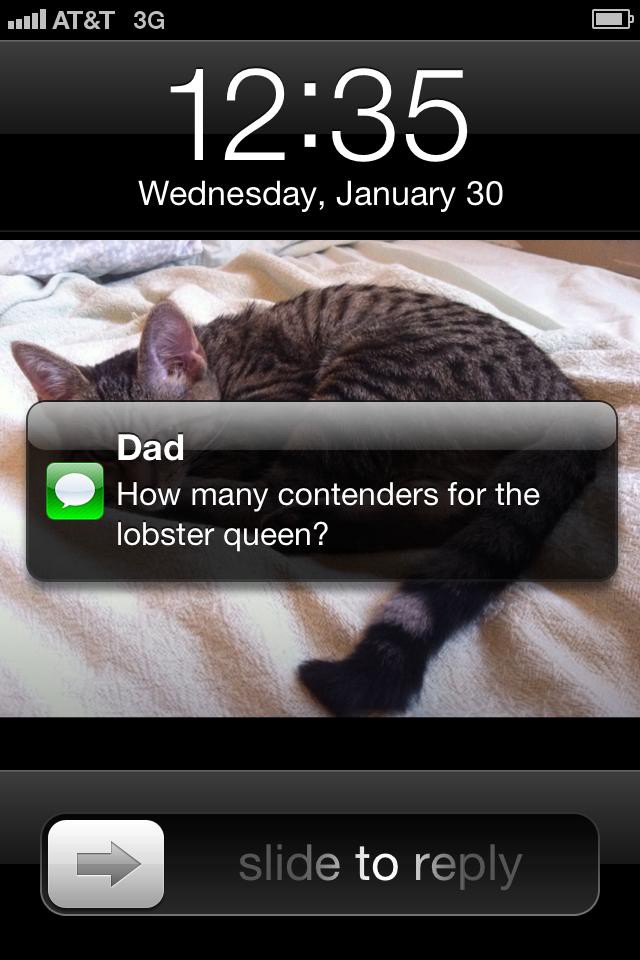 The Price of LobStardom:
The Meal
• 1 classic Margarita, Rocks $8.55
• 1 Seaport Lobster + Shrimp $26.00
• 1 Apple Crostada $7.75
• 1 Manhattan $7.80
• Extra charge for Jack Daniels whiskey $1.25
• 1 Seafood Selections (Seafood Stuffed Flounder, Sea Scallops) $20.75
• 18 percent Gratuity $13.16
GRAND TOTAL for Meal: $92.74 (-$75 gift card, we split $17.74 two ways, so $8.87. NOT BAD)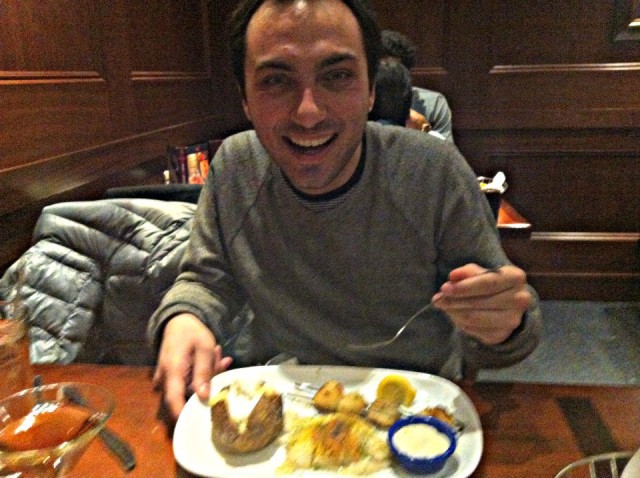 Cost of the LobStar Media Blitz Campaign (not including the cost of annoying all of my friends)
• $90/month, iPhone data charge, for taking many LobStar of the week photos
• $14 for the two rounds (! Shame !) of Facebook promotion fees I paid to promote my LobStar of the week submission to my network.
GRAND TOTAL SPENT for LobSTAR campaign: $112.87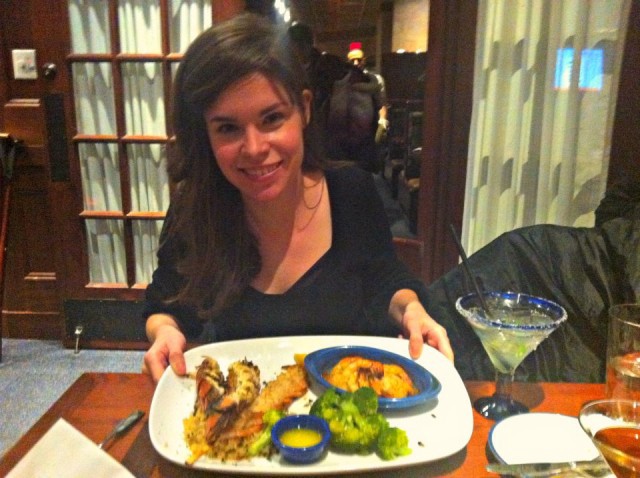 The Benefits of LobStardom
• 3,285 "likes"
• 44 "shares"
• 15 e-mails from friends, family members, colleagues, and acquaintances congratulating on my feat ("You're an inspiration!" "I was weirdly invested in you winning LobStar" "She won the Internet")
• 84 comments from Facebook strangers
Highlights:
• You're so lucky. I love RED LOBSTER!!! Eat some for me.. You making my mouth water girl with that shrimp you're holding !!!!!!"
• "These pictures suck! Why not have pictures of people eating lobster? This is Red Lobster, right? No more shrimp pictures."
• Congrats !!!
………../ — )
………/…/
……./….(__ ____
¦¦…………((_ I___)
¦¦…………((_ I___)
¦¦…………((_ I___)
¦¦ — -.___((_I__ )"
• "all girls please send me friend request"

As I write this, it's Thursday afternoon. I know from my studies that the new Red LobStar will be crowned around 6 p.m. Eastern. I'm already sincerely nostalgic about the strange, incredible satisfaction I got by deciding to be a Red LobStar, and then doing it. I appreciate that old friends, whom I'd lost touch with, are now appearing on my Facebook feed because they participated in my LobStar bid. Because of this Internet contest, I now know more about their real lives. So, in a way, like going to Red Lobster with your family as a child, I got back a little bit of the sense of connection I'd lost as a young woman who sublets in Brooklyn but lives on the Internet. I reconnected, personally, in one of the most impersonal forums: The Facebook page of a huge commercial entity.
So, this is to say, Red Lobster Social Media Manager: You're doing an awesome job.
Weeks will pass, new LobStars will be crowned, and my news feed will go back to the same three people who seem to always be on it. But I can certainly say that, for this one week, it felt great to be a LobStar.
Laura Mayer is a radio producer living in Brooklyn. She tweets @lrmayer.
---
Support The Billfold
The Billfold continues to exist thanks to support from our readers. Help us continue to do our work by making a monthly pledge on Patreon or a one-time-only contribution through PayPal.