Places I've Lived: Chicago! And Also L.A.
by Adam Simon
We've all lived in some places. Where have you lived, Adam Simon?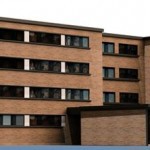 Corcoran Hall — DePaul University, Chicago, Ill. (September 1999-June 2000),
This place spawned my oft-repeated Unified Theory of College Dorms: The better a dorm looks, the less friendly its residents will be. Corcoran Hall was the friendliest dorm on campus. My floor featured such classic college archetypes — the flamboyant actor, the bio major with a penchant for hallucinogens, and the preppie finance major with a Napoleon complex — it could have been an unproduced Y2K-era John Hughes film. I shared a room with a frat-tastic jock whose computer screensaver featured pornographic pictures of unattractive women and their unimaginable activities with fruit.
Shortly after moving in, the Chicago Transit Authority mechanized the station announcements and turned the volume up to 11. My window was 20 feet from the Fullerton El Station, so I eventually incorporated the announcements into my dreams. Over the course of the year, a talking beaver, my dead grandfather, and Pat Sajak took turns interrupting themselves to announce that the doors were closing.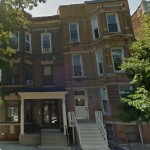 North Seminary, Chicago, Ill. (September 2000-September 2001), $850 (split two ways)
In this dreadful Lakeview dump, my roommate Alex and I lived above a Chicago cop. He was so obsessed with the noises that we made that I wouldn't be surprised if he was obsessively mapping them on a cork board like a premium cable CIA agent. One time when I sneezed, he trudged up the stairs to complain, in a Chicago accent so thick his saliva could be used as a hot dog topping, about "how loud everyting iz up derr."
The upshot of living here was getting off the train some days to find a sad parade of ticket scalpers who were desperate to unload their wares after the first few innings of an equally sad Cubs game. I attended a lot of Wrigley Field defeats that year because I have a medical condition that prevents me from turning down a ticket to a Cubs game that's marked down 90%. My condition is, as yet, incurable.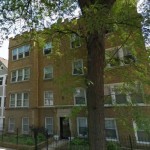 North Seeley, Chicago, Ill. (September 2001-June 2003), $1,105 (split three ways)
My slow march north and west away from DePaul's campus continued as I moved into a two-bedroom that we treated as a three-bedroom. I chose the largest bedroom, which incidentally was a living room. I was young and naïve enough to think that having a huge room was more important than stupid stuff like a closet or door.
Weeks after I moved in, the apartment hosted a rowdy margarita party where the tequila to mix ratio became increasingly dangerous as the night wore on. Eventually the blender became a machine far too complex for operation. That night, the old pre-war stove, which needed to be lit each time it was used, also proved challenging. A fireball singed my eyebrows when I lit it without knowing my friend Stephanie had turned it on a while ago.
Years later, I heard a fire ravaged the place. Late one night I sat on a curb across the street, stared at the boarded up windows of my former bedroom, turned my headphones up very loudly to the songs I loved during that time, and mentally poured one out for the old place on Seeley. I don't know exactly how it went down, but I blame the stove.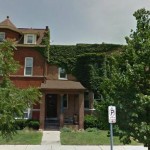 North Hermitage, Chicago, Ill. (September 2003-September 2004), $850 (split two ways)
While moving out of this apartment, I found out my roommate hadn't paid rent in months. (We'd always sent in separate checks.) My tank-sized Serbian landlord didn't believe my honest shock. He blocked my path, lifted me off the ground, and violently shook me, demanding that I pay my roommates' share of the rent. Luckily, after a call to the cops followed by a brief conversation with his harried and clueless law-school daughter, it was all resolved.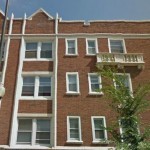 West Montrose #1, Chicago, Ill. (September 2004-September 2005)
There comes a point in each of our lives when, due to a combination of growing up and terrible roommate experiences (see previous entry), we realize that it's time to live alone. This apartment directly above a coffee shop was all mine. I stole their wireless signal; they stole my sleep by blaring terrible jam band music every morning.
A week before I planned to move out, a key turned in the door and a woman entered. She was carrying boxes and seemed confused. Apparently, she was supposed to move in that night, which would've been fine, except that I hadn't really begun packing … because my lease didn't expire for another week. We ended up helping each other move after some angry phone calls with the landlord. If life were a romantic comedy, she and I would've fallen in love during the misunderstanding. But because life is life, we mostly carried heavy boxes up and down stairs and wished the night was over.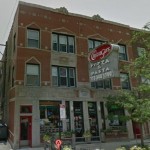 West Montrose #2, Chicago, Ill. (September 2005-September 2007), $950 (split two ways)
If you're going to finally move in with your girlfriend after a few years, you could do a lot worse than living above a pizza place that's open until 4 a.m. We slept in the smaller bedroom, because the other one was directly above the exhaust pipe from the pizza oven and the smell that came with it.
The living room window looked out on the massive sign for the pizza place with the phone number in oversized neon. Most people found my "stand in front of the sign with my phone and ask if anybody knew the number of a good pizza place" joke funny… at least for the first few months.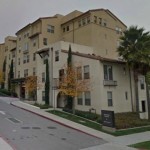 Weyburn Terrace, Los Angeles, Calif. (September 2007 — June 2009), $1,018
After moving to L.A. for grad school, I lived with two Koreans over the course of these years and it lead me to a staunch dislike of the omnipresent smell of kimchi. At one point it got so bad that the water in my Brita filter tasted like pickled cabbage. When I complained about it to a Korean friend of mine he was puzzled, explaining that you normally keep the kimchi in a separate fridge, which made a lot of sense. Over the course of both years it became hard to discern whether the awkwardness was due to a language barrier or just living with a roommate again.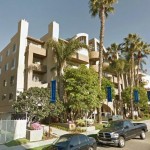 South Sepulveda, Los Angeles, Calif. (June 2009 — April 2010), $1,300
Living in this building felt like the absolute peak of luxury. An elevator? To my apartment? And don't even get me started on the roof deck, hot tub, and dry sauna. About halfway through my time there, I found out that the sauna was not cleaned and it reminded me to get my yearly physical. Most would call the apartment a studio. The building called it an "executive studio" which was ironic (the sad kind) because I was working as an Executive Assistant while living there.
Clarington Avenue, Los Angeles, Calif. (April 2010 — Present), $1,375
The plan was for my then fiancée to move across the country and we would finally live together again after three years of long distance. Following a disastrous road trip and an even worse month together, she mercifully became my ex-fiancée. Paul, my kindly older landlord asked, "Do you want to talk about it?" when I told him that she was no longer living there. He also re-did the name on the mailbox, which was a real boon when I started dating again. When Paul recently passed away, I thought of his kindness during that time and how he agreed to lower the rent after I told him there would be only one tenant. We didn't really know each other beyond meeting a couple of times and monthly rent checks, but I feel confident that if I had wanted to "talk about it," he would've listened.
I've been here almost two years and I can't imagine moving out anytime soon. I now live with an excellent roommate — my dog Gilda, a seemingly impossible mix of pit bull and corgi. She doesn't help with the rent, and she's peed indoors a few times, but she's worth it.
I'd like to say each of my apartments has been progressively nicer, better decorated, more adult. But I'm not sure that's true. Instead, I hope I've just gotten better at living in them.
Adam Simon is a TV writer based in Los Angeles. He tweets at @AdamSimonSays.