Homers and Purple Squirrels
by Michael McGrath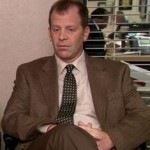 Among corporate recruiters, Mr. Sullivan said, random applicants from Internet job sites are sometimes referred to as 'Homers,' after the lackadaisical, doughnut-eating Homer Simpson. The most desirable candidates, nicknamed 'purple squirrels' because they are so elusive, usually come recommended. 'We call it Monster.ugly,' said Mr. Sullivan, referring to Monster.com. 'In the H.R. world, applicants from Monster or other job boards carry a stigma'
— "In Hiring, a Friend in Need Is a Prospect, Indeed," The New York Times, 27 January 2013

Darren and Diane, two HR professionals at SLOP Brands, Inc., share an IM conversation:
Darren: oh great, another resume from careerbuilder
Diane: you mean, careercriminal?
Darren: lol. check out this sucker from indeed.com
Diane: haha. more like, indebt.dropout
Darren: jaja. more like, indeepwiththewrongpeople.gov
Diane: lala. here's one from simplyhired.barf
Darren: leelee. more like simply.delete
Diane: llewelyn. more like simply.killyourself
Darren: lucifer. more like simplysuckstobe.you
Diane: going to the reunion thing next week? #goanteaters
Darren: ya you know it #openbar #networking #goanteaters
Diane: hot damn, looks like i got a pink shark on the line here.
Darren: whoa. vp finance? nice. any applicable skills/relevant experience?
Diane: not too bad. i'll make it work.
Darren: did you watch undercover boss last nite?
Diane: omg
Darren: what?
Diane: looks like this pink shark just got upgraded to a three-dollar bill.
Darren: three-point connect??!
Diane: full triangulation. alma mater and everything.
Darren: three points the old fashioned way?! damn. nice work if you can not need it. i'd give my left buttnad for a full-blown three-dollar pink shark. too bad i'll never find it with all this unemployed chum clouding the water. anyways, congrats.
Diane: thanks d. it's all luck. you'll nail a #ps someday. something will turn up.
Darren: something will turn up 🙂
Diane: 🙂
Darren: but wait for real did you see undercover boss?
Michael McGrath tweets as @marcomcgrath.