Credit Where Credit's Due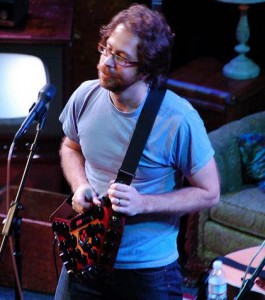 Although I've always been aware of Jonathan Coulton, I never really heard his music until Planet Money aired a story about how he made half a million dollars in 2010 without a recording contract or radio airplay (write catchy songs, and build your own fanbase).
Last week, I learned on Twitter that Coulton's arrangement and cover of Sir Mix-a-Lot's "Baby Got Back" was stolen by Fox for a musical number on the show Glee. According to Verge, Coulton's out of luck — "there's no legal recourse for a cover that sounds exactly like yours" — so Coulton decided to record "a cover of Glee's cover of Sir Mix-a-Lot's song, which is to say it's exactly the same as my original version" and release it on iTunes, with all sales of the song going to support two charities, the VH1 Save the Music Foundation and the It Gets Better Project.
I bought Coulton's cover of the song, which is currently number 103 on iTunes. Fox told Coulton he should be happy for the exposure, and sure, I would have never bought the song if this whole debacle didn't happen. But that doesn't make it right — especially for someone who never needed mainstream exposure to find success in the first place.
Photo: Jacob Davies