Betting on Love, Leveling Up and Leaving Atlanta (Part V)
by Amanda Tomas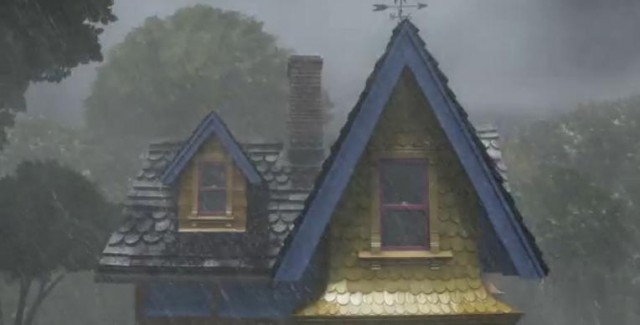 December — the end of the year, encroaching darkness. Adam and I worked a lot and nestled when we could. Blustery winds rushed around the nooks and crannies of our little top-floor apartment, moaning softly. Long sleeps were lulled by this noise. We had a small Christmas tree-juniper bush squatting happily to one side of our couch, decked out in lights and baubles. On Christmas Eve impenetrable gray fog banks invaded the Georgia Piedmont, resulting in a strange and deadly Christmas Day thunderstorm.
I meant to have a simple Christmas and in some respects I did. Adam and I focused on our families and sharing the good fortune that we had in 2012 with them. We may not be in the ideal place in our lives and maybe we are frustrated with our jobs and the place we live, but we are doing better this year than last year, and we are thankful for what we do have.
We didn't save any money in December, but we didn't go into debt or anything either (total savings still $1,900), so I am mostly okay with that. We used what we would have saved to share with our family and to buy gifts for each other. I continued to plan out our meals (why didn't I do this sooner?) and we have been eating very well because of it. In December we spent $616.79 on groceries, on target for my goal amount! I only ate out twice the entire month — two under-$10 work lunches — and there were zero dinners out. On nights when Adam worked the closing shift, instead of feeling somewhat lonely and morose as I sometimes do, I tried new recipes in the kitchen and filled our tiny apartment with the most savory smells.
It makes me feel good to make something that is equally good to eat as it is good for our budget. There is no joy in nasty TV dinners reheated in the microwave or ramen every night or peanut butter sandwiches all day, every day. All that food is super cheap but also super depressing. I have been choosing moderately-priced dishes that fulfill what I want out of food (that it be delicious and nourishing). I'm not any kind of an expert on cooking and budgeting (obviously, but maybe someday), but I made some good things this month that I would like to highly recommend and encourage you to make, and also some bad things this month that I would like to discourage you from ever attempting. Hopefully my experiments will encourage you, if you are in a similar position as me, to pick up a knife and set a pot to boil in the name of cash conservation and learning useful skills.
The Best of December
Jamie Oliver's Perfect Roast Beef $/Serving
Halfway devoured before I thought to take a picture.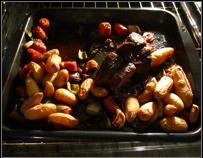 This is so easy to make and so ridiculously delicious. The cut of meat is on the pricier side, but there aren't any other fancy ingredients that drive the cost up. It's just meat, potatoes, carrots, onions, garlic, thyme, salt, pepper, olive oil & done! Make this! You will not regret it!
• Serves 6
• $23.53 total for me
• $14.33 for roast, easy to adjust this cheaper or more expensive depending on cut of meat
• $3.92/serving
Azizeh Koshki's Chickpea and Chicken Dumplings $/Serving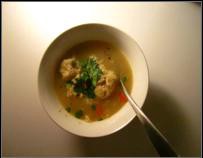 These Iranian-Jewish versions of matzo balls taste like the most satisfying, belly-warming chicken soup you have ever had and then some. My fledgling writer skills are unable to fully explain how good these were and how often I will be making them again. The recipe has some unusual ingredients (chickpea flour?) but do not be deterred! This is pretty easy to make.
• Serves 8
• $28.65 total for me
• I had to buy turmeric and cardamom, so that drove the cost up. Once you have chickpea flour and spices, you can roll that cost into future repetitions.
• $3.58/serving for the first time.
• $2.21/serving for next x times you make this (until you run out of flour/spices)
Lynn Rossetto Kasper's Rice Noodle Salad $/Serving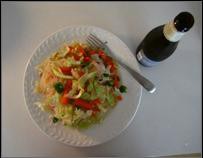 Perfect for when you're tired of heavy winter soups or when the long nights start getting to you. This salad has a lot of ingredients and requires a lot of chopping, but the end result is a gigantic yield of crunchy, spicy, tangy, noodle-y goodness. Each bite has so many textures and flavors that it is impossible to stop eating it.
• Serves 8+ (recipe says 4 but who only uses "6–8 cabbage leaves"?? not me)
• $25.55 total for me
• I had to buy fish sauce and rice vinegar, but that can be rolled into future iterations.
• $3.19/serving for the first time.
• $2.48/serving for next x times (until you run out of fish sauce/rice vinegar)
Muffins $/Serving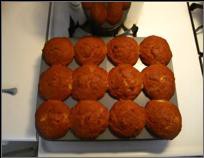 If you are a late sleeper and have to rush out the door every morning and wind up buying your breakfast or starving until lunch, make a batch of muffins for the week! I make mine with bananas, blueberries, or pumpkin, and with walnuts, chocolate, and/or crushed bran flakes thrown in for extra nutrition/energy. ½ cup sugar per batch at most so they aren't too sweet. Very grab & go.
• Serves 12
• If you have zero baking ingredients, all of the things you need will probably cost ~$15.00 total, which is $1.25/muffin. For every batch you make after that, you just have to buy whatever you're missing (can of pumpkin puree, chopped walnuts, etc.), which brings the cost/muffin down to a few cents/muffin. Value!
& More: Sliced ham & onion pizza topped with arugula that I would have wasted otherwise, amazing chicken noodle soup made with lots of onions, miso broth, and soba noodles, two more batches of the meatballs from last month, cilantro lime rice & beans with charred lime chicken, more basil pesto pasta, spinach and arugula salad mixed with homemade guacamole and pan frito.
Tip: It turns out that most everyday meat goes on deep discount right after Christmas, even at fancy grocery stores! This is because most people buy special cuts of meat to celebrate the holidays with and there are a lot of beef scraps and chicken breasts that are passed over. I know this because I went shopping the Friday after Christmas and that is what the guy at the meat counter told me after I inquired why the grass-fed ground beef was marked down to $2/lb.
The Worst of December
Nigella Lawson's Beet and Ginger Soup $ Wasted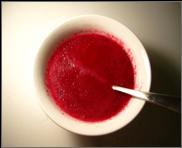 This was gross. The recipe looked intriguing and I followed the instructions scrupulously, but the end result is unavoidably disgusting. Extremely tart, bitter, grainy, and watery. I gamely tried to eat it but wound up having to throw it all away which was frustrating. This is what I get for thinking I could totally compete on Chopped and be a cool avant-garde chef. • Happily, not too much: $6.78
&More: I made two recipes from Smitten Kitchen: Deb's Three-Bean Chili and Squash and Chickpea Moroccan Stew. Both were disappointingly mediocre. Not sure if I did something wrong? The chili was just an enormous quantity of beans and tomato puree. Bland, simple, and very filling. Too filling? Filling in only the way beans can be? Not lip-smacking good and very beany, is what I mean. The soup was very bland as well and it turns out I don't like eating chunks of boiled squash. I salvaged this by adding a bunch of garlic and cayenne, pureeing the mixture, then putting it back in the pot and adding in chopped poached chicken with its water and chopped kale.

Last month I talked about a business idea I had, and I planned to try to launch it. This didn't happen, but I still want to do it! I'm giving myself another chance since I am confident that if I put in the effort, I would start pulling in money pretty easily. It's not a get-rich-quick scheme, more of a pad-the-wallet-a-little scheme, and since it is Internet-based I could take a tiny income stream with me wherever I go. I will keep updating as I proceed.
I made five goals last month and didn't obtain any of them except #4 sort of, which was to keep my grocery spending down. I'm a little frustrated with my progress but I'm feeling peaceful and confident and excited mostly. I can do it! So can you! We can conquer our weaknesses! I have thought up a few obtainable goals for January that will help Adam and I greatly:
Goal 1: Immediately deposit a chunk of Adam's pay into savings when he gets paid. I have learned that if we procrastinate on this, nothing gets saved.
Goal 2: Continue shaving away grocery costs and keep up the good progress in the kitchen.
Goal 3: Set alarms on our phones or get a marker board with a calendar so we know when to pay our bills!
Goal 4: Follow through on my business idea, or at least get started on it.
Goal 5: Find some free or cheap activities in Atlanta so we get out more often and our lives aren't just work-home-work-home-park-home-etc. Suggestions welcome.
Previously: See Amanda's "Betting on Love" series here.
Amanda Tomas is feeling cautiously optimistic about the New Year.
---
Support The Billfold
The Billfold continues to exist thanks to support from our readers. Help us continue to do our work by making a monthly pledge on Patreon or a one-time-only contribution through PayPal.