Places I've Lived: Sketchy Landlords, an Attic and a Hundred-Year-Old House
by Janelle Hollyrock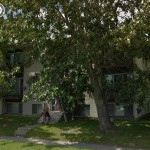 Tuxedo Park, Calgary, AB — $485/month (1999–2001)
A month after graduating high school, I moved out of my parents' home and bounced around for half a year before I found this apartment on Calgary's Centre Street. I sublet a room in a house with five other girls, which was awful and lasted a month. I rented a room in a kitchen-less basement with my cousin, which was even more awful and lasted only two months. I had my own basement suite in a house with a snoopy landlady that snuck in and rifled through my closet. But this, my first real apartment, was perfect! It was a simple one-bedroom (bedroom, living room, kitchen, and bath) in a small 12-suite apartment complex I found in the newspaper's classifieds. It was on a main street that was close to everything I loved: my family, my boyfriend, my job, my friends, everything.
I loved living alone and this was the perfect starter apartment for a 19-year-old. The building manager was awesome and even once drove over to let me back into my suite after I locked myself out when I'd gone downstairs to grab my laundry, leaving me sitting sadly in the hallway wearing my pajamas until he showed up. And the other tenants were either helpful (giving my car jumpstarts when I'd forget to plug it in overnight in winter) or invisible. I still miss this place.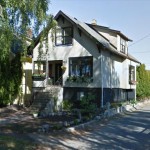 Oakridge/Sunset, Vancouver, BC — $500/mo (my share: $250) (2001–2005)
In 2001, my boyfriend and I decided to leave Calgary for Vancouver. He went out first and found this place, a small basement suite off Main Street. Our racist landlord would rent to literally anyone as long as they were white, so the house had a rotating cast of unchecked losers from the couple who didn't flush their solid waste and would leave dozens of bags in the alley full of toilet paper and, well, you know; to the man who started drilling a hole through the wall into our living room unannounced in order to "share" our cable; to the woman who wouldn't allow her son go to the park alone, but thought it was okay to let him to play basketball in his room above our suite. The house did not look nearly as nice when we were living here as it does in the Google Maps picture above. Freshly painted with a landscaped front yard and flowerboxes? Our negligent landlord never would have splurged for all that.
We stayed here for four years because 1) We were in our twenties and in love and probably would have put up with anything; 2) I'd decided to go back to school, was living off student loans, and it was cheap; 3) It was close to pretty much everything, including my college and the best Punjabi Market, both just a few blocks away; and 4) After a year or two, we moved from the basement to the one-bedroom top floor which kept us above the madness, for the most part.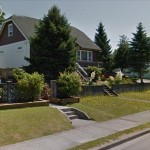 Kensington/Cedar Cottage, Vancouver, BC — $485/mo (2005–2009)
My boyfriend broke up with me after I graduated and I scrambled to find a new place while he slept on the couch. Within a week I'd found the attic of a big old house with two other suites, one on the main floor and one in the basement, but when I went to look at it, the landlord said the guy right before me wanted it and would be back in an hour with the damage deposit. I had brought cash with me for a deposit and swiped it out from under him. The attic would get so hot in the summer that I'd actually throw up from heatstroke, but it was large for a bachelor (bedroom, kitchen, and bath) with nice hardwood floors, curved barnhouse type ceilings, a walk-in closet, lots of light, and a neighbour's cat who would sit on their roof next door and meow at me through my top-floor window. I was now finished school, working full-time in my chosen profession, and paying only $485 rent to live alone in a city with the second costliest housing market in the world. I didn't think I would ever have it this good again.
Near the end of my time here, I got a new boyfriend, the friendly punk dudes on the main floor moved out, and my landlord's son and daughter-in-law moved in with one of those yappy little dogs and a predilection for opening my mail. It was time to go.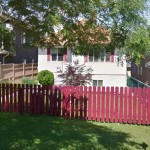 Kensington/Cedar Cottage, Vancouver, BC — $950/month (my share: $475) (2009–2010)
After dating for two years, my boyfriend and I decided to move in together and found an awesome little labyrinth of a place only two blocks away from my attic and on a quiet dead end street with a ravine as our backyard. It was a basement, but surprisingly large inside and laid out in a strange sort of way, almost like a square railroad apartment. It had a ridiculously large washroom, our own laundry room, and my artist boyfriend even got his own studio with a North-facing window. For about six months, we kept saying this was the best place either of us had ever lived.
And then the Olympics came to town and gave us both swine flu while the quiet upstairs tenants moved out and the Tenants From Hell moved in. They were rowdy, obnoxious drunks who, even now, I cannot think about without giving myself heart palpitations. I once slept on the floor of my washroom when I discovered that it was below their toilet and laundry and therefore the only room that didn't have them banging loudly overhead. A week after moving in, they brought over their Boxer (even though our landlady specified no pets) that lunged at us every time we opened our door and barked itself into a frenzy when they left it inside while they were at work, their teenage son slammed doors constantly while stomping around in his boots on the hardwood, the whole family would get fall-down drunk with their dirtbag friends every single Thursday, Friday, and Saturday night, and the father left a pile of shitty fertilizer at our door when I suggested they get carpets or take off their shoes in the house. I had my first, and so far only, legitimate panic attack during this time. Our dream house was ruined.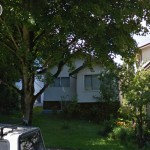 Grandview/Woodlands, Vancouver, BC — $1200 (my share: $600) (2010-present)
Searching for a place to live in a city with a rental market as competitive as Vancouver when you're working two jobs, still weak from piggy flu, and sleep deprived because your upstairs neighbors are unrelentingly loud at all hours of the day and night is definitely not something I'd recommend. I told absolutely everyone I spoke to that I was looking for a new place and luckily, after four months of being unable to enjoy an uninterrupted hour of peace due to the animals upstairs and becoming inconsolably depressed at all the slumlords I saw with exorbitantly priced bedbug dumps with no windows on Craigslist, a guy walked into my work, asked for my email address, and all my problems were solved by one simple subject heading: "Fwd: small house available for rent in Commercial Drive area." He knew someone who knew someone who knew someone (etc. etc.) who was moving out of her house (yes, a whole house!) and was looking for new tenants for her landlord. We jumped at it, and by the end of the week, the house was ours.
It's almost a hundred years old and the floors all tilt about 10 degrees and it was disgustingly dirty with hippie fertility murals on the ceilings when we moved in and our landlord wants nothing to do with the place and only shows up annually to pick up a year's worth of checks at a time, but we cleaned it up, and instead of upstairs neighbors throwing up tequila outside our door, we have a backyard full of raspberry bushes, grape vines, a pumpkin patch, and a plum tree all for a ridiculously low cost of rent. In exchange for this reduced rent, we take care of all the things a landlord usually does — we mow the lawn and shovel the walk, when our fridge died we bought a new one, when the pipes burst last winter we paid for a plumber to fix them — but we don't mind. We pay less rent than some of our friends in moldy basement suites, our neighborhood is the best I've ever lived in with a 24-hour grocery store and a neighborhood book exchange on the corner (a leave a book/take a book stand in which I've found everything from a new copy of Keith Richards' Life to The Alice B. Toklas' Cookbook), I can walk to my job, and my boyfriend has an entire basement studio and backyard to work in, and I finally have a landlord that doesn't care if I paint my kitchen an obnoxiously bright granny smith green or if we have three bands play a basement show for my birthday (we gave our neighbors a heads up, of course, but the noise didn't end up bothering them at all). It's basically perfect. I recently ran in to the woman who lived here before us, and she mentioned offhandedly that she missed the house. "If you ever move out please do let me know." I could only laugh. "Don't hold your breath."
Janelle Hollyrock edits, designs, photocopies, folds, and staples Mongrel Zine.