Places I've Lived: Ireland, My Grandmother's, and A Place to Plant Roots
by Nina MacLaughlin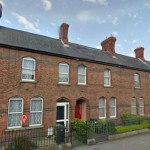 South Circular Road, Dublin, Ireland; August 1999-June 2000; My share: 375 Euros/month
When the cab driver dropped me off at my new home, he warned me about the neighborhood. "Oh, no, love, you don't want to live here," he said. "It's not safe." He pointed down the road to Dolphin's Barn, rough and drug-ridden. I was 20, nervous, and excited. I asked if he thought I'd be okay. "Oh, love, I'd move if I were you," he replied. I'm glad I didn't. I shared the narrow house for 11 months with an Italian guy named Corrado who played the organ at the church down the street, and got perfumed love letters from a girl in Hungary; a German heartthrob named Jens who is the only person I know who looked good in leather pants, and two French guys, Christian, a broody smoker of Gauloises who gave up on trying to learn English, and Benj, fussy and rigid, who made a cleaning schedule for all of us to maintain, and cooked cassoulets that bubbled in the pot for hours. We had family dinners once a week. At the first one, all of us strangers, we talked about the stereotypes of each housemate's home country. What they say about leaving a place in order to know it turns out to be true.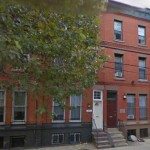 Baltimore Ave, Philadelphia, Pa.; September 2000-May 2001; My share: $600/month
I shared this off-campus row house with six others during my senior year of college, including the Irish boyfriend I brought back to the U.S. with me. It was a good block to live in, and was away from the buttoned-up soon-to-be investment bankers that dominated the college where I went and mostly hated. I logged a lot of hours on the stoop. Late in the spring, closing in on graduating, I sat on the stoop with a housemate in the early mornings, and watched the Amoroso's bread trucks drive by as they made their roll deliveries for all the steak and cheese subs in the city. We went to bed those mornings when the light shifted to gray.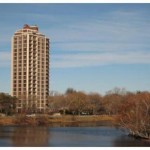 Memorial Drive, Cambridge, Mass.; November 2001-June 2002 $0/month
After graduating, I lived at my grandmother's sixth floor apartment in Cambridge. It looked over the Charles River, which curved below her balcony and the Boston skyline some miles away. There was a garbage chute. It was not a comfortable time (I was dumb, young and looking for jobs), nor was it a comfortable place to live in — in the sense of being surrounded by objects that were not my own. There were rules. The beds, for example, were not for lovemaking.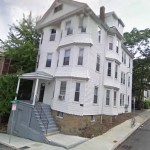 Sunset Street, Mission Hill, Boston, Mass.; June 2002-August 2002; My share: $525/month
The summer I started working, I sublet a room in Mission Hill with a couple whose names I don't remember and a music theorist named Kyle who came from the South and was gentle and strange and drank for three days straight, while pacing in his room, talking to himself, listening to Smashing Pumpkins and Eric Satie. We watched The Seventh Seal together and, on moving out, he handed me a letter which was filled with kindness and concern, and made me grateful. I came home from work and drank tea, sweating in my bedroom while the sun went down behind the buildings.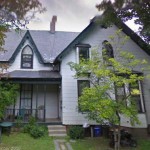 Hillside Street, Mission Hill, Boston, Mass.; September 2002-December 2003; My share: $325/month
It started out as a post-college dream: A big, old beautiful house with a swing on the front porch, and flowers and vines that spread and wrapped. A huge kitchen, a dishwasher!, a back porch, a living room with huge windows, long drapes, a sweeping staircase. A friend of a friend lived there, he and five others, seven of us all told. I had the smallest room, tiny, with a dormer window. Some of the original roommates moved out, new ones arrived, dynamics changed. Things soured when I found out that one of the housemates, a grad student at the Harvard School of Public Health, had been taping sexual encounters with unknowing women and holding screenings for the rest of the guys in the house.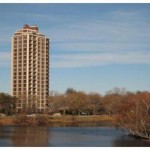 Memorial Drive, Cambridge, Mass.; January 2004-March 2004 $0/month
I was back at my grandmother's for a stretch of strange months after fleeing Mission Hill. I don't remember when the front door of the building was locked, and you had to be let in by the doorperson, but I do remember coming home often, late, and drunk, and standing in front of the sliding door, knocking to wake up the doorman, who was asleep in his chair at the desk.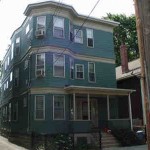 Amory Street, Cambridge, Mass.; April 2004-September 2008; My share: $700/month
I moved in with my greatest friend Jenny. The two-bedroom place just outside Inman Square was on the first floor of a typical Boston triple decker. The rhinoceros of a landlady lived with her cowering husband on the third floor, and her screaming tirades could be heard even in the winter with the windows closed. Jenny and I laughed a lot of the time, had short, spontaneous dance parties which were a specific joy, and went out together every Monday night. I sat on the toilet while Jenny showered, and vice-versa, and we'd chat about our days in the steam. We called it a Boston marriage and made a pact that some day, if we end up widowed, we will share a home again which will involve secret underground tunnels.
Eldridge Street, Lower East Side, Manhattan, N.Y.; October 2008-January 2009; My share: $900/month
My young brother Sam, a senior in college, had a vacant room in his apartment. I rented it out for some winter months, desperate and scared, with a mattress on the floor, having quit my job of seven years, and having no idea what was next. His other roommate, a high-end cocktail waitress, came clomping home in high-heeled boots at five or six in the morning, and I loathed her the only way you can when someone wakes you up again and again in a time when sleep does not come easy.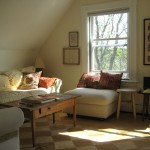 Pembroke Street, Somerville, Mass.; April 2009-June 2010 $1,150/month
This was on the third floor of a crumbling old Victorian with slanting ceilings and good breezes. I loved this apartment, and had it all to myself. A professional jazz pianist from France lived below me — the music trickled up the stairs, and it was a pleasure to hear him practice. I ran into him on the porch one afternoon. His wife had had a baby just days before, and he looked tired. I told him congratulations, and asked how it was going. He shook his head and said, "It is difficult. The baby, it looks like a rodent."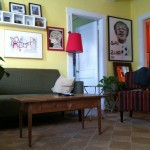 Putnam Avenue, Cambridge, Mass.; June 2010-now; My share: $625
I share this small one-bedroom with my partner Jonah in Cambridgeport, near the river, near Central Square and all the ne'er-do-wells, near Harvard Square, and just across the BU Bridge from Fenway Park. We cook meals, and talk about moving, but it's hard to leave: There are parks and good neighbors, and we can walk most places that we need and like. Our rent is low for this part of town, and we can't afford to live in a bigger place around here. It feels like the first home of any real permanence of my grown-up life, a small place with plumbing troubles and bright walls and good smells. There is the sense, already, that once we do leave, this place will be looked back on as favorite and best.
Nina MacLaughlin lives in Cambridge, Massachusetts. She's working on a book about leaving journalism to be a carpenter to be published by W.W. Norton.