It Takes Three Generations to Produce an Artist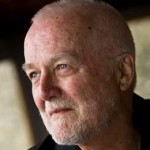 JB: In Dreaming Up America (2008), your collection of essays, you considered the idea that it takes three generations for an American family to produce an artist: the first generation has menial jobs; the second has professional jobs; the third can pursue art or leisure.
RB: That's John Adams's template. And I actually think it's false; it doesn't really describe what usually happens in becoming an artist or writer. It would be nice if you had two generations preceding you to then make it possible for you to become an artist, but that rarely happens and it certainly didn't happen in my case. More often in America, someone invents himself as a writer or artist, and does it against the wishes of those who surround him — his family and others — and, as a result, has to expend an enormous amount of energy justifying to himself or herself this enterprise. It can put you on the defensive for a long time, and make you insecure socially and otherwise. But I think it's much harder than just simply being given the privilege, the kind of entitlement, that it takes to be an artist. You really have to blast the launch pad to get liftoff, scorching everything and everyone around you, and you cause a lot of damage sometimes.
Harper's Jesse Barrons recently chatted with author and essayist Russell Banks about his books, and I related a lot to this part where he talks about how sometimes writers and artists have to justify what they're doing to their families. Thankfully, I haven't done a lot of scorching.