In Search of a Place to Live
by Alanna Okun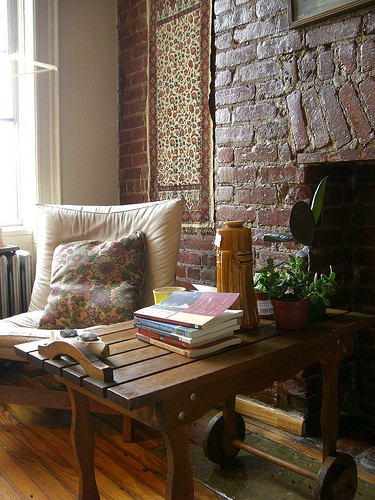 Two months ago, I found, got, and lost my dream apartment over the course of 24 hours.
Since graduating college in May, I'd stayed in four places in New York City. First, there was a high school friend's sublet on the Upper East Side, where I stayed for a week and woke up on the last day covered in bed bug bites; then, student housing at Columbia University, where I was taking a course about publishing, and which was my only real reason for being in the city. Next, there was the Brooklyn family home of a friend I'd made at the course. (She had introduced herself to the class as "a pretty good stilt-walker" and that was it for me.) We helped cat-sit while her parents were in Paris, applied to lots of jobs, and went on long walks through nearby Prospect Park when we got restless. All the plants died.
When her family returned at the beginning of August, I moved my single rolly suitcase to a fifth-floor Brooklyn walkup with one bedroom. The apartment belonged to another friend from the publishing course, a tall girl who liked to read Southern fiction and had to go home to Georgia for a couple months. I liked how none of the vintage chairs matched. I had started a job that I loved but wasn't permanent, and I tried to switch up the five outfits I'd brought often enough that my coworkers wouldn't know about the rolly suitcase. I slept on the couch while our friend Sarah, also from the publishing course, took the bed, and even though it was a little knobby and I missed having a door to close, it meant I could live, for a while, where I needed to be.

The dream apartment was five doors down from where I was staying.
I'd found it on Craigslist (in a manic weeks-long clicking fit) around the middle of September, and liked it immediately — even from the cramped, crappy photographs. It had gleaming hardwood floors and exposed brick in two of the bedrooms. I called the realtor, a guy named Ed who didn't sound any older than me and my two would-be roommates, and arranged to see it that afternoon.
We rode the subway back to Brooklyn from upper Manhattan, at the opposite end of the city. We'd been out to see a place that was in the middle of being renovated. There was pee in the toilet. It had beautiful light, and was down the street from a bakery I'd liked to go to when we were at Columbia, but it was also near the bars where we'd huddle over drinks after class. We'd talk about who did and didn't get which job, glancing from side to side and worrying to ourselves that there would be nothing left for us in this industry, in this city, and that we were somehow doing it wrong. The apartment was just around the corner from the small park where over the summer a boy with cuffed sleeves, who I'd thought was the real thing, had pushed me up against a fence and kissed me. We hadn't spoken much since. I would have been happy anywhere — a month in and the couch was starting to dig into my spine, the sun through the curtainless windows woke me up when it did — but I didn't feel the need to make that particular neighborhood mine again just yet.
It took us nearly an hour to get back to Brooklyn because of the weekend train schedule. Even then, Ed was late. He was chubby and had a round, smooth head and pulled up in a station wagon that looked like the one my mom used to drive when we were small. He was coming from class, he mumbled, and didn't know whether there was a washer and dryer in the building. My roommates and I looked at each other.
The listing had described the apartment as being on the fourth floor, but Ed led us up to the fifth, as many flights up as where I'd been staying. He fumbled with the lock of the last apartment on the landing and let us in.
I'd seen a lot of apartments that summer — the ones I'd stayed in, the ones belonging to my friends and a few stray boys, the ones I'd looked at to sublet and then to rent — but I'd never felt the kind of calm I felt walking into this place. The floors were just as shiny as I'd pictured it, the exposed brick was just as inviting, there was a dishwasher (!), but even beyond that, it just felt real. I had spent the past few months anxiously desiring fuzzy, abstract things — a Job, a Boyfriend, a Home — that I'd forgotten what it was like to see something I wanted with sharpness and clarity. You could see the Statue of Liberty if you craned your neck on the fire escape, and the bedroom off to the side of the common area was the exact size I wanted my life to fit.
We said yes. It took some negotiating and there was a last-minute roommate swap (luckily Sarah, woken up from her sleep in the bed at the borrowed apartment, gamely agreed to fill in), but the next day we went to Ed's office and filled out sheet after sheet of paperwork. We gave him $1,500 in cash and waited to leave until we'd been emailed our official receipts. He said his boss would call about paperwork for the management company, an entity we'd never heard of and didn't fully understand, and we left feeling impossibly light.
The three of us hugged and squealed and went our separate ways. The train was still being wonky so I walked back. I stopped at the thrift store on the corner by the apartments — it was funny to think of them that way — that didn't seem to actually have a name. The owner convinced me to buy this tiny, silly espresso cup I'd liked the last time I came in. I hadn't had a place to put it, so I'd left without it. Now, I let him wrap the cup and matching saucer in newspaper.
I was up the stairs and getting out my keys to unlock the door of the borrowed apartment, which I was already saying a mental goodbye to, when my father called. I knew he'd been talking to Ed's boss about being my guarantor; I'd wanted to do it all on my own but there was no way, not yet.
"Hello?" I said, turning the key in the lock.
"Hi," my father said. Then he told me to sit down and that he was so, so sorry, Alanna, but he had just been told the apartment had already been rented by somebody else yesterday and Ed was too slow to know and he was so, so sorry, please stop crying, Pam, you talk to her, I can't do this.
The night we didn't get the apartment, it was so hot.
"Do not go on Craigslist," my roommate Molly had warned me when I called to tell her. She seemed better than I did. She was tired of commuting from her cousin's house in Connecticut, but she had a bed and a door and a full-time job.
"Okay," I had lied.
Sarah went out. ("Oh, and Molly told me to tell you not to go on Craigslist.") I had on shorts and a tank top with no bra and I prowled the borrowed apartment through the humidity, slamming the two doors open and closed and howling like an animal. I was hungry but the refrigerator contained nothing except half a bottle of white wine and some cheesecake that had been there before we'd arrived. The heat hadn't broken, but had instead contorted itself into a summer storm, so I couldn't leave.
Ed called four times in a row. I briefly considered tossing my phone out the fifth floor window but picked up on the last ring.
"Hey," he said. "Any news?"
It took an extraordinary amount of self-control to keep my throwing arm at rest.
"Yeah," I said. "There's news. The apartment was already rented to somebody else. Yesterday."
"What? No way, they said it was still available! They definitely said."
I didn't know who "they" were — probably the alleged management company — and I didn't care. I couldn't believe that he hadn't already known. "Ask your boss," I snapped. "Bye, Ed."
He started to sputter something but I hung up.
My rage — at him, at New York, at me — didn't have a center. It wasn't a hurt. It was itchy and incalculable, characterized only by the sense that I would have to live in that middle space for a long, hazy time and there was no way out. It wasn't really about the apartment, although I was mourning for it. I was just all of a sudden so, so exhausted by feeling like I wasn't a person, like I had no solid place to launch from or to land. I drank the wine. I didn't touch the cheesecake.
The next day, I managed to sleep through sunrise. I had called my mother, cried until I couldn't, and fallen asleep on the couch on top of my blanket. And then I got up and showered off the sweat that had dried around my hairline. I went off to work and had a good, solid day; I wrote a story I was proud of, had a drink with a new work friend, and felt for maybe the first time since I'd started that I wasn't completely faking it. On my way back to the borrowed apartment from the subway, I passed three bodegas, and so I stopped into the last one. I bought bread, Ben & Jerry's Karamel Sutra ice cream, and a half-gallon of milk. I hadn't bought milk the whole time I'd been there, six weeks, because it had felt like too much of a commitment.
As I climbed the stairs, my phone rang. It was Ed. I shifted the bags to one arm and answered.
"Hey!" he said. "Listen, don't hang up: the other people fell through. The apartment is still open. You want it?"

I moved in as soon as I had the keys. The whole process took two long weeks, during which time we became convinced that the rigidly strict yet totally unresponsive management company had already rented the place to someone else, a nice couple with good credit (or any at all) who probably made artisanal artichokes and played keytar in a pop-klezmer band and knew how to be grownups. They probably went to brunch a lot. But then it was a Friday afternoon, and it turned out there had been yet another kerfuffle over paperwork, and then all of a sudden we got it.
Before graduating, leaving home and starting to build my own life, I had thought transition would have a firm beginning and end. I had thought it would be about getting a job, getting an apartment, getting a boyfriend. "Getting," it turns out, is not the thing I thought it was, or at least it doesn't weigh as much. That first night, Sarah stayed in the borrowed apartment and Molly in Connecticut. I had bought a twin-sized air mattress after work — it was one of the first days it wasn't too hot to lug an enormous shopping bag around the city — and I dragged my rolly suitcase down the five flights of stairs for the last time, then down the block and up my own. I unlocked the door to the apartment, which smelled like new paint, and then I sat cross-legged on the air mattress in my otherwise unfurnished bedroom, drinking a beer from one of the bodegas down the street. I set up the few things I had — some books, the espresso cup in its saucer — on the windowsill. I closed my door.
Alanna Okun is the assistant editor at BuzzFeed's Shift vertical. Photo: reconstructionist
---
Support The Billfold
The Billfold continues to exist thanks to support from our readers. Help us continue to do our work by making a monthly pledge on Patreon or a one-time-only contribution through PayPal.