Dubai's Incentives to Create Safe Drivers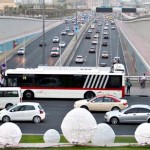 Drivers who go 12 months without any violations will be eligible for prizes worth a minimum of Dh500 each. Dubai Police say there will be between 250 to 500 prizes.
The head of Dubai Police traffic department, Maj Gen Mohammed Saif Al Zaffin, said today that if there were more good drivers than prizes then those with the longest standing clean sheets would be given priority.
Authorities in Dubai are trying to make their roads safer by offering drivers prizes and points for avoiding traffic violations for extended periods of time, including the ability to use their points to negate any "black points" accrued on their record, and the chance to win a new car. It's an interesting experiment, but wouldn't make a difference to me as a driver, because, you know, "not dying" is the best incentive to drive safely.