Bribes Wal-Mart Made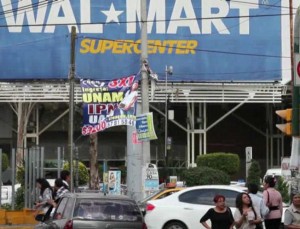 The Times's investigation into Wal-Mart's corrupt business practices in Mexico is front-page news today, and is something we should all take the time to read:
Through confidential Wal-Mart documents, The Times identified 19 store sites across Mexico that were the target of Wal-Mart de Mexico's bribes. The Times then matched information about specific bribes against permit records for each site. Clear patterns emerged. Over and over, for example, the dates of bribe payments coincided with dates when critical permits were issued. Again and again, the strictly forbidden became miraculously attainable.
Thanks to eight bribe payments totaling $341,000, for example, Wal-Mart built a Sam's Club in one of Mexico City's most densely populated neighborhoods, near the Basílica de Guadalupe, without a construction license, or an environmental permit, or an urban impact assessment, or even a traffic permit. Thanks to nine bribe payments totaling $765,000, Wal-Mart built a vast refrigerated distribution center in an environmentally fragile flood basin north of Mexico City, in an area where electricity was so scarce that many smaller developers were turned away.
Wal-Mart appears stunned at the widespread international corruption of its stores, and has spent more than $100 million on investigative costs this year to examine its 27 foreign markets (while the Justice Department and Securities and Exchange Commission conducts their own investigations). Accounts of bribery were also found in China, India, and Brazil. It's a Pulitzer-worthy piece.