Places I've Lived: Great Roommates, Terrible Roommates, And an 86-Year-Old Cassanova
by Laura Yan
We have all lived in some places. Where have you lived, Laura Yan?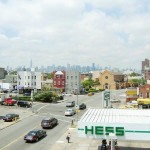 Bushwick Ave., Brooklyn, N.Y., $850/mo.
My first apartment in New York was a sublet room in a townhouse on the intimidating-sounding Bushwick Avenue. It was the summer of 2008, the summer after my delirious freshman year at NYU.
On the afternoon I went to look at the room, my contact didn't pick up his phone, and none of the roommates were home. It began to rain and I didn't have my umbrella. I ate tiny burgers at the White Castle across the street and when I tried again later, a boy appeared out of a side door that lead to the backyard. He was a slightly older boy with matted dark hair, a little cute and a lot hip. He didn't have access to the main house, but offered me shelter in his apartment in the shack in the yard. I sat on the wooden floor in my damp dress and watched him and his friend, a beautiful black Frenchman, paint on a huge canvas, vivid splatters of color and slightly grotesque figures in abstract expressionism. Real artists! I was thrilled.
Eventually I got to see the room in the main house. It was very much a boy's room, with action movie posters on the wall, a queen sized mattress on the floor, and sparse furnishings. It was overwhelmingly sunny, and like the rest of the house, welcoming. I liked the roommate who took me on the brief tour, Bree, who had a camera-dazzling smile and was bubbly and enthusiastic as her acting career likely demanded her to be. The apartment suggested romances and adventures and everything I had dreamt of. I took the room.
That summer at 15 Bushwick felt like a montage of idyllic, cliché scenes of glittering sunshine, giddy brunches, late night conversations, crushes on foreign roommates, rooftop reveries before a sparkling Manhattan skyline. My roommates all had subtitles: the slender, Texan artist who became my close friend; the outgoing, silly Russian filmmaker; the playboy actor from California with a reputation; the Swiss architect with his cohorts of attractive Francophone friends. It was blissful — my first taste of the quick and easy closeness formed between relative strangers.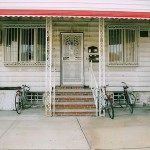 Graham Ave., Brooklyn, N.Y., $750/mo.
I found my next apartment off the same stop on the L, a cute house with apple green kitchen walls, modern furniture, and a bedroom with a real bed. In my new room I hung up dresses in sorbet colors and lined up my mary-janes and oxford heels and Ferragamo flats beneath. I laid out my jewelry and Labbit (a very round, football-like stuffed rabbit with a mustache) and arranged my bow headbands and top hat and masks. I haphazardly taped prints of my photography on the wall. My room! I took pictures of every niche and felt impressed with myself.
I thought it was a proper home, though the alpha roommate, Marines, never let me completely feel that it was my own. Marines did not own the apartment, but acted as if she were the landlord. She was a small, quick-lipped Spanish woman, who was a waitress and bartender at a trendy upscale Mexican restaurant nearby. She was in her late-twenties, and lived (and fought often) with her boyfriend. She yelled and her voice traveled, even from their nest downstairs. And sometimes she yelled at me.
This was the fall of sophomore year, and I'd learned more rules of living in the city, but still hadn't completely lost my thirst for adventure, which led me to try things such as starting a conversation with two "traveler" punk kids at Union Square, and then offering them a place to stay. I was happy to save them from having to sleep on the street, but Marines saw their dirty, rugged backpacks and unwashed hair and was not pleased. Next time you want to have guests over, ask me first, she said. I had my next strike when I had a boy over, and late at night he dashed to the bathroom, naked, which Marines witnessed and thought horrifying. She forbade me to have guests over, ever again. I spent the rest of my days there in nervous calculation of her wrath, playing hide and seek when I did dare to invite anyone home.
I still left a grateful note on the fridge and hugged Marines goodbye when I moved out. We pretended that we had been friends. A few years later, I went to the restaurant where she worked for the first time. I was gleeful and in love with my date, and Marines had a swelled belly and seemed eager to report that she was married — and pregnant, perhaps victories on her version of the ex-roommate success continuum scale.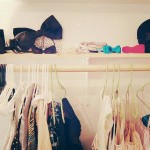 Between Grand and Montrose, Brooklyn, N.Y., $760/ mo. plus $380 lost security deposit
For one month, I lived with a purportedly 86-year-old man who looked to be in his sixties and bragged to me about the 250 women he'd had sex with. The apartment was a loft in the midst of an industrial-zoned block lined with warehouses and huge, frightening trucks at night. My roommate spoke very slowly and had trouble hearing. He wandered around the apartment in stained white t-shirts and boxer shorts. Every time I heard him laboring to climb the ladder to his lofted bed, I worried that he would fall, and what I would do. He was a photographer, and loved to tell me stories of his past, often of his sexual prowess. Once, he showed me his post on Craigslist, offering to pleasure 18–45 year old women orally, and informed me that he needed extra-large sized condoms for his related activities.
My room had a lofted bed, too, and a long horizontal mirror and a vanity table, with a crimson velvet couch that gave it the feeling of a debauched boudoir. I had convinced myself that all of this was okay because I was desperate for a place to stay and I thought it would make for fabulous writing material. But a few weeks after I moved in, I realized I dreaded that solitary, nervous walk through the desolate street, and the subsequent conversation I'd have to have with my roommate. I started to cry. Soon after, I gave up my deposit and moved.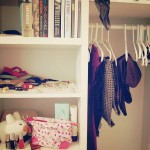 My Current Place, Brooklyn, N.Y., $675/mo.
My apartment is a simple, bare, renovated basement apartment in Williamsburg, with white walls and doors and cabinets and speckled cold tile floors. In the living room there is a black wood table, and three white chairs, a tall cabinet and a recently rearranged circle of a small couch and a reading chair. A huge La Beauté Est Dans La Rue poster hangs in stark black and white on one wall (my roommate had printed it and put it up our earliest days here.) There's a small cornflower blue throw pillow with an owl on it (a gift from a friend from home) on the white reading chair. Other than that, there are hardly signs of its inhabitants.
The apartment was heaven to me when I found it: clean, new, and sans awful roommates. My one roommate is a tall, handsome political science grad student, a vegan who spent some time growing his own kombucha in a clear glass jar I had bought as a vase. My other roommate is a reclusive Japanese girl who has built up a large repertoire of grievances against me, manifested through her audible sighs, slamming of doors, and moments when she actually pauses in her vegetable chopping to gather herself before she continues, slicing her food as she imagines my head in its place.
Things come undone often: the hinge off the front door, the shower rod and curtains that came clanging down. Ants crawl on our kitchen counter. I returned home from San Diego once to dead cockroaches scattered in my room. The crack in my ceiling drips water onto the edge of my mattress during fierce rain storms. At some point many, many tiny snails gathered on my windowsill. When my landlord came to clean the mold, he left the room in utter upheaval.
Lately, I try not to spend much time here. I leave for the city, some unexplored borough. I linger in coffee shops and parks and go for very, very long walks. My room, the nest of my bed lit by the suffocated yellow light from my Ikea paper lamps, the alcove of pillows molded to the shape of my back, feels like a trap at times.
I love visiting other people's homes, seeing the glimpses and signs of their imagined lives. Yet, when I think of the apartment where I've lived the longest, where I live now, I wonder about the impression it gives — if any at all.
Laura Yan is a writer, seeking adventures, and maybe a new apartment. She tweets.