Odd Jobs I've Considered to Subsidize My Freelance Career
by Jessica Gross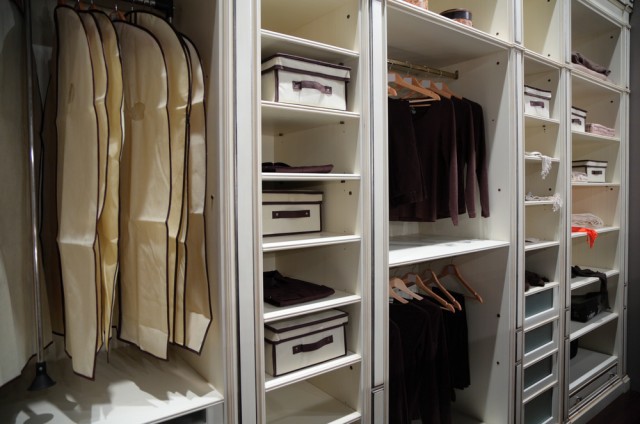 Since December, when I graduated from journalism school, I have been working as a "freelance journalist." I've gotten some financial help from a very generous grandmother, but as I move from Girls-hood to womanhood, the task of making a salary's worth out of cobbled-together bits of change has morphed into a giant, cackling raincloud that follows me everywhere I go. Unfortunately, I do not have an umbrella. Forthwith, some of the more random side jobs I've applied for in recent weeks.
1. Closet Cleaner
It came over the transom like a piece of manna:
Dear list, Has anyone ever hired a professional to help them get organized/clean out their apartment? Like a "clutter buster?" Please send your recommendations. Thank you!
My college's list-serv of alumni in New York is overactive (I probably spend 45 minutes per day deleting messages), but it's worth it for gems like these. I am possibly the most organized person on the planet on the non-OCD side of things. I promptly replied:
I'm not a professional clutter buster, but I'd do it! I'm highly organized and responsible, prone to extreme neatness. I'd charge $30/hour (negotiable).
A few days later found me in a gorgeous apartment on the Upper East Side, helping a young new mom sort her closet and lending emotional support as she filled several bags with beautiful shoes that no longer fit. $30/hour x 3 hours = $90. Plus a sweet fake handbag and some candles she didn't want. I'm fond of candles.

2. Catering Waitress
My successful closet-cleaning application left me with the incorrect impression that people might want to hire me for manual labor. My next target — catering companies — have proven less welcoming. After a string of people, including a bartender and former waitress, encouraged me to lie about my background (I don't yet have food service experience), I developed a resume that hinged on my experience working at "Bombolardi's," a "popular restaurant in my hometown." Is this not believable? I got zero replies. However, through a complex chain of acquaintances, I was subsequently put in touch with the owner of a catering company, to whom I did not lie, and who is seriously considering my application. Keep your fingers crossed.

3. Author of Dog Training Book
Actually, this is decidedly not random. Obviously, writing is my thing; less obviously (unless you've met me and/or found me on Instagram), I am obsessed with my dog. I found a listing seeking "a freelance writer to author a book about at-home dog training," and audibly yelped in the coffee shop where I was job-hunting. My cover letter included the tidbits "I am very, very fond of dogs" and "I'm quite familiar with the ins and outs of housebreaking, leash training, and puppy energy." Let us only hope that this comes across as winning. Again, keep your fingers crossed.

4. Foot Model
I haven't yet applied for this job because I first need my very generous and thankfully amusable friend (you know who you are, and thank you, I love you) to photograph my feet. The Craigslist ad for "Amateur/Average Girl for Foot Modeling" includes some of the most encouraging language I've yet encountered:
"No experience necessary"
"no one is perfect we just ask for you to be yourself"
"get appreciated for your feet and get paid for it"
Getting appreciated and getting paid? This must be too good to be true! Time will tell. The advertisers are seeking "the average appealing face with cute feet." Would you believe me if I told you I've been bragging about my feet for years? I'm serious. They're really great.
Got an odd job? CONTACT ME.
Jessica Gross is a writer based in New York City. She's contributed to The New York Times Magazine, The Paris Review Daily, Scientific American Mind, and elsewhere. Photo: Shutterstock