Concerts Don't Have to Suck: The Rules
by Lindsey Weber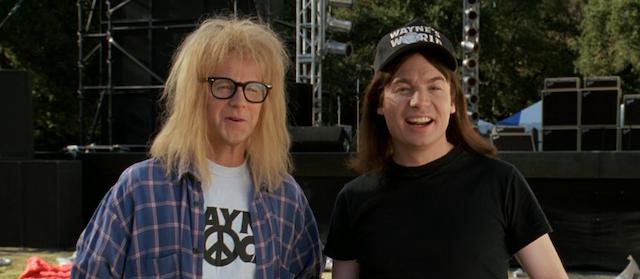 I love music, and I love concerts, but my concert experiences are often disappointing. I can't see, it's crowded, and I've paid a billion dollars for the privilege. But I still go to shows because I like to support the artists I love, and you can't pirate a concert.
I've come up with some steadfast rules to make my concert experience less than terrible. I always follow them to great success, I think you'll agree that they are awesome. The next time your favorite band (Train) goes on tour, follow these rules and have the best time ever.
Rule #1: Don't go see Train on tour.
Rule #2: Ticket fees are the worst of all time, basically, and as a rule you should avoid paying them if at all possible. Sometimes this means you have to go to a physical place to pick up your tickets. GET OVER IT.
Rule #3: If you buy your tickets online, always choose the will-call option. If that's not available, make sure you don't have to print your tickets out. Shockingly, this is still a thing some venues make you do. Should I also fax something in, Ticketmaster?
Rule #4: You can often sense a pattern emerging depending on where the artist plays and when their album is released. Most artists tour right after they release an album — this is a pretty strong guarantee. If they tour OFF that schedule, you probably want those tickets. Those are more likely to be held at a smaller, more intimate and inexpensive venue. (Unless they are Beyoncé. Don't even ask me how much I paid to see her at Roseland last year.)
Rule #5: A stadium show is always going to be pricey, and bleacher seats are expectedly the cheapest in the house. The price difference between seats where you can see something and where you pretty much can't see anything can be over $100. Get the cheap seats. You'll still be able to say you went, plus: Those giant screens will come in handy wherever you sit!
Rule #6: If you're short, be prepared to have a terrible time. I'm 5'3″, and it's truly a shame that a God-given attribute such as height can interfere with one's ability to enjoy live shows. I've resorted to flatforms (basically, a new type of shoe where you stand on two pieces of raised platform, much like trendy stilts), but I'm still disappointed most of the time. Invite your tallest friend and sit on his shoulders? (No adult should do this.)
Rule #7: Never go to see one artist who is part of a line-up you otherwise don't really care about. Really. Don't do it. I once sat through The Black Eyed Peas to see No Doubt. I was sixteen and I still feel regret ten years later.
Rule #8: Music festivals are always overpriced, and you're never going to see all the bands you want to see because of scheduling overlap. If you go, go because you want the experience of not showering for a week, not because you think you're going to see Radiohead, Red Hot Chili Peppers, and Phish. (Haha, Phish.)
Rule #9: I don't know anyone who isn't too lazy to actually do this, but showing up at the box office day-of can be a good options to get otherwise sold-out show tickets and avoid extra fees. You might also get tickets otherwise reserved for the band, whose family or friends backed out last minute. Those are gonna be good tickets. This is not an urban legend! One time my mother and I got third row seats to see Paul Simon at Boston's Orpheum Theater that had been originally "for his wife." Whoops.
Rule #10: Make friends with a music journalist. Or any journalist, for that matter. (You might think: "That sounds tough!" It's not. They're everywhere.) Press always gets the best treatment at shows — not to mention a free ticket. There's no shame being a good plus-one. (Good plus-ones bring the flask!)
Rule #11: Always, always show up drunk.
Lindsey Weber is a writer (duh) living in Brooklyn (duh) and her favorite song is 'My Boo' by Ghost Town DJ's.